Sometimes even branded content can produce moments of truth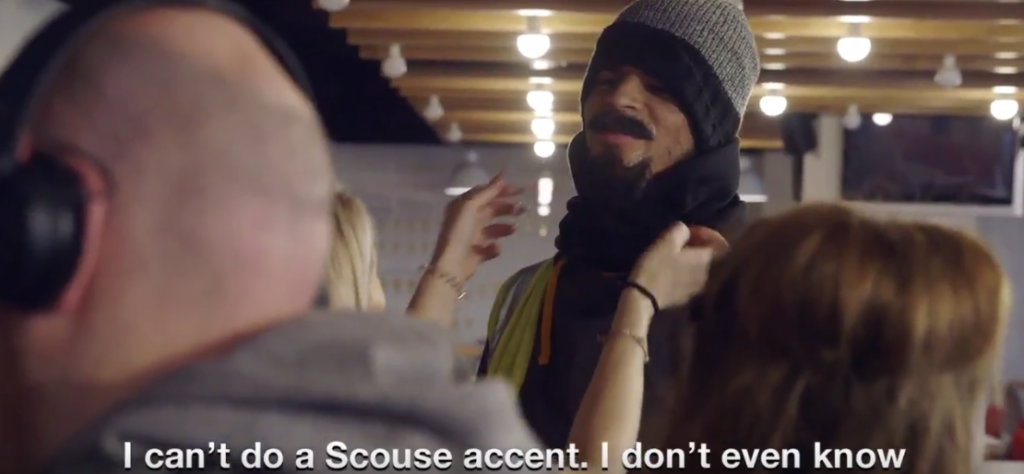 British credit card company and Liverpool FC sponsor MBNA has created an online branded content series called "School of Scouse," wherein ex-Liverpool forward Robbie Fowler inducts recent additions to the club Alex Oxlade-Chamberlain, Dominic Solanke, and Andrew Robertson with various silly challenges. In the second episode, the players are dressed in disguise and sent to the Anfield club store to interact with unsuspecting fans. At one point, Oxlade-Chamberlain tries to convince a younger fan to buy his jersey leading to the following exchange:
Oxlade-Chamberlain: Excuse me, son. Do you want to buy this?
Fan: No, thank you.
Oxlade-Chamberlain: Are you sure?
Fan: I'm sure.
Oxlade-Chamberlain: But he's gonna be a superstar.
Fan: One day.
Oxlade-Chamberlain: One day?
Fan: But we've been saying that for ten years though.
Oxlade-Chamberlain: Been saying that for ten years about Chamberlain? That's since he was fourteen.
The fan tries to walk away but Fowler, using hidden cameras to watch the prank from a van parked outside, directs Oxlade-Chamberlain to ask the fan if he thinks Oxlade-Chamberlain was Liverpool's best signing of the previous summer transfer window. After a pregnant pause, the fan says no. Oxlade-Chamberlain objects and then the fan, perhaps realizing what is happening, relents and admits with a cheeky grin that he is a good player.
Now, being bantered off by a teenager is probably a semi-regular occurrence and ranks low on the list of Oxlade-Chamberlain's concerns, as it should. But this was notable if only for the fact that they were both correct. It may not have been 10 years (more like seven) but Oxlade-Chamberlain has been tipped for a long time. Arsenal signed him for 15 million pounds when he was 18. This bit is an example of one of the few redeeming qualities of sports fandom—rewarding those that manage their expectations.
Engaging with professional sports is an incredible exercise. One is often happier when their team doesn't lose instead of when it wins and is inclined to find meaning in games where there almost certainly is none, what you see is what you get. Most curiously, one views privately-owned, profit seeking enterprises as civic institutions and pretends the professionals that work there are as inspired by the club as they are. However, relatively speaking, professional athletes don't need to be extrinsically motivated. There are exceptions; players who are supremely talented, but get derailed by off-field distractions and indulgences. Motivation can wane at times, even for someone who worked hard to get to where they are. Some achieve in spite of that, others don't. But for the most part, they had to take it seriously in the first place in order to reach a certain level, which is why they've nearly all been working at their craft from a young age. In fact, the most precocious among them are induced to not only work harder and sacrifice more than they already have, but to conceive of themselves as special.
Take the aforementioned Robbie Fowler. After joining the Liverpool first team at the age of 18, he soon went on to become one of four players (Ryan Giggs, Wayne Rooney and Dele Alli) to win multiple Professional Footballers' Association Young Player of the Year awards. Despite his superlatives, he was derided in the press as an underachieving lush. Fowler and others in the side were dubbed the "Spice Boys" after a series of off the field controversies. And how did he respond? After being taunted by away Everton supporters about purported drug use, he famously celebrated a goal against the Toffees by getting down on all fours, pinching one nostril and sticking his face to the white line in the penalty area. With this mordant rebuttal, Fowler, then considered the "most natural finisher in the country," is reduced even further; the following day's Associated Press headline read "Prankster Faces Suspension"
This is not to suggest Oxlade-Chamberlain will completely go the way of Fowler, who still had a productive career and is the sixth highest goalscorer in the history of the Premier League. But we underestimate the impact labels like "prodigy" or "superstar" or "the next x" can have psychologically on young players. They aren't allowed to develop other parts of their identity. And apart from setting an expectation that is often inaccurate and most likely impossible to maintain, it doesn't reify the game for fans. One doesn't go to a top flight match to root for potential. One goes to see what might be with what is already there. Just as the development of a young player isn't a perfect curve, there's no neat and tidy narrative for appreciating the game. Oxlade-Chamberlain and this fan seem to be able to appreciate the nuance.
---
Follow Mapate on Twitter @atMapate.