Pulisic reveals the source of his powers for the US national team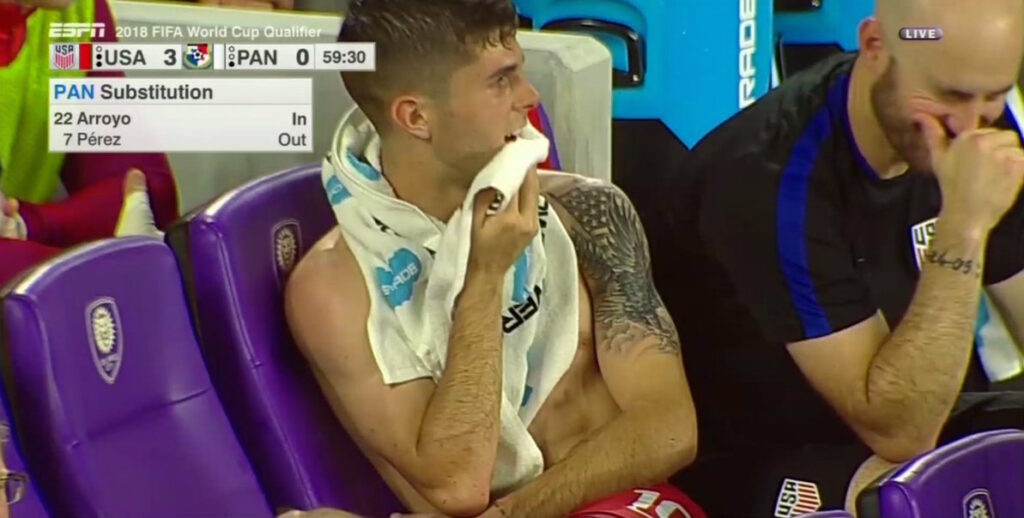 The United States beat Panama 4-0 to doom a wave of "What happens if the US doesn't qualify for the World Cup?" thinkpieces to irrelevance and "Wonderboy" Christian Pulisic lived up to his snarkily appointed nickname. Proving that Alexi Lalas' rant must have hit more of a nerve than anything Jurgen Klinsmann or Bruce Arena did, the US got off to a quick start with Pulisic unraveling Panama to score in just the 8th minute.
Jozy Altidore, who had not scored in this round of qualifying coming into this match, then extended the lead to 2-0 in the 19th minute and made it 3-0 just before the half with a downright merciless Panenka.
In the second half, Bobby Wood added a fourth, but the most noteworthy moment of the final 45 minutes came after Pulisic was substituted to protect him from the frustrated kicks of the opposition. Once on the bench, Pulisic removed his shirt to reveal a massive tattoo of a bald eagle flying above the clouds with a US flag waving in the background that looked like it was etched into his arm by the laser vision of an undead George Washington. Clearly the savior of the US men's team, who leads CONCACAF in both goals and assists (six of each) since the fourth round (when the US began play), derives his power from his ultra-'MURICA tattoo.
As encouraging as this performance was for the US, it does need to be tempered a bit by the fact that it came against a team that has never qualified for the World Cup. Yes, they had only conceded five goals in this round of qualifying before nearly doubling that total in this match, but Panama at home only ever seemed like cause for panic because of how horribly the US has navigated the qualifying campaign to this point.
That said, with Pulisic and his tattoo to lead the way, the US will probably never lose again. Until next summer. Or, you know, maybe before.
---
Follow Brooks on Twitter @BrooksDT.