In the twilight of a legendary career, David Villa is still taking a methodical approach to life as a soccer player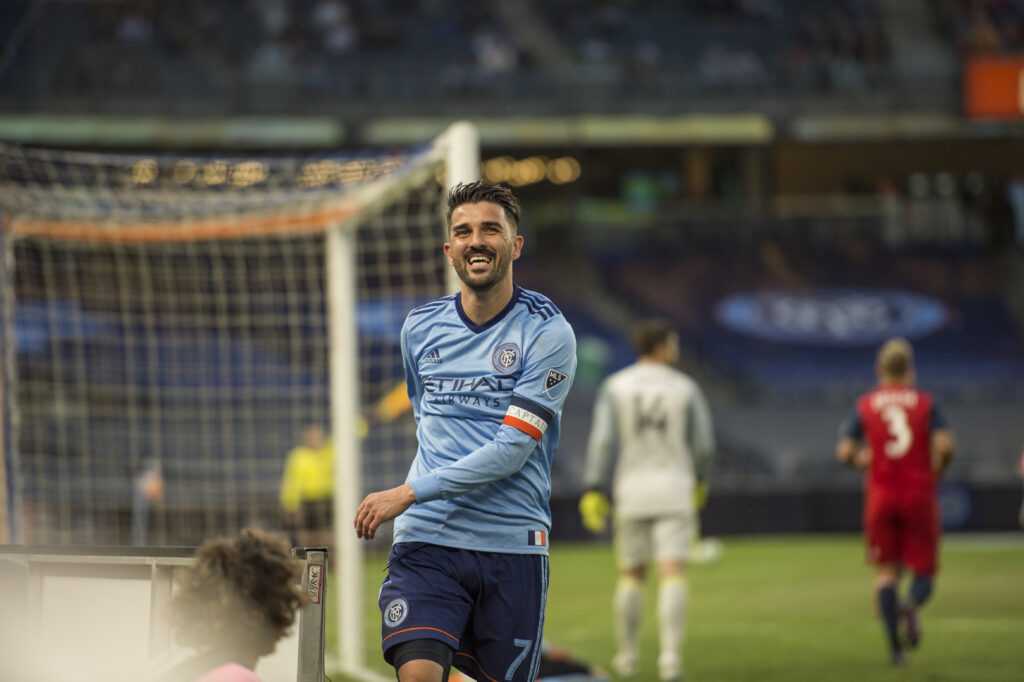 David Villa has almost single-handedly debunked the myth that foreign stars only come to Major League Soccer to cash checks. Last weekend, the former Sporting Gijón, Zaragoza, Valencia, Barcelona, Atletico Madrid, and Spanish national team star scored his 400th career goal on a baseball field in the Bronx, his 69th for New York City FC. At 36, Villa shows no interest in slowing down, nor in transitioning to player-manager: he's still laser-focused on scoring goals. Ahead of the 237th installment of El Clasico this Sunday, "El Guaje" sat down with Howler to talk about his illustrious career in La Liga and international football, his life in New York City, and his goals for the future.
Stephen Wood: David, thank you for being here. I'm going to jump right in with current events. Andres Iniesta recently announced that he's leaving Barcelona. I assume he's coming over here to join you, right?
David Villa: You assume? You are 100 percent? [laughter]
SW: How would you feel about Iniesta coming over? How did you feel when you heard he was leaving Barca?
DV: He's one of the greatest players of all time. I am so lucky for playing with him in Barcelona and in the national team. Of course, it's bad news for Barcelona that he is leaving, but it's his decision. I hope he's successful wherever he goes … For me, it's very good to call him a teammate and friend.
SW: You guys appear to be very close. What are some of your favorite memories of your time him?
DV: I think the goal he scored in the World Cup. That's the best memory that Spanish people, people who love soccer have in our memory, right? The goal that he scored.
SW: What about off the field?
DV: He's a great guy. He's a really good guy, very normal guy. Big friend. Big guy, friend to his friends, help you every time on the field, of course, but off the field as well. A great teammate.
SW: I'm curious—your nickname has always been The Kid, but you're now closer in age and experience to Patrick Vieira than you are to a lot of the kids that you're playing with. What's it been like working with Patrick, someone who's close to you in terms of age and experience?
DV: It's great. He's a great coach, he's a great man. He helped us a lot in the club, he changed the mentality of the team, coming to NYCFC. It's a very good find, for me, for all the guys, for MLS, for everybody who love soccer in America, to have the mentality of soccer of Patrick Vieira.
SW: NYCFC has had and still has a lot of very talented, pretty young guys. How do you relate to them? Do you feel like on some level you're becoming a manager to them?
DV: Nah, it's still the player. The manager is Patrick Vieira. I try to do my best every day to show, with my body more than with my voice, what I did and what I do for growing my level of soccer, and that's it. Right now, I am a soccer player. I am a teammate of the young guys.
SW: I think a lot of people expected you lose a step or take it a little easier in the US. That hasn't happened. How do you feel your game has changed or improved since you arrived here?
DV: I do the same. I don't care if I am in MLS or in La Liga or in Melbourne, I do always the same. From the start, when I [was at] Sporting de Gijon, Zaragoza, Valencia, Barcelona, Atleti Madrid, and in the national team, and now NYCFC, my soccer hasn't changed for the city or the country or the team.
SW: As an ambassador from La Liga and from some of the best teams that have ever played the game, what would you say American soccer can learn from Spanish soccer?
DV: I mean, for me, we have the best league in the world, La Liga. MLS can be the best league in the world in the future. They need to learn, they need to work strong, and they need to let the time pass, because the MLS is only 23 years old. La Liga is more than 100. So it's difficult to compare right now. They need to be focusing on growing every day, and work strong. And of course, learn from the best league in the world right now.
SW: We've got some catching up to do. I don't know how much you've seen of soccer outside MLS, but in your opinion, do you think a system of promotion and relegation would be of benefit to American soccer?
DV: I don't know. I'm not the real man to decide this. I come in here, the same way I come into La Liga, the same way I come into Australia—I am a soccer player. I need to accommodate myself with the rules. Of course here, it's the rules that you need to work a different way, probably, than La Liga. First of all, because in La Liga you don't have playoffs. Here, you have playoffs for winning the title, so it's different. So as a soccer player, you need to first do the best with your body in benefit of the team, and that's it. I'm not the person we need to decide it.
I learned it before, because I came here eight months before the start of the season. I came, watched every game in 2014, and before I played soccer here in the States I watched the season before and I realized everything.
SW: What do you enjoy about New York City—other than scoring your 400th career goal in front of a roaring crowd?
DV: The big point for me is that my kids and my wife, my family is happy here, because it's a big responsibility for me, to come here to play soccer. My family need to be close to me. I moved every year, or every few years, in different cities in Spain. They changed their school, they changed their house, they changed their friends, they changed everything. That's the life of soccer. For me, the best that I can do, it's every day, watch them, see them happy here, happy in New York.
It's one of the best cities in the world. Everybody you ask, "What city do you want to visit?" Probably 80 percent of the people say New York. I live here. I am so lucky to be here, day by day, in the city that everybody maybe visits for a few weeks. I am so happy, and I try to enjoy the city.
SW: Did you see last year, at a preseason press conference, when someone asked Bastian Schweinsteiger if he thought the Chicago Fire could win the World Cup?
DV: Mhmm.
SW: Which, obviously, is a ridiculous question. But, could New York City FC win the World Cup?
DV: Probably. Ask the journalist. [laughter] I don't know what he [was] thinking. Obviously, we can't win the World Cup.
SW: Champions League, though?
DV: CONCACAF Champions? Probably. The other league, probably not.
SW: Is that something that you would like to accomplish before the end of your career, the CONCACAF Champions League?
DV: We need to be step-by-step. Right now, we need to qualify first for CONCACAF Champions, and after, we can think about winning the Champions League.
---