England's FA keeps finding new ways to fail the Lionesses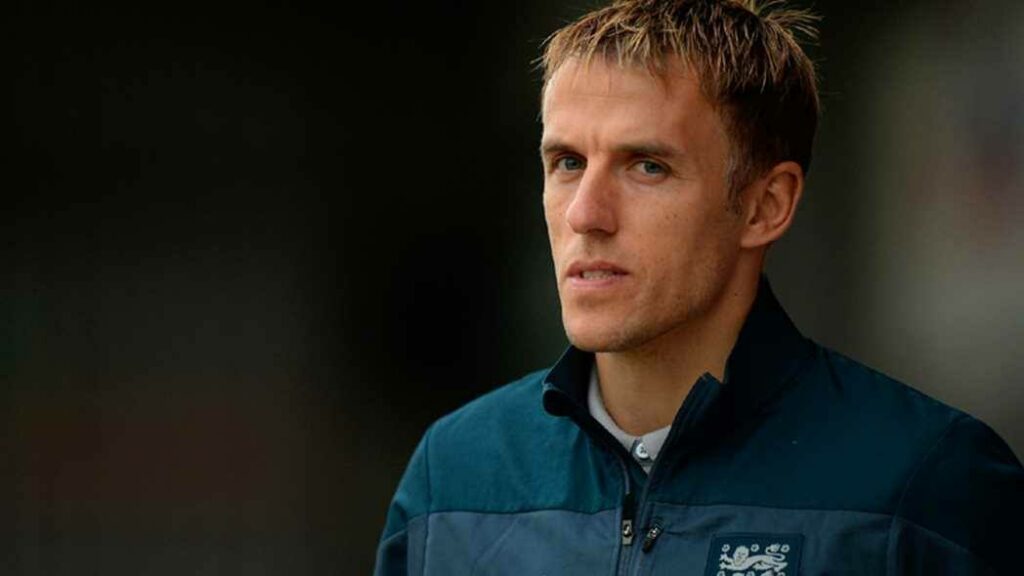 In 2013, before Mark Sampson was the subject of three inquiries into racial abuse and fired as Lionesses manager over allegations of sexual impropriety—though not, it turns out, before England's FA knew of those allegations—the FA reportedly altered its list of job qualifications to match his resume. The governing body had initially demanded that candidates have international experience and full professional licenses. Mark Sampson had neither, so the FA lowered the bar for him. In attempting to move past the Sampson era, the FA has somehow contrived to hire another riotously unqualified man in the form of Phil Neville.
A national football association's two core functions are to take the needs of their players seriously and to convince the public that they take the game seriously. The latter is more easily written off as optics, but it is a necessary precondition for growing the sport. England's FA has singularly and consistently failed in both of those respects.
This is the part in an article where one would lay out Phil Neville's qualifications in the name of context. It will be a brief section. He was an assistant at Manchester United, his former club, during the reign of David Moyes, his former manager. He later was an assistant at Valencia, which is owned by his business partner. He has, on occasion, coached with England's male under-21s. Phil Neville's first match with the Lionesses will be the first match he manages.
Neville was never the FA's first choice for the job. This may have been because he had no qualifications to speak of. It may also have been because it appears he didn't bother to apply for the job. His name, Louise Taylor reports, only came to the search committee's attention because a broadcaster suggested it. That's how the sausage-fest gets made.
Football punditry, especially the English variety, tends to overstate the difference between managerial milieus. It talks about the difference between the Premier League and Bundesliga or men's and women's soccer as if an intelligent manager willing to put in the time couldn't figure these things out. These self-imposed boundaries are only ever broken to benefit members of the ruling class: unimpressive white men become national team coaches; Tim Sherwood is allowed to happen. Meanwhile, talented women and people of color are repeatedly left on the outside looking in. When the next job opens, their lack of experience will be held against them and the whole thing will be repeated. Much of the soccer world's system for thinking about qualifications and hiring only works for men like Phil Neville.
England's FA will likely try to hide behind having been rejected by all of its top choices, as if it's job was not to hire a good manager for FIFA's third-ranked team on the eve of a World Cup. Don't fall for it. Their job is to convince a good manager to coach their team. If one of the leading national women's teams cannot attract Laura Harvey, John Herdman, or Nick Cushing, that is an institutional failure. Herdman opted to coach the 95th-ranked men's team instead of coming home to England, which raises similar questions about the Canadian Soccer Association. On the back of its last two hires, one can't help but suspect the FA is not tremendously inclined to entice managers with other compelling options to join the Lionesses. Mark Sampson reportedly earned in the range of £100,000-£150,000 a year; Gareth Southgate is the lowest paid manager of the men's team in 16 years with a basic annual salary of £1.8million. If a football association takes its national teams seriously, it's their job to overcome the comparative appeal of club management and make an actual hire. Instead, England hired Phil Neville.
The harms here are twofold. First, England is a talented team headed to a World Cup with a still-fractured squad and a manager who hardly inspires faith. "Surely there's coaches out there who have had a lot more experience of the women's game and actually been a manager," Chelsea Ladies captain Katie Chapman has already told the Times. "But hopefully he'll be a great advocate for the women's game." Hopefully indeed. But the second harm stems from Neville's hiring, in and of itself, being a setback to that advocacy. How can the FA credibly tell young women they'll be taken seriously after shrugging its way to hiring Phil Neville? Fans and players who still unfairly bear the brunt of advocating for women's soccer must now contend with the most public manager in the land having been hired without qualifications or interest in the job. Hopefully Phil Neville will help undo some of this damage, but it's going to be hard work for him and the FA to just break even.
All of these failings were compounded by a Twitter meltdown in the minutes after Neville's hiring was confirmed. The FA managed to announce his appointment on the account used for its men's team. Users resurfaced Neville's sexist tweets from 2011 and 2012, including one suggesting that women only believe in equality up to the point where they have to pay bills. Neville joked about having to take care of his Twitter account and then deactivated the whole thing. Seeing as football associations are loath to consult the public, fans have few available forms of agency other than mocking tweets. The FA's failure to have foreseen any of this, moreover, does speak to its general fecklessness when it comes to the Lionesses.
The tweets, however, are not the story here. It is hard to imagine them making the top-five list of problems with an appointment this ill considered. Asking why the FA did not delete its managerial hire's sexist tweets is to suggest that a better rollout would have fixed any of these problems. The FA should never have had to worry about the bad PR it might get from appointing Phil Neville because there were ample footballing reasons not to appoint him in the first place. Phil Neville should never have had to worry about the bad PR from his old tweets because he should never have accepted a job for he was so manifestly unfit. But he did, which leaves the rest of us to wory about how the FA will next lower the bar and fail the Lionesses.
---
Follow David on Twitter @DavidSRudin.