It might be best to temper expectations for the return of Bayern's last treble winner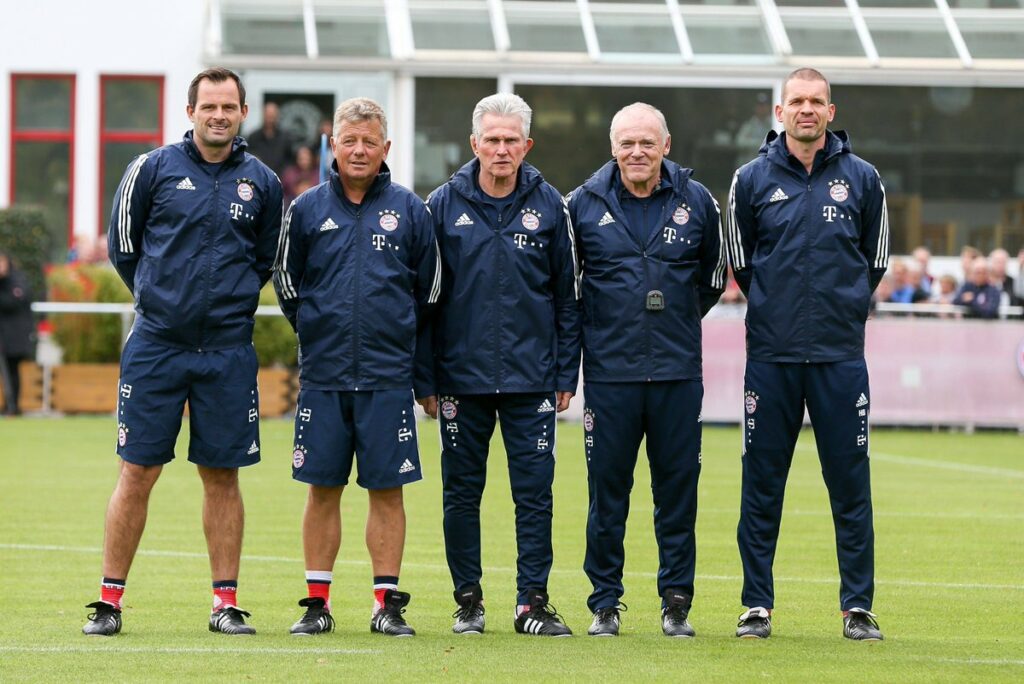 If three times is a charm, what about four times? We're about to find out as Jupp Heynckes has been hired to begin his fourth stint as Bayern Munich's manager. One thing we do know is that you probably need to be about 72 years old (Heynckes' age) to have a fourth coaching stint anywhere, or be Jose Mourinho at Chelsea.
On Friday, Bayern officially announced that Heynckes is returning to coach Bayern. Again. Last time we saw Heynckes, he completed a two-season stint by coaching the 2012-13 treble-winning Bayern side that swept through the Champions League (winning the final at Wembley 2-1 against Borussia Dortmund), the DFB Pokal, and the Bundesliga.
After this impressive feat, the then 67-year-old Heynckes explained that he "was ready for some peace and quiet" and on the question of whether he'd coach again, mused that "I have a problem with the finality of saying 'never.'" Yet he concluded by firmly stating: "I can assure you that I have no intention of coaching again. I had a worthy ending." A worthy ending indeed, especially considering that Pep Guardiola was named Heynckes' replacement during die Winterpause of this season.
Luckily for Bayern, Heynckes' version of finality was provisional. Because here he is again—albeit five years older, and five years out of football.
Given Bayern's remarkable run in 2012-13, it's understandable that supporters are elated with Heynckes returning to right the wobbly vessel that's been Bayern 2017-18 season. Bayern currently sit second in the Bundesliga table, trailing Borussia Dortmund, who already have a five-point lead at the top.
For Bayern, trailing by five points this early in a season is stunning. I kid you not. Bayern hasn't been in this position, this early in a season, since 2011-12 when Jürgen Klopp's Dortmund won their second of back-to-back titles. However, I'd argue that, more than the domestic disappointment of trailing Dortmund this early in a season, it's the 3-0 hammering at PSG in the Champions League that has defined Bayern's early season disappointment. Indeed, this result was directly responsible for getting Carlo Ancelotti sacked. The scoreline itself probably flattered PSG somewhat, at least according to expected goals models, like Michael Caley's (from the Double Pivot podcast):
The PSG loss was psychologically crushing for Bayern, who never looked dangerous in the match, and suddenly seemed a level below the likes of PSG in Europe's football hierarchy. This discrepancy was also pinned directly on Ancelotti's coaching during the match, as he left Mats Hummels, Franck Ribéry, and Arjen Robben all on the bench. He also flubbed his in-match tactics, like playing Thiago deep and both Arturo Vidal and Corentin Tolisso high. For Bayern, this defeat, coupled with Bundesliga mediocrity, is an unforgivable letdown after the slick Heynckes side of 2012-13, or the intensity of Guardiola's perfection-driven systems of 2013-2016.
Hence Heynckes' return. His 2012-13 Bayern side was perhaps the best version of contemporary football I've seen, by which I mean Heynckes' Bayern embodied the sort of consummately flexible and attacking football that Europe's biggest sides grope toward. This team defined flexibility. Jonathan Wilson dubbed it the "New Total Football," as Heynckes' Bayern dismantled Guardiola's Barcelona by a 7-0 aggregate score in the Champions League semifinals. Wilson even argued that Heynckes hadn't defeated tiki-taka, but had evolved it by honing a slightly more direct edge with a greater variety of attacking options, not to the mention the unique box-to-box abilities of a defender like Javi Martinez, as Michael Cox pointed out.
It bears repeating: in my memory, this 2012-13 Bayern side lives on as the greatest contemporary side I've seen. I'm aware that certain memory/hindsight biases or fallacies are probably at work here, but the results stand—Heynckes won a treble with this side. I've yet to see a side rival this outfit in terms of ball possession, pressing, slow built-up play and direct play, a plethora of scoring options, and shut-bolt defense.
So you can understand if there's probably some magical thinking sweeping through Bayern Munich circles right now.  
Expecting Heynckes to repeat anything like the treble we saw when he last coached Bayern is just that—magical thinking. First, Heynckes inherits a squad in transition. Bayern still hasn't dealt with the losses of Xabi Alonso and Philipp Lahm. We're only now realizing just how important Alonso was both in stabilizing and in advancing Bayern's build-up play, which has lost many of the "automatisms" drilled in by Pep Guardiola. Currently, Bayern is playing more like a somewhat loosely-organized group of superstars, rather than an elitely-melded unit. Moreover, Franck Ribéry and Arjen Robben probably need to move on. Rafinha  is a weak link at right back. And, of course, there's the injury of Manuel Neuer, who's out till the Rückrunde, meaning Bayern supporters must endure many more matchdays of the pedestrian and sometimes gaff-prone Sven Ulreich in goalmouth.
At least Heynckes has been here before. Dealing with a undisciplined crew is Heynckes territory. When he began his third stint at Bayern in 2011, he somehow taught the free-willing Ribéry and Robben to track back and actually defend (heavens forbid!), as Uli Hesse explains in Bayern: Creating a Global Superclub. Hesse also describes Heynckes' eye for consolidating playing systems and slotting the right players into the right places. After, he's the man who brought "thrust and style" to Bayern in 2012-13, as Hesse calls it, combining the tiki-taka stuff of Louis van Gaal with the directness of Jürgen Klinsmann (both Bayern coaches prior to Heynckes). From other sources, anecdotes abound of Heynckes quiet discipline—for example, Toni Kroos learned to never show up late to training again.
Given the current context of player turnover and injuries, I don't think we'll see anything resembling the perfection of Heynckes' 2012-13 Bayern, but we'll certainly see something more disciplined and coherent than the Bayern that has stumbled out of the gates under Ancelotti this season.
Regardless, one of football's under-appreciated legends is back. One more time.
---
Follow Travis on Twitter @tptimmons.