Red Bull Arena is a beautiful and inviting place, once you get there.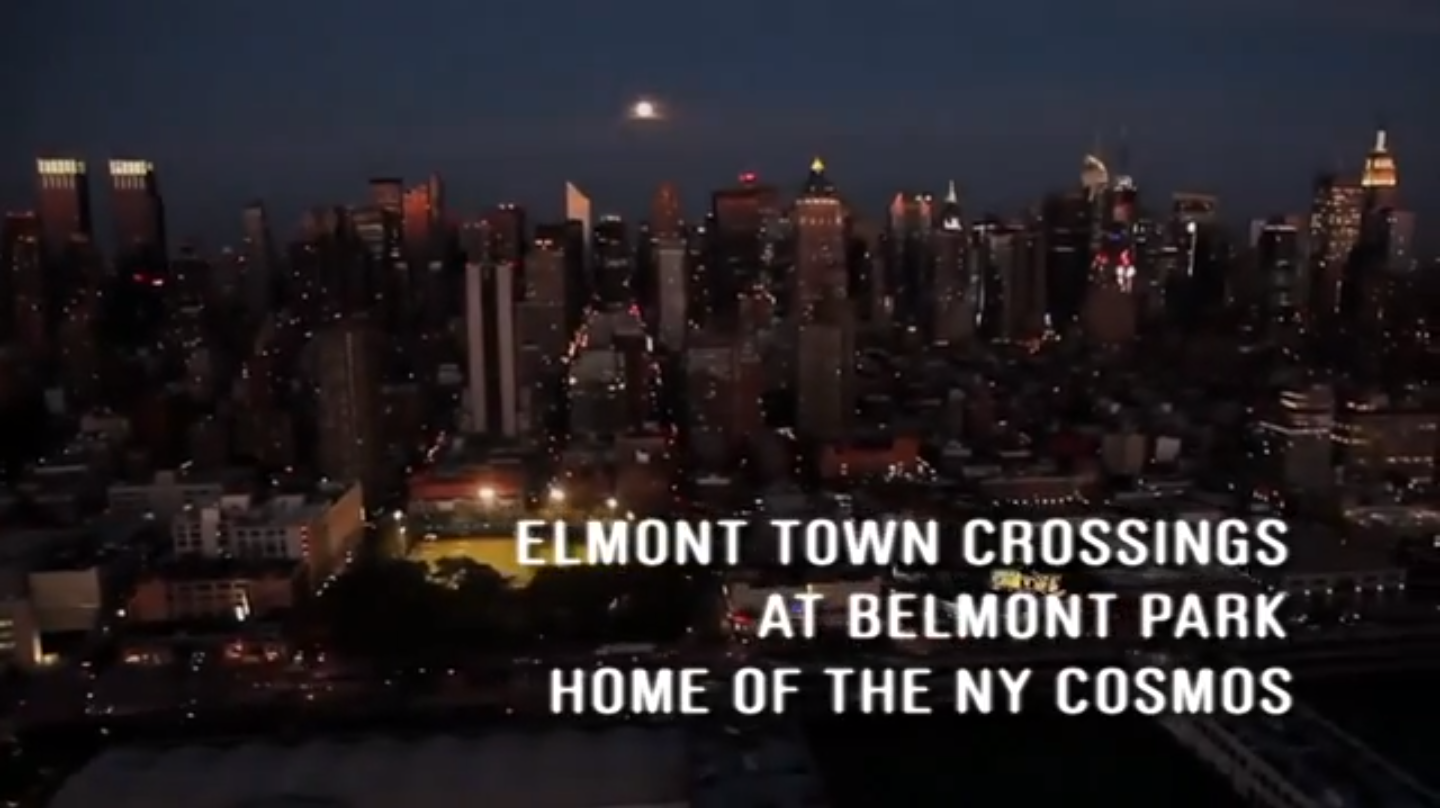 By Howard Megdal
[O]n this night, the excitable masses that typically pour out of the Harrison train station — wearing their Henry jerseys, along with those of scattered heroes of today (Kenny Cooper), yesterday (Juan Agudelo or Tim Ream), or, very occasionally, the days before that (Tab Ramos and Tim Howard) — are nowhere to be found. Instead, the quiet Harrison streets, bordered by graying snow, provide little indication that a playoff game is about to take place in the great silver arena within sight of much of the town.
The crowd of, let's say, 5,000, present on this terribly cold Thursday night, have come out for a twice-rescheduled game, once due to Hurricane Sandy, once because of a nor'easter. Public transportation to the game has not yet been restored, meaning the shuffling mass of people arriving at the New York Red Bulls' stadium have largely driven — either from the surrounding area in New Jersey or by bus from Washington, D.C., home to the Red Bulls' opponents. Given the transportation constraints, it's hard to tell how many of the people attending the match have actually come from the team's namesake hometown. Maybe it's the cold, but as they walk through the turnstiles, the fans' body language is quiet, subdued. The playoff match against D.C. is a big one; the on-paper more talented Red Bulls have the chance not only to beat D.C. United at home and advance to the Eastern Conference finals but also to do so knowing that they'll have home-field advantage in that final and, should they reach it, MLS Cup. But the crowd seems less prepared for a sporting event than a Broadway revival: it's as if everybody already knows how this one's going to end.
It was supposed to be different under Red Bull. A glorious new stadium. A raft of marquee signings. The franchise that began its history with a home loss at Giants Stadium (complete with Nicola Caricola's own-goal), and has featured more than its share of gut-punching losses and coaching changes since, was supposed to be a success by now — a winner both on the field and off. But on this frosty Thursday night, it all proceeds in predictable fashion. The go-ahead penalty kick from Kenny Cooper is disallowed, thanks to an early break into the box by Henry and fellow designated player Tim Cahill. Cooper misses the retake. The small crowd, which has only reluctantly put full voices into rooting on their Red Bulls — after conquering all manners of transportation, precipitation, and scheduling problems to be here — seems unwilling to let their hearts be broken once again. Cooper's miss just reminds them that in all of recorded history, a Red Bulls season ends only one way: painfully.
The popular sentiment is that if the Red Bulls could simply reverse their woes on the field and get their fans a title, then a lot more attention, and greater box office success, would follow.
Shortly thereafter, Rafa Márquez, the third designated player, who has alternated between incomprehensibly poor decisions and an array of injuries, gets himself a second yellow card on a reckless tackle. Finally, in the 88th minute, D.C. United scores on one of the few chances it has had all night. The energy does not drain from Red Bull Arena. It had never shown up, not beyond the supporters' end. I've covered no shortage of shocking collapses in sports, including a similar Red Bulls season demise back in 2010, against the San Jose Earthquakes. But what I found remarkable as the final whistle blew, 1–0 United, was that no one booed. No one even seemed especially surprised.
There was something antiseptic in the air that night, something not found in other MLS stadiums where the league has truly taken root in recent years — not in Portland, not in Seattle, not in Philadelphia. This year, Portland played to full crowd capacity in front of Jeld-Wen Field's 22,000 seats. In Philadelphia, the Union played to 97.5 percent capacity despite having a dismal season on the field. And Seattle played to 111 percent of full capacity, something you'd think was mathematically impossible. Meanwhile, attendance at Red Bull Arena has been under 80 percent capacity since the stadium opened in 2010. And the trend line is down. Even as Major League Soccer overall saw attendance rise for the fourth consecutive season, the number dropped significantly for the Red Bulls in a playoff season.
There's little doubt that the New York Red Bulls, formerly the MetroStars, have failed to fully capture the imagination of New York's soccer-loving community. Of course, the empty stands for the rescheduled November playoff match were, in part, the result of a colossal streak of weather-related bad luck. And to be fair, the team reported an average of just over 18,000 for regular season games in 2012. But looking more broadly, it has to be disappointing for the franchise, and the league, that one of MLS's founding teams, in the nation's largest metro era, just can't seem to catch fire in the way other recent expansion franchises have. At times, going to Red Bull Arena can feel like gaining admission into a secret club that very few of your friends and neighbors have ever heard of. Sports editors all over New York, which has multiple professional teams in every sport, have gotten into a nearly two-decade-long habit of not paying attention. Get in your car after the game and there's no postgame. Drive around the region; there are few billboards. Listen, watch, and read — few in the media are talking. This despite a Red Bulls team with three straight playoff appearances, world-class stars, an absolute gem of a venue, and — for now, anyway — absolutely no live competition whatsoever in the metropolitan area for the attention of soccer fans.
By many measures, it was a banner year for MLS: new attendance records, thriving expansion franchises, a hero's ending to Beckham's career. But as the league, with fan bases both large and rabid throughout the country, matures beyond the basic questions of survival that hovered over it for years, professional soccer in America still faces one great unknown: What to do about New York?
[P]erhaps no area has been as rich and fertile a territory for American soccer — and simultaneously the site of more spectacular failures — as the city of New York. Sixteen club soccer matches in American history have drawn greater than 70,000 fans. Eight of them occurred in the New York City area, with fans primarily drawn to watch big names like the New York Cosmos' Pelé, Johan Cruyff, and Franz Beckenbauer. The audience that greeted Pelé hasn't gone anywhere; in 2009, 66,237 came out to Giants Stadium to watch David Beckham's Los Angeles Galaxy take on the Red Bulls. Friendlies between touring national teams, such as last summer's between Brazil and Argentina, can draw similar crowds. This is precisely why every time soccer in New York is discussed, the words are "when" and not "if," "yet" instead of "perhaps." It's been that way ever since more than 43,000 fans filled the Polo Grounds to watch a match between American all-stars and Hakoah Vienna back in 1926.
So, then, when?
If MLS has its way, "when" is 2016, with the opening of a new 25,000-seat soccer-specific stadium near Citi Field in Flushing Meadows Corona Park, Queens. Commissioner Don Garber, a Queens native himself, has long and often expressed the goal of having a second franchise in New York. The biggest obstacle to realizing this vision is finding a place for such a team to play. But, of course, it's more complicated than that. No fewer than four separate entities — Red Bull, Major League Soccer, the New York Cosmos, and the City of New York — will have a direct say in whether soccer becomes a signature sport in New York City in the 21st century. All four entities have significant financial resources at their disposal, as well as much to gain and much to lose by how the next few years play out. Incredibly, scenarios exist where everybody wins and where nobody wins. But no one seems to believe that when things settle, New York won't have embraced professional soccer in a vital, passionate way for decades to come.
There are other players in this high-stakes drama, of course. There are additional domestic and international ownership groups intent on running the second New York team in MLS, including rumored interest from the owners of Manchester City. (The group itself has denied such an interest.) The North American Soccer League, the American second-tier where the Cosmos will play in 2013, also stands to benefit from the Cosmos' rebirth. Proposals for other sites, such as Belmont Park, lie in wait if the Queens stadium crashes and burns.
It's not as if this hasn't been tried before. There's already the Mets and Yankees, Knicks and Nets, Giants and Jets, and Rangers, Devils, and Islanders. They've all found their constituencies. But the Mets didn't always exist; in their early years, they actually outdrew the Yankees after taking over fertile territory that once belonged to the Dodgers and Giants. The Nets and Islanders are abandoning their current fan bases to find a new, more profitable set of fans at Brooklyn's Barclays Center. And the Giants and Jets have both found a home in New Jersey at MetLife Stadium, with the Giants, in particular, immensely successful, with a years-long waiting list for season tickets.
The popular sentiment is that if the Red Bulls could simply reverse their woes on the field and get their fans a title, then a lot more attention, and greater box office success, would follow. Another view is that having an in-market rival is just what the franchise needs to bring the spotlight to the Red Bulls. Or maybe neither is the case. A Red Bulls championship for their fans would certainly be a championship — for their fans. Would greater New York notice if the Red Bulls — whose exploits are often buried within the city's newspapers, seldom mentioned on WFAN or ESPN Radio New York, and sometimes relegated to the MSG Network's backup channel in favor of things like Summer Movie Night — won an extra game or two in November? Would they care much about a New York City derby? Is there room left in the inn for one soccer team, let alone two?
[I]t is perhaps easy by now to imagine that building a professional-size arena is straightforward in New York City. After all, the Mets opened Citi Field in 2009 in Queens, the same year a new Yankee Stadium opened in the Bronx. Barclays Center, in Brooklyn, home to the Nets (and soon the Islanders) debuted in the fall of 2012. On a pre–MLS Cup conference call in late November, only a few months after having announced plans for the stadium, Commissioner Don Garber was certainly thinking so. "There's a lot of work that needs to happen for us to finalize our agreement with New York City," he said. "I do believe that we'll resolve that shortly.… We're at the finish line."
Less than a week later, Garber stood before an audience at the Queens Theater, right next to the proposed stadium site, and struck a more cautious tone. With the help of outside consultants specializing in political campaigns, the league was hosting a launch event for an organization called MLStoQueens; it was something of an official coming-out party for MLS's stadium push. The room was filled with a motley coalition of area constituents: local Hispanic groups who wanted nearby soccer fields restored, trade-union workers who wanted construction jobs in building the stadium, and a noisy contingent from the Borough Boys, the official New York Cosmos supporters club, who wanted their team in MLS. There was scarcely an attendee who seemed to object to the stadium, though the organizers had stopped short of ensuring everyone was a soccer fan. When Garber described soccer as "America's sport of the future," a group of union workers toward the back of the room snickered; later, when a local youth-soccer leader presented in Spanish, they killed the time by pulling up pornography on one of their phones.
Notably absent from the stage at the start of the gathering was City Council member Julissa Ferreras, whose district includes Flushing Meadows. (At one point, Garber thanked her for attending… or, rather, for maybe attending later. She eventually showed up toward the end.) The politically problematic aspect of building the new stadium is this: if built on the proposed spot in Flushing Meadows Corona Park, it will eliminate a substantial amount of parkland. That estimate was originally 10 acres of parkland, now up to 13 (though much of it is currently closed to the public). Some critics of the project have estimated it to be closer to 20 acres. Whatever is lost must be made up by the creation of parkland elsewhere, as per city and state laws. And the approach the city would take is likely similar to the one used when Yankee Stadium was built: to add parkland in bits and pieces across the city until it adds up to the total acreage. That would technically fulfill the requirement, but it leaves Ferreras's district with a straight trade of parkland for stadium.
A week after the MLStoQueens event, council member Ferreras marched with stadium opponents and said that while she was excited to bring MLS to Queens, she couldn't support "a project at the finish line when it has not even begun."
MLS has promised to spend millions of dollars restoring local playing fields. The league also needs to come to an agreement with the New York Mets so that fans can park in Citi Field lots. From a 2012 vantage point, that shouldn't be a problem, with most of those spots empty even on game nights and the debt-riddled Mets looking for new revenue any place they can find it.
The broader city politics look more favorable for the stadium. Not only has Mayor Mike Bloomberg expressed his support but the New York Post reported in November that he views it as a legacy project. (Bloomberg's term expires in 2013.) One of his allies, Christine C. Quinn, is the New York City Council speaker. And one of the two hurdles the project needs to clear is earning City Council approval. As for Quinn, a 2013 mayoral candidate herself, the chance to attach herself to a popular project should make supporting Bloomberg an easy call. If those hurdles are cleared, it's hard to imagine Governor Andrew Cuomo, who has been supportive of the idea, getting in the way. There's no natural constituency for opposing it within the state legislature, and as Bloomberg put it back in August, "There's a lot of sentiment in Albany that they would be willing to do it."
But council member Ferreras has thus far managed to avoid taking a final position on the stadium. (She didn't seem eager to speak about it, either, failing to follow through on a phone interview, then failing to respond to repeated requests to reschedule.) Generally, the council tends to defer to the wishes of a particular member on projects in that member's district, so Ferreras would ultimately hold a fair amount of sway over how the council votes. But if the stadium is anywhere close to as popular as it appears in a survey MLS provided to the New York Daily News in November — 71 percent in Ferreras's district were for it, though the source of the poll was hardly objective — Ferreras would likely climb on board. If she can't make the sale with her constituents by pointing out the glory of the beautiful game, she can always cite the league's projections of between 2,100 and 2,300 construction jobs to build the stadium and 160 full-time and 750 part-time jobs once it's up and running.
For the time being, though, Ferreras continues to show up at rallies for stadium detractors as well as those for supporters. About a week after the MLStoQueens event, she marched with stadium opponents and managed to make two seemingly contradictory statements to the press: that while she was excited to bring MLS to Queens, she couldn't also resist a little jab at Garber, saying, "I cannot be supportive of a project at the finish line when it has not even begun."
[T]he new York cosmos occupy the second floor of a nondescript commercial building on Greene Street in SoHo. You ring for them the way you'd ring for your friend to come down for dinner: "Cosmos" is written in hard-to-read ink on the doorbell. It is an entertaining thing to consider that the Cosmos was once the most significant soccer team in the United States, the employer of Pelé and Beckenbauer. As recently as two years ago, a man named Paul Kemsley was, in the words of Grant Wahl, "essentially [setting] $10 million on fire" as the owner of the Cosmos. Billboards in Times Square. Marketing materials everywhere. Hiring Éric Cantona as director of soccer. A match against Manchester United at Old Trafford in which the Cosmos fielded an ensemble cast of former stars. A PR machine savvy enough to coax FourFourTwo into a big story. In short, everything you could do to emphasize a team's brand without, you know, creating an actual team. Then Kemsley went bankrupt.
You can understand why MLS never seemed to take Kemsley's Cosmos seriously. But this is Seamus O'Brien's team now, and he has a team to build, a league to compete in, a stadium to fill. Backed by Saudi-based Sela Sports, O'Brien, a straight-talking career sports-marketing exec, is out to rebuild the Cosmos from the ground up. The club will begin play in the new NASL in the fall of 2013. Home games will be held at Hofstra University, with a capacity of 13,000. They probably won't employ Pelé, or his closest facsimile, just yet. Such pursuits don't make sense for a team building a sound, sustainable structure.
"What we're trying to do is manage expectations," Jeremy Wilkins, a team board member, explains as we discuss the Cosmos around a conference table. "So when people do come to Hofstra for the first time, they're not expecting the Pelés or the equivalents of them. The boys are dead right with what they're doing in that they're concentrating on things on a step-by-step basis."
"The boys" are Cosmos general manager Erik Stover, the man who guided the Red Bulls through the process of building Red Bull Arena, and coach Giovanni Savarese, a legendary goalscorer for the MetroStars. Players — actual players — will be signed as this magazine goes to press.
"We are focused 100 percent on building the foundation of the club," Stover tells me. "And that means getting ready to play meaningful soccer matches in 2013 in the NASL. There's an enormous amount of work to do on that side of the project, to be successful at it."
Throughout our conversation, the Cosmos representatives emphasize their ambition to play, in the words of O'Brien, "at the highest level and be the number-one side in North America." But here's the thing: there is no promotion/relegation in America. The path to MLS runs through Commissioner Garber's office. No matter how popular the Cosmos become on Long Island, no matter how much money they manage to generate as the Manchester United of the NASL, the full resurrection of the New York Cosmos involves making a splash not just in MLS but beyond it, too.
"For example, in L.A., clearly a second team didn't work out," says Red Bulls GM De Bontin. "Rather than supporting the idea of a second team in New York tomorrow, I would question whether the league would be better served looking at Florida, Atlanta, Minnesota."
And just as surely, a second MLS team in the New York area that fails to resonate in the larger sporting world, as is the case with the Red Bulls, is not what Garber has in mind. Worse still, he may never get another opportunity to do so if an MLS franchise doesn't take off this time around. A turnkey operation, complete with glorious soccer history and the chance to start fresh with the New York media in a gleaming new stadium within the five boroughs — let's just say that the Cosmos and MLS are the leads in this romantic comedy, even if it's been more comedy than romance until now. If the New York Cosmos does not become the next New York team in MLS, then something went awry.
A four- to five-year timetable has been floated for the Queens stadium. "Five years, that's a good amount of time, and probably a sensible guideline," says Wilkins. "A year's too short, three's iffy, five is when you know where you're at. So everybody could have a look at each other from a distance, and — we can flirt, right?
[A]nd then: What becomes of the brokenhearted?
"We believe a second team in New York will help us to break through the clutter… of 12 professional sports teams in this city," Garber said back at his November press conference. "Once Jérôme has a greater understanding of this project, he will be as supportive as the other GMs are."
That would be just-hired Red Bull GM Jérôme de Bontin, who deviated from the longtime party line of the New York Red Bulls in November to express concerns about a second team in the area. "I don't mean to be controversial," De Bontin told Fox Sports, "because I've just arrived. I know MLS well. I've been supportive but critical of MLS. At times it fails to learn from its mistakes and is maybe misguided. Competition is good. Over time, a second team in New York would be a good thing, but today it's probably premature."
"For example, in L.A., clearly a second team didn't work out," De Bontin continued. "Rather than supporting the idea of a second team in New York tomorrow, I would question whether the league would be better served looking at Florida, Atlanta, Minnesota. Many parts of the country have no team, and we might find surprises like in the Pacific Northwest rather than forcing something too soon."
An initial attempt to get additional clarification or comment from the Red Bulls was declined, with a spokesperson referring me back to the De Bontin comment specifically. But then, by mid-December, De Bontin had very much come around, telling Bloomberg TV, "Clearly there's enough space in New York for two or three teams." He did not discuss what had caused him to see the light. There is a certain irony to a Red Bull spokesperson expressing skepticism, as it has previously been reported by The New York Times' Jack Bell that, in taking over the New York franchise, Red Bull gave away a clause the MetroStars had originally negotiated that established their right to block a competitor within 75 miles. If that's correct, it means that when Garber says that the plan to add another New York team dates back to the very start of MLS, it is important to note that the league would have needed permission from the team already there.
An internal study of the geographical breakdown of Red Bulls fans showed 60 percent of them came from New Jersey, 40 percent from New York and surrounding areas. In August, before De Bontin's arrival, this was supposed to be data in favor of the Red Bulls supporting a second team. There's plenty of reason to believe that the New Jersey part of the New York metro is large enough to support its own franchise, and of course, Red Bull will be happy to fill its stadium with fans from wherever — so long as it's filled. But such statistics raise a question that goes back to the team's original founding, when the name "MetroStars" was selected over the original, New York–centric choice, "Empire Soccer Club." In an interesting development this fall that recalls the discussions from 1995, the blog MLS Rumors revealed that MLS had filed for trademark protection for both "Empire F.C." and "City F.C."
The City F.C. trademark caught the attention of those who believe that Manchester City may be actively seeking the new New York franchise rights. To be sure, there's no guarantee that the New York Cosmos will be the second New York team. The smart money still seems to be on that option, but De Bontin's casual reference to "three" New York teams (when he'd previously been skeptical of two) seemed to indicate a whole lot of machinations happening behind the scenes. There are, as Garber takes great pains to point out every time the subject comes up, multiple parties interested in owning the new franchise. And the Cosmos go to great lengths to argue that their resurrection can be successful without MLS, though it has been difficult to define exactly what that would look like.
If all goes right, MLS will open a gleaming new stadium within easy reach of public transportation and highways in Queens. A signature franchise from the history of American soccer will occupy it, supplying a rivalry with the incumbent club and focusing a spotlight on the league in the media capital of the world. If this happens, it is nearly impossible to imagine New York City lacking a thriving professional soccer scene any longer. Then again, of those 46,000 who left the Polo Grounds back in 1926, it's hard to imagine even one of them picturing that, nearly a century later, we would still be scheming, hoping, and dreaming for the moment when soccer finally arrives in New York.

— — — — — — — — -
Subscribe to Howler here.