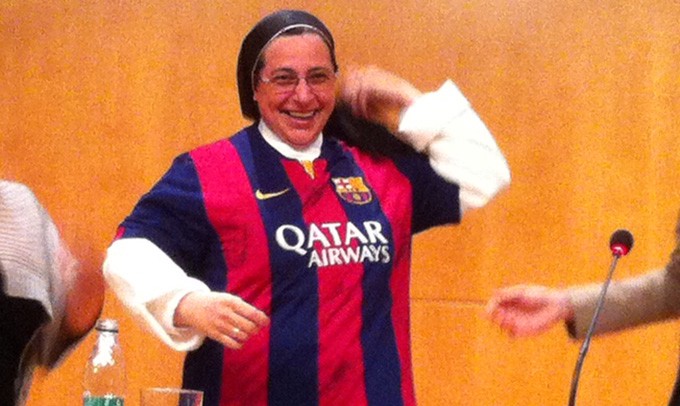 Sister Lucia Caram, an Argentine nun living in Catalonia loves FC Barcelona and, of course, Lionel Messi. This love is well known. In 2013, she told Mundo Deportivo that "not supporting Barca is a sin." Though she describes the club as "a way of being, acting, living, thinking" and the embodiment of "fair play and humility," she clearly has a sense of humor about football and doesn't shy away from tongue in cheek comments, either.
And it is in that spirit that she boarded the Banter Bus and tweeted "Cristiano: Golden ball or fist?" after Cristiano Ronaldo got himself sent off during Real Madrid's match against Cordoba on Saturday.
A harmless comment on the Ballon d'Or winner's violent antics during the match, but it was still enough to rile up Cristiano's many defenders on the social media site. Replies to her tweet ranged from references to "golden pedophile priests" to asking her "nun or bitch?" and calling her evil and an agent of Satan.
Given her footballing allegiances, she had previously been asked about Ronaldo and said that she doesn't hate him (or anyone) even though he "embodies the opposite of Messi, pride and arrogance." She added that one cannot judge him, though, "because we do not know his history, genealogy or environment."
When Ronaldo apologized for his actions in the Cordoba match, Sister Lucia retweeted his message and added that "To rectify is a path of wisdom." But since the abuse kept rolling in, she felt the need to defend herself by saying that she "has great friends in Madrid" and bemoaning fellow Twitter users with "thin skin and no sense of humor."
"If the passion you dedicate to attacking, as you do now over CR7, you use it to make something good it will save us all," she added.
Finally, Sister Lucia concluded, "I can not help it: I am Barca and I have nothing against adversaries. I like good football and fair play. For what it's worth."
This has been your latest reminder that everything is awful.