This was not supposed to happen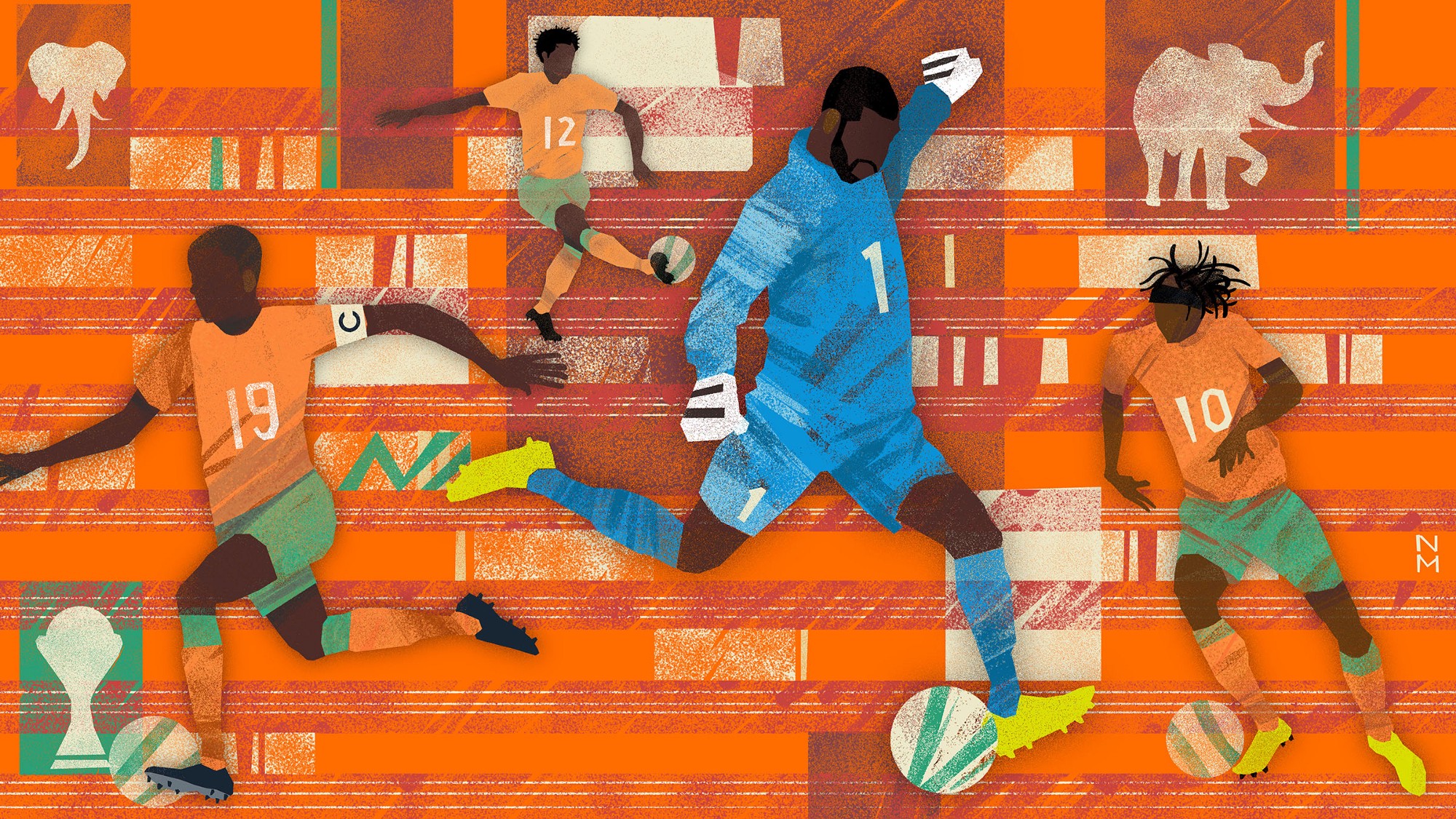 I gave up hope of ever writing an ode to Boubacar Barry on June 24, 2014. I tossed the outline I had written for an article about "one of international football's most loveable, tragic figures" in the trash. I went through my inbox and deleted every half-written pitch to an editor in which I'd begged for a thousand words and maybe a couple bucks to extoll Barry's underappreciated qualities. On June 24th I decided that soccer is a stupid game, and me and Boubacar — we were over.
That afternoon, Ivory Coast only needed one point from their final group match against Greece to advance into the last 16 of the World Cup. Les Éléphants were holding on to a 1–1 draw in the second minute of injury time. Then, as so often happened with Ivory Coast's "golden generation," everything went wrong. Greek forward Georgios Samaras enthusiastically fell over Giovanni Sio's leg. The referee pointed to the spot. Barry dove to his left. Samaras' penalty slid past his outstretched hand. Ivory Coast was eliminated from the World Cup. It was unfair and it was unfortunate, and, as always, Boubacar Barry was right there as everything fell apart.
The past decade was cruel to the megastars of the Ivorian "golden generation," who could never assert their dominance on the international stage. It was crueller still to Les Éléphants' squad players. They shared the burden of expectations without possessing the skills or physical gifts to turn that hype into reality. The likes of Aruna Dindane and Steve Gohuri couldn't help but play as though they belonged in a different league than Yaya Toure and Didier Drogba. It didn't matter because Les Éléphants had Drogbas and Toures to keep lesser players off the pitch.
Except in goal. Time and time again, Barry rose from the scrapheap of international football like a whack-a-mole ready to be struck down yet again by fate's hammer. Through no fault of his own, Boubacar Barry was irreplaceable.
These international appearances, for all but the most devoted followers of Ivorian or Belgian football, formed the entirety of Boubacar Barry's biography. The 35-year-old who grew up in Abidjan and once languished behind Petr Cech on the Rennes depth chart has had a successful career in Belgium, first with Beveren and, since 2007, with Lokeren. He won the 2012 and 2014 Belgian Cups with Lokeren — his and the club's first titles. For reasons that remain unclear, he even took and scored a penalty in the 63rd minute of a 2012 league match against Westerlo.
I started cheering for Barry in 2010, drawn to an underdog on a team full of favorites.
None of these achievements mattered on the international stage. During pre-match anthems, Barry would stand next to his international teammates, an award-winning collection of rippling muscles and footballing nous, looking even smaller than his slight 5'–11" frame. The golden generation was often cursed by its physical presence. For much of their careers, coaches used players like Drogba and Toure as blunt instruments, an effective strategy that marginalized their subtler creative skills. Boubacar Barry suffered from the fetishization of his teammates' imposing physiques without reaping any of its benefits. Manager after manager arrived in Abidjan promising to play on the front foot only to end up sitting back and counting on his players' natural gifts to prevail. This strategy left Les Éléphants with little margin for error, and whenever things went wrong, as they invariably did, Boubacar Barry was always nearby.
I started cheering for Barry in 2010, by far the Barry-est year of his international career. Looking back, I was drawn to an underdog on a team full of favorites.
At that year's Africa Cup of Nations, Ivory Coast was eliminated by Algeria in the quarterfinals. Les Éléphants had taken the lead in the 89th minute, then conceded an equalizer in the second minute of injury time. Two minutes into extra time, Barry conceded the losing goal to Hameur Bouazza. That was in January. In the summer, at the World Cup in South Africa, Barry kept two clean sheets but Les Éléphants didn't progress from a group that also contained Brazil and Portugal. None of what transpired that year was solely Barry's fault, but it was hard not to see him as the most replaceable member of Ivory Coast's starting lineup.
But in the absence of a replacement, Barry soldiered on. Ivory Coast made it to the finals of the 2012 African Cup of Nations and Barry stood between the sticks during the decisive penalty shootout. He didn't make a single save. In the ninth round, Gervinho missed the goal by a mile. Zambia's Stoppila Sunzu slammed his penalty past Barry and that was that. Ivory Coast had lost again and Barry had done nothing to save them.
Then it was time for the goalkeepers to take their penalties. The match was going to come down to Boubacar Barry.
And then it was over. Didier Drogba retired. Talk of the golden generation shifted to the past tense. Les Éléphants' new manager, Hervé Renard, picked Sylvain Gbohouo as his goalkeeper for the 2015 Africa Cup of Nations. At age 35, the seemingly irreplaceable Boubacar Barry had finally run out of time.
There is, then, no logical or elegant transition for what I'm about to write: Boubacar Barry is the hero of Ivory Coast's 2015 Africa Cup of Nations championship.
This was not supposed to happen. Barry only started the final because Gbohouo picked up an injury in the semifinal. During the match, he shanked the occasional clearance and, though he avoided outright calamity, he looked characteristically smaller than his teammates and the occasion. As they had done in previous tournaments, Les Éléphants sat back and waited for a moment of magic that never arrived. Yaya Toure stayed deep, refraining from his signature surges up the pitch. Gervinho played like he still lived in London. After 120 uninspiring minutes, the match went to penalties. Once again, Les Éléphants were one unfortunate moment away from another heartbreaking international loss.
Ghana scored its first two penalties — Barry barely made an attempt to save either — and the Ivorians missed both of theirs. In between the second and third rounds, though, something clicked. Barry saved Afriyie Acquah's penalty and saw Frank Acheampong shoot wide. After four rounds, Ghana and Ivory Coast were level. Then the penalties started streaming in. Yaya Touré and André Ayew, the fifth kickers for Ivory Coast and Ghana, made their shots. In round six, both shots went in. Same in round seven. Eight. Nine. Ten. Goals. Goals. Goals.
Then it was time for the goalkeepers to take their penalties. The match was going to come down to Boubacar Barry.
Razak Braimah, Ghana's goalkeeper, walked nervously to the spot. Barry dove to his left and pushed the ball away. He got up after the save and immediately fell back down, clutching his thigh, apparently suffering a cramp. Moments later, he indicated that he was also suffering from a wrist injury. Earlier in the shootout, Ghana's Andre Ayew had protested Barry's pre-penalty delays. Now the goalkeeper was either injured or attempting to prolong Razak's excruciating wait to face the decisive penalty. I'll never know if Barry's performance got into Razak's head and turned him into a quivering pile of nerves but it sure psyched me out.
After two interminable minutes, Barry got up and prepared to take his penalty. He approached the ball at a slow trot, only picking up speed in his final two steps, and lashed a shot to his right, above Razak's outstretched arms. Goal! Barry wheeled away in celebration, his thigh, by the look of things, working normally. Then again, he didn't need to worry about walking: Wilfried Bony carried him around the stadium on his shoulders. Ivory Coast players were crying, but this time they were tears of joy. So long the weakest link in Les Éléphants' squad, Boubacar Barry was, for a brief moment, the man.
Soccer is a stupid game. Goalkeepers take decisive penalties while Gervinho cowers behind the dugout. (Having been subbed out of the match, he was apparently too nervous to watch.) Boubacar Barry is not the hero of the romantic's beautiful game. He is not the hero of the geometric game, where players are mere points on that cartesian plane known as the pitch. He is not the hero of the physical game, in which musculature is destiny. But he is the hero of the stupid game, a competition that is often cruel and unfair, where the member of the golden generation who never really belonged is the one who, at long last, brings a trophy back to Abidjan.

David Rudin is a culture writer who spends most of his time tweeting sad Arsenal thoughts under the handle @DavidSRudin. Noah MacMillan is a frequent contributor to Howler and tweets under @NoahMacMillan.