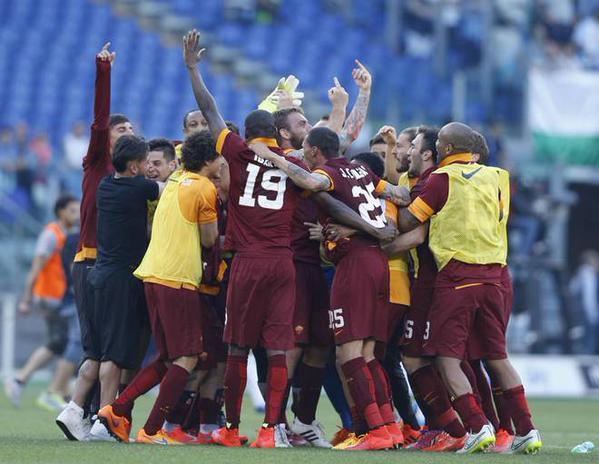 In their penultimate Serie A fixture of the season, second-place Roma beat third-place Lazio 2–1 in a typically hateful Rome derby to clinch a place in the Champions League group stage.
Outside the stadium in the run up to the match, two Roma fans were reportedly stabbed by Lazio ultras, further fueling tensions between the two clubs that the game itself only added to. Juan Manuel Iturbe put Roma up 1–0 in the 73rd minute, then Filip Djordjevic equalized for Lazio in the 81st minute and Roma defender Mapou Yanga-Mbiwa scored the winner in the 85th.
This provided several levels of delight for Roma and Daniele De Rossi expressed his euphoria by sticking both of his middle fingers up at Lazio fans from the center of Roma's celebratory huddle.
Roma captain Francesco Totti, meanwhile, stuck it to their opponents in T-shirt form…
https://www.gettyimages.com/detail/photo/474728264
The front read "You are always talking, what more are you going to invent?" And the back concluded "Game over…"
Said De Rossi (via Football Italia):
"This squad dug deep to find something within ourselves, because to be honest we didn't see the ball that much today," confessed the midfielder to Sky Sport Italia.
"We fought hard and battled for the victory, but we need to get some better ideas and improve next season, as this Lazio is a scary side."
Giving their fans the finger will probably just exacerbate the whole situation, but hey — you're the one who has to play against them, Daniele.