https://www.youtube.com/embed/siVeBCaYeko
Just before the start of the Women's World Cup, EA Sports has announced that FIFA 16 will finally feature women's national teams for the first time ever. Twelve teams (Germany, USA, France, Sweden, England, Brazil, Canada, Australia, Spain, China, Italy, Mexico) will be playable in Match Day, an offline tournament mode, and in online friendly matches. The women's teams will only be playable against other women's teams.
EA Sports is touting this addition as the "deepest integration of women in a sports video game to date and one of the most requested features among EA Sports FIFA fans."
In the wake of the 2011 Women's World Cup, online petitions to add female footballers to the hugely popular video game gained attention from both the media and EA Sports themselves, but the company would only say that it would happen "at some point." Now, after years of preperation, they've finally done it.
From the Guardian:
Series vice-president and general manager David Rutter claims that his team has been working to overcome the technical challenges of including women in its football sim for a considerable time.
"It's been in the pipeline for a few years, and really it was just a case of making sure that the game was in a good enough state for it the work properly," said Rutter. "We needed to have tools and technology in place that could differentiate between men and women. Plus, we had to factor in the time and effort required for travelling around the world to scan faces and heads, record motion capture, etc. It's been on the to-do list for a while."
Some of the top players in the world were brought to EA Sports' Vancouver studios to participate in motion capture sessions to ensure their likeness, body movements and playing styles were accurately represented in the game, which will be released in September of this year.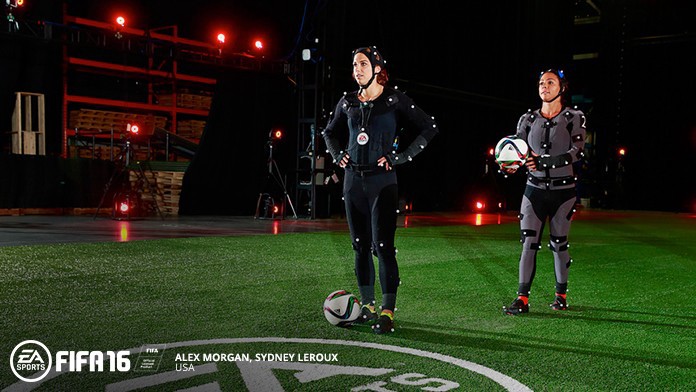 As for playing ratings, a separate scale is being used than that for the male footballers.
The underlying gameplay engine remains identical to the men's game, although attributes and traits are scaled to other players of the same sex. "You will get 80-rated players in the women's teams but they're not the same as an 80-rated player in the men's game," explained Rutter. "Our Cologne team [which handles all player data] has been through a ton of women's matches over the last year or so, gathering details, information and their opinion on the players, in order to create these ratings."
Twelve national teams is only a start in giving women's football fair representation in the game (an all-female Ultimate Team mode and the inclusion of club teams have already been discussed, according to the Guardian), but it could have a tremendous impact on the growth of women's football — especially in a World Cup year.
The FIFA games are widely hailed as being a major factor in the rapid growth of the sport's popularity in America, so it's reasonable to believe that it can help raise the profile and support given to women's professional football at both the international and club levels, as well.
The first gameplay news for FIFA 16 will be released on June 15 at E3.