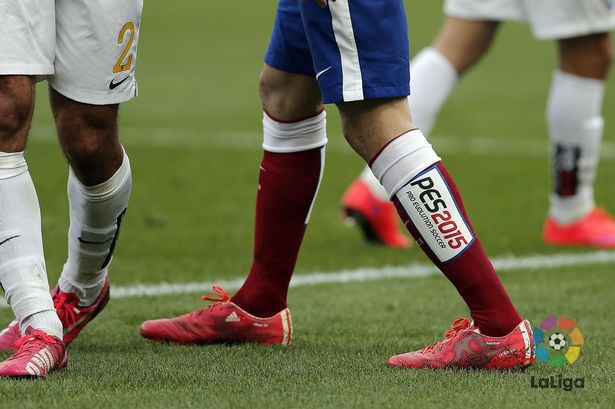 Like a plague spreading through the bloodstream, kit advertisements have now made their way down to players' socks in La Liga. A deal has been struck between the LFP and Konami to slap ads for video game Pro Evolution Soccer 2015 (aka Not FIFA 15) on one of the last remaining sections of a player's body that isn't sponsored.
From The Mirror:
Director of Konami — who make the games- Erik Bladinieres, said: "This is a fantastic opportunity with a potential global reach of more than 800 million people, given the international presence of La Liga and its worldwide expansion."
La Liga's General Director of Marketing and Sales, Adolfo Bara Negro, was equally happy. "The fact a global brand such as Konami has decided to use the method until the end of the season shows that we have taken the correct decision partnering with Sockatyes. We are delighted about the collaboration between Konami, Sockatyes and La Liga."
The sock ads have already been put into use by 14 La Liga clubs and 12 Liga Adelante clubs (full list here), but have you noticed them? Atletico Madrid wore them against Barcelona. How many people's eyes drift to players' calves, though?
https://www.gettyimages.com/detail/photo/473805348
With the shirts (front, back and sleeves), shorts, and socks now open for business, it's only a matter of time before the money men realize that players' foreheads are just billboards waiting for a temporary tattoo to be applied before every match.