https://www.youtube.com/embed/0-4EOHBejqg
Manchester United's 1–1 draw with Arsenal marked their final home match of the season, so when it was over, the players' families came out onto the pitch, as they do.
This gave Wayne Rooney's youngest son, Klay, a chance to show off his Cristiano Ronaldo impression, which he seems to have perfected.
The soon to be two year old dropped his ball in front of the goal and stood there, letting the drama build as the Stretford End anticipated his next move. Hands at his sides, he took a few deep breathes just like Ronaldo does before taking a free kick and then drove it into the net with authority, eliciting a big cheer and probably making Falcao a bit jealous.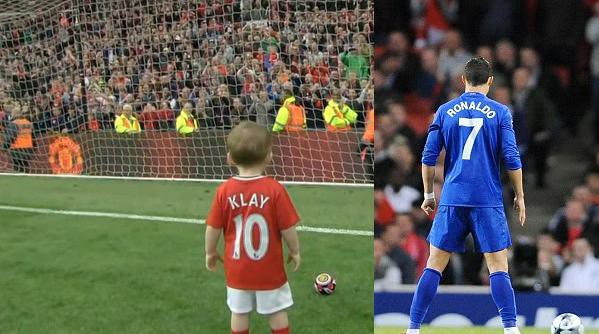 And to prove that Rooney is definitely teaching his kids about his former teammate, Klay's older brother Kai had temporary tattoo of Ronaldo's face and name on his forearm during all of this. So we can reasonably assume that Wayne Rooney is attempting to raise a team of footballers with his genes and Ronaldo's style of play. All with first names that begin with the letter K. That last part makes it a bit weird, but to each his own.