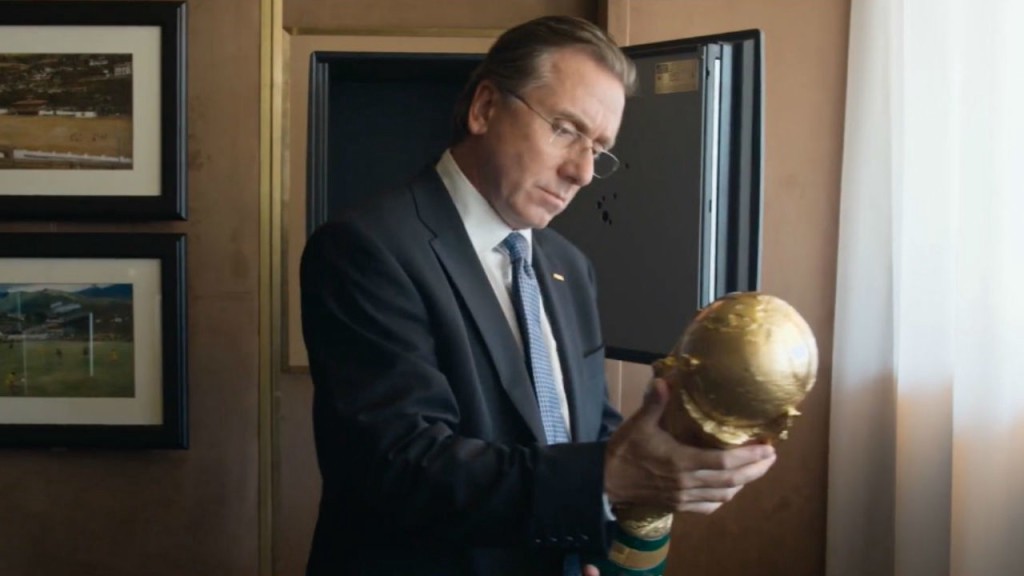 United Passions, a film produced by FIFA about FIFA and for FIFA with a title befitting a softcore porn flick, was first released last year in select markets (Serbia! Portugal! Hungary!) and it was received as poorly as a vanity project for a reviled criminal organization posing as a non-profit should be. It has a 2.9 rating (out of 10) on IMDB and a 0.5 rating (out of 10) on Rotten Tomatoes. It reportedly cost FIFA between $20 million and $30 million to make.
And now, mere days after the film's hero announced his plan to surrender the FIFA presidency following major arrests and evidence of decades of corruption, United Passions is being released in theaters across the United States — the very same country responsible for setting FIFA's previously impenetrable headquarters on fire. (UPDATE: According to The Hollywood Reporter, it made $607 in its opening weekend. Six hundred and seven. That means about 60 people paid to watch it and/or sit in an air conditioned room during its first two days of release.)
Given these hilarious circumstances, the film's director, Frederic Auburtin (who was brought to the project by United Passions star and friend of Sepp Blatter, Gerard Depardieu), is promoting its US release by talking about how much he wanted to undermine its message.
From the New York Times:
"I didn't have the freedom to do a Michael Moore movie at all," he said. "If I started the movie with flashlights and sirens coming to Zurich, like what happened last Wednesday — I knew if we would write any line like this, everyone would say: 'What are you doing, man? Come on.' "
Mr. Auburtin said he would have preferred to delve deeper into the FIFA darkness. "But I accept the job," he said. "I know FIFA is producing the film. As we say in France, don't be more royalist than the king: Don't be the king if you are not the king."
Auburtin and Tim Roth, who plays Sepp Blatter, both say they tried to subtly hint at the corruption that has since made headlines around the world within the film. And there's only one way to find out if that's the case: by actually watching the damn thing.
0:00 — The "Official selection of the Cannes Film Festival" seal ensures that the laughs start before the film even does.
0:01 — I'm pretty sure the following is just a fancy way of saying "Everything you're about to see is bullshit."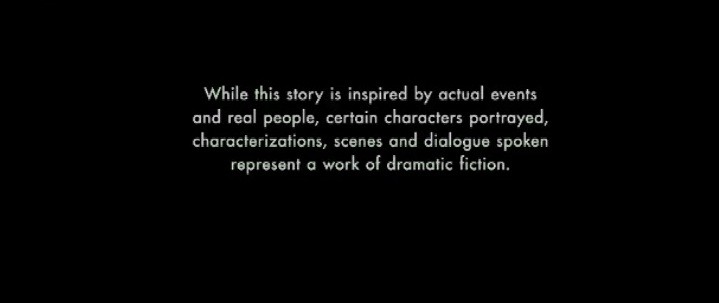 2:00 — Fisher Stevens ("The Plague" from the movie Hackers) is dressed in old timey clothes and writing a letter about the need to establish a governing body for football while narrating in a terrible Dutch accent. This is already the worst movie of all time.
3:45 — The Lords of the English FA are clearly being established as snobbish villains. They are literally wearing black top hats, monocles, and looking down at the French, German, and Dutch reps. They don't want to join FIFA and find it "ridiculous" that anyone but them would run the sport (a comment made as a monocle was put in place, for maximum effect).
9:00 — The dialogue sounds like it was lifted word for word from FIFA.com's "About Us" page.
11:52 — "Who the hell is that?!?" "Jules Rimet, he's the president of some federation that nobody even knows." … "He's mad." "No…he's a visionary!" This is terrible.
14:50 — Pretty sure every scene is required to include a disparaging remark about the English at this point.
16:30 — At lunch with Rimet (Depardieu), a Uruguayan official offers to pay FIFA so they can host the first World Cup. And so it begins. World Cup bribes existed before the World Cup!
19:16 — "But young lady, the natives of Africa are stupid and undisciplined. It's just their nature. How could they possibly be expected to appreciate the subtleties of a game invented by the whites?" says an English guy. He then tells Rimet that his daughter knows nothing about football and "they should send her back to her sewing and the art of good housekeeping." Just to drive the point home, he adds: "Negros playing football. Why not women while we're at it? That would be quite amusing, eh? Quite amusing." They must have cut the part where he ate a live human baby after saying all that.
27:57 — A quick montage of the first World Cup leads into an extended scene of kids playing on a dirt pitch in present day, then we go back to 1931. The editor is drunk.
31:00 — FIFA president Jules Rimet rants against Hitler and Mussolini, calling the previous World Cup in Italy "a weapon of mass propaganda." He then says that "Italy did not win the World Cup. You appropriated it!" This is what it looks like when modern eyes are given to historical characters so FIFA can save face.
33:00 — Rimet's daughter is the only woman in this film. She eats and breathes exposition.
38:23 — The English are back. Rimet is busting their balls about losing to the US in 1950. This movie should have just been called "English People Are Worse Than FIFA So Back Off."
47:54 — Sir Stanley Rous, FIFA's third English president, tells Joao Havelange he shouldn't join FIFA because he's Brazilian. "Our world isn't ready for those born less fortunate," he says, as if that's something that makes any sense at all. Havelange is played by Sam Neill, who is from Northern Ireland and has an English mother. (Sepp Blatter is also played by an Englishman.) This movie is weird.
49:50 — An envelope in a fruit basket waiting inside a Mexico City hotel room for an African official at 1970 World Cup. He then tells Havelange "You're spoiling us." Corruption hint! Corruption hint!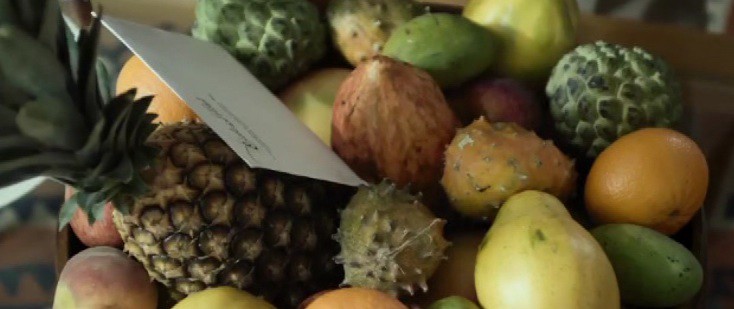 53:55 — Havelange is elected FIFA president, defeating Sir Stanley thanks to that fruit basket bribe. Sir Stanley then hints at corruption before going right back to the overt racism. Havelange says Africa, Asia, and America are the future (…destinations of FIFA bribes, obviously).
57:35 — Havelange introduces Blatter by saying, "He is apparently good at finding money." Sepp giggled when he wrote that one.
1:02:00 — Horst Dassler, then president of a struggling Adidas, meets Sepp at a roadside cafe with a bunch of gear in the back of his car (and a briefcase). Dassler's voice drips with conspiratorial intrigue. He implies that he has pull with Havelange. Corruption hint?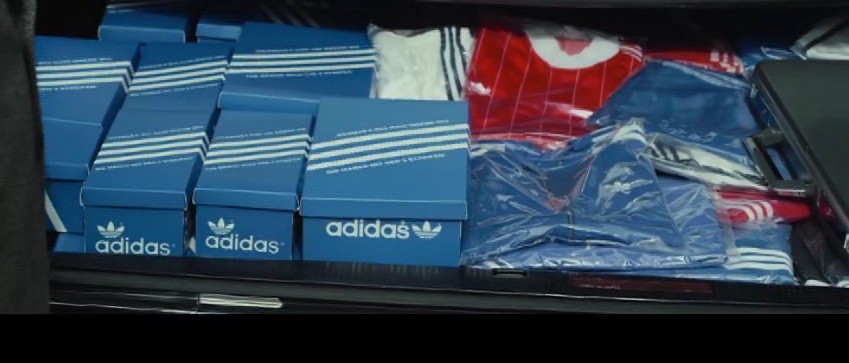 1:16:02 — Now second in command at FIFA, Blatter tells his creepy pal Dassler that when it was time to pay the federation's staff, there was no money and Havelange was unresponsive. So Blatter "signed a check for 200,000 Swiss francs" to pay them. "My god," says Dassler, who looks like a rich guy who can't decide if he wants to be a serial killer or a pornographer. Sepp suspects foul play with FIFA's money.
1:17:50 — Blatter's daughter given a cameo now. Women only exist in this story to make old white guys seem human.
1:21:50–1980s football administration montage! Phones with antennas! Signing contracts! Horst Dassler's coffin! Cities! Planes! Now this is entertainment!
1:23:09 — An aged Havelange tells Sepp "You have everything you need to run our family" at the '94 World Cup. So this is a mafia movie!
1:25:35 — Now president, Sepp warns the FIFA Executive Committee against any hint of corruption ahead of the 2002 World Cup. Some take offense at his assertion that "there are always a few rotten apples." Sepp stands firm as they bristle that Havelange "would never dare to treat us with such contempt." Iron Sepp says, "He's no longer president. I am. … We will play by my rules now." This is pure fantasy.
1:32:12 — The film does a strange dance around the presence of corruption. It's used to provide drama, but never explicitly described. Havelange is subtly blamed, even positioned as the bad guy at times, but brought back to declare his innocence. Then he tells Blatter to make indecisive voters do what he wants. Blatter is posed as the white knight, but protects the dark forces, even as they tell him to resign. It's all very muddled and blurred, but there might be more truth in that confusion than many have given the film credit for.
1:36:26 — Asked what he will do with those who betrayed him, Blatter says "Keep them close at hand," paraphrasing Michael Corleone. This is definitely a mafia movie.
1:36:30 — Movie Sepp: "One should always forgive, just as one should never forget." Real Sepp, six days ago: "I forgive everyone, but I don't forget." Real Sepp is stealing lines from Movie Sepp!
1:41:28 — We're back to the kids on the dirt pitch and the girl playing goal goes the length of the field to score, embarrassing a team of boys along the way. Her teammates lift her up on their shoulders. This seems like a pandering attempt to make up for the few minor roles women had in this thing.
1:42:50 — Sepp announces South Africa as the host of the 2010 World Cup. And just like that, it mercifully comes to an end.
This was as bad as the ratings and reviews have made it out to be. Cramming 100 years of football administration into an hour and 40 minutes results in a dull block of exposition that eventually fizzles into the credits. This film did not benefit FIFA, nor did it reveal much insight. It was a story told by someone who didn't want to tell you their story. And yet, all of this combines to make it kind of interesting in a "Why does this exist?" sort of way.
I give it seven indictments out of 10. After watching it, you'll beg Swiss authorities to extradite you to a Kevin James movie.