https://www.gettyimages.com/detail/photo/495106954
Tweeting is never a good idea and it turns out this is even true if you're the police. Both the Greater Manchester and Merseyside police departments demonstrated this over the weekend with their now deleted attempts at football related banter.
Following another lackluster performance from Wayne Rooney in Manchester United's 0–0 draw with Crystal Palace, the weekend tweeter on one of the Greater Manchester Police's accounts ("DS Dave") decided to put out a missing persons alert on him…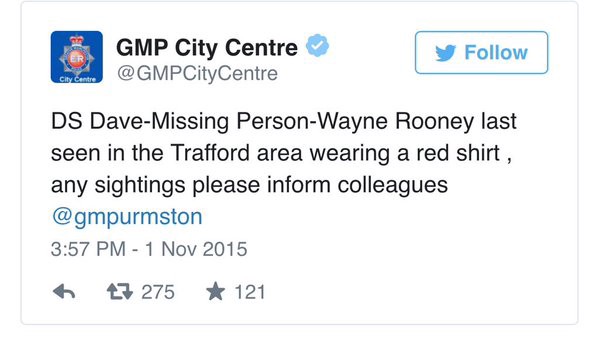 This didn't go over well, and after disagreeing with someone who informed them of this, they signed off for the night by saying "Right that's me done better get off before I get lynched." The Rooney tweet was eventually deleted on Monday morning by their weekday tweeter ("Insp S").
Meanwhile, the person running the Merseyside Police's account somehow didn't realize that using it to make a rape joke was the absolute worst idea.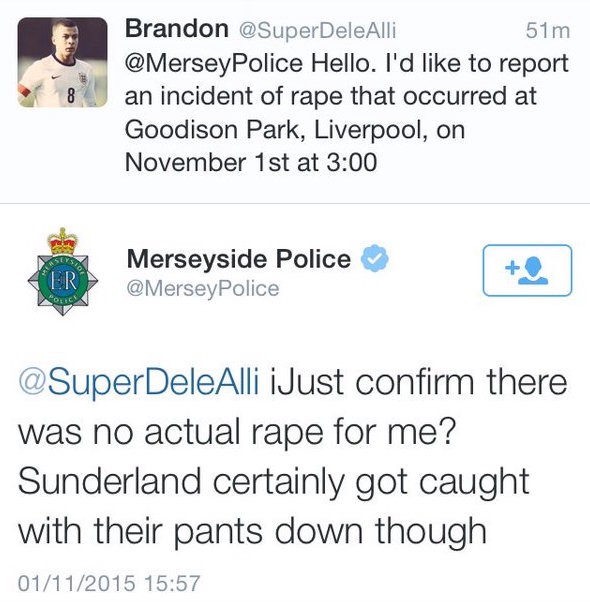 The original tweet direct at the Merseyside Police was referencing Liverpool's 3–1 win at Stamford Bridge, to which they responded with an ill-advised reference to Everton's 6–2 win against Sunderland. This was met with outrage, prompting an apology to be sent from the account.
Apparently the only people who didn't realize that police department Twitter accounts shouldn't be outlets for crime based comedy were the police.