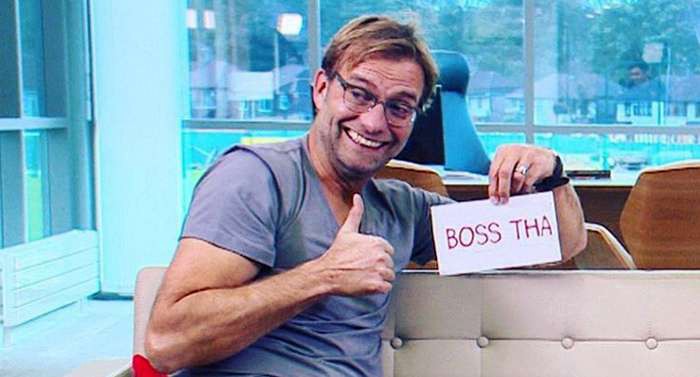 Last week, it seemed more likely that Daniel Sturridge would return to action anytime in the next ten years than Jurgen Klopp would ever rap — but since then, major established principles of the universe have been disputed, so now anything seems possible.
The Normal One's honeymoon phase ended relatively quickly when Liverpool's form didn't immediately return to that of 1990. He's been criticized about his team selection, his "worse" record as compared to ex-Liverpool boss Brendan Rodgers, and his feelings about the refereeing, yet Klopp has stayed pretty calm and composed through it all. At least in his official responses.
So as an alternative to seemingly taking it out on Alberto Moreno from the sidelines, we wrote him a track he could drop instead. Don't worry, Wiz — it's not called "Waves."
[Verse 1]
Coming in, I knew my team would get some critique
But I'm getting sick of what they say about us week after week
I'll smile for the journos, as you've all seen
But what I really want to say is auf wiedersehen
I inherited Bogdan! Cut me some slack
But now, 'til you do, I'm gonna start hitting back
"Soft German," Sam says? Well this'll say nah
Hey Brendan: would you call that a character flaw?
[Verse 2]
I got left with one striker, but still look what I've done
I got out of Joe Allen what Rodgers got out of almost no one
I'll tighten up the defense; I know that's a pain
But Norwich, are you saying that you're not entertained?
32 goals allowed — alright, sometimes Kolo gets spun
But at least we're in the final of the Capital One
Rodgers got no excuse; I got us there with his team
Except — oh yeah, see you there, Raheem
[Verse 3]
Our head-to-head record — Pellegrini won't like how it looks
I think the game will be another one-four the books
Last time you even let Skrtel get on the sheet!
But you let Everton score…so I guess that's no big feat
After five months, I'll win us a trophy to shield?
Yeah — "boss tha" better get engraved at Anfield.