https://twitter.com/FCKansasCity/status/721494998487842817
The championship ring is a longstanding tradition in American sports that has seeped its way into the country's professional soccer leagues. So, as reigning champions of the National Women's Soccer League, FC Kansas City received their rings before their first match of the new season. And as this proud moment unfolded on the pitch, the club's Twitter account showed off the ring each player was receiving, allowing followers of the account to spot a problem: the rings say "NSWL" instead of "NWSL."
Apparently no one in the organization noticed this error before that point because 49 minutes later, they tweeted this:
https://twitter.com/FCKansasCity/status/721507449312788480
So FC Kansas City will likely be asking for a refund on those rings come Monday. And while they're at it, they might want to check their 2014 championship rings for mistakes, too.
UPDATE: After initially having a sense of humor about the situation, both tweets have now been deleted, sadly. Here's a screenshot of the one with the ring images…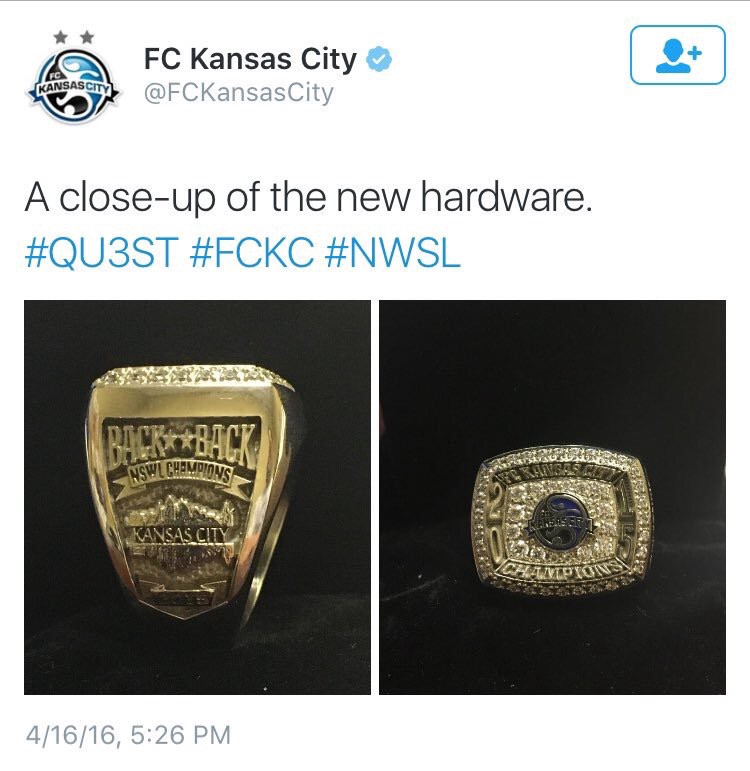 UPDATE II: New rings with proper spelling are on the way and a second ceremony will be held to make it official.