Is MLS engaged in a sophisticated marketing operation or squatting on internet domains?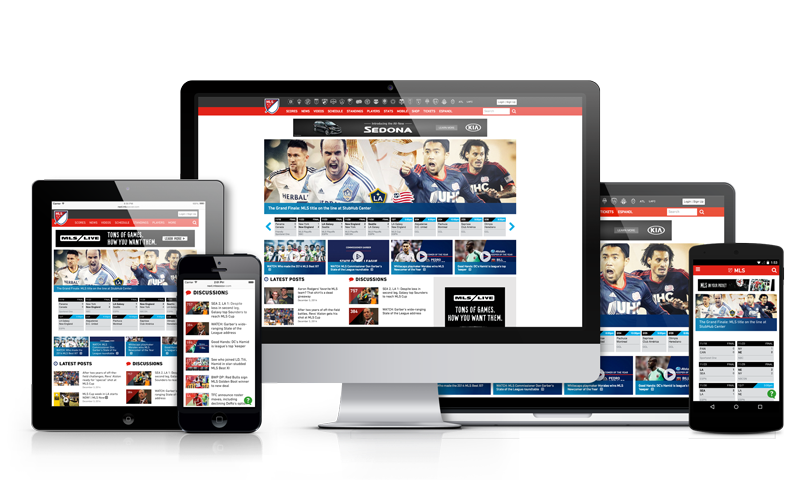 If Major League Soccer commissioner Don Garber has his way, the league will expand to 28 teams in the near future. While the destinations for some of these future franchises — Minneapolis-Saint Paul, Atlanta, Los Angeles, and Miami — have been announced, the remaining locations are still subject to rabid fan speculation. In public, the league has avoided announcing potential cities for these new clubs.
On the internet, however, MLS has been expanding its reach for years and leaving breadcrumbs in its wake. Records indicate that the league has purchased web domains for prospective clubs and ventures — some of which subsequently came to fruition — in almost all of America's major markets. This catalogue of web properties offers a window into the league's plans, both past and present.
The domains in question, 122 in total, were created through cscprotectsbrands.com, networksolutions.com, and publicdomainregistry.com. These are three of the many sites that can be used to claim domain names, all of which are functionally interchangeable. On the internet, only one site can be registered under each top-level domain: com, .pizza, etc…. There can, for instance, only be one google.com. This scarcity condition makes choice domain names valuable assets. In 2010, the NBA's Charlotte Bobcats offered the owners of charlottebobcats.com, Austin Saya and Rickey Kim, $100,000 for the domain. Saya and Kim turned the offer down.
When securing a domain, individuals or businesses can purchase WhoisGuard protection, which prevents the domain owner's information from appearing in registry searches. Major League Soccer did not do this for some of its domains. Consequently, they can be linked back to the league. Specifically, they are connected to Major League Soccer LLC at the league's 5th Avenue address in New York City. John Sullivan, the league's Senior Vice President, Information Technology is listed as one of the contacts. (When reached for comment, Sullivan referred Howler to the league's communications and legal departments.)
"It could be a never-ending spiral where you try to think of every name, and we said, you know what, we'll just register the FC name, which seems to be popular"
Many of the domains Howler identified correspond to markets that do not currently have Major League Soccer teams. The most common formulation appends the suffix FC to a city name, producing sites like detroitfc.com or neworleansfc.com, which currently lead nowhere but are registered to MLS. "It could be a never-ending spiral where you try to think of every name, and we said, you know what, we'll just register the FC name, which seems to be popular," says Bill Ordower, MLS' Senior Vice President and General Counsel. He adds: "It may very well just be a placeholder name for a city that's trying to build MLS expansion support."
While many of the cities with MLS-owned domain names do not have a team in the league, they are often served by teams in other (often lower or youth) leagues. Clevelandfc.com, a domain created in 2012 and owned by Major League Soccer LLC, has nothing do with the National Premier Soccer League club AFC Cleveland, which was formed in 2011. The Houston Lonestars play in the United States Australian Football League, but the domain houstonlonestars.com is registered to MLS. Instead, the USAFL club uses houstonfooty.com. Philadelphia Independence FC played in Women's Professional Soccer from 2009 until it folded in 2012; philadelphiaindependencefc.com is now registered to Major League Soccer LLC.
Between its current slate of clubs and stash of domains, MLS owns digital properties in most of America's 50 largest media markets. "We're trying to protect soccer brands by taking a proactive approach on domain management," Ordower says, "so we've essentially gone out and identified top cities by population that could be potential destinations." When faced with a request to use one of its domains from a local club, the league says it tries to be accommodating. The USL's San Antonio FC, for instance, currently uses MLS' sanantoniofc.com domain. It is not, however, clear that league's brand protection efforts can always coexist with other, local clubs. "At the end of the day," Ordower says, "there's a lot of people out there that are squatting on names, and it's just a smart business practice for us to control those rather than be dealing with a more nefarious third party."
The league's ownership of domains is indicative of its centralized power. MLS is a digital single entity, with all club domains registered to Major League Soccer LLC. When a club joins the league, its domain registrations are transferred to Major League Soccer, which controls them. Thus, montrealimpact.com, a domain created in 1999, when the city's club played in the NASL, is currently registered to Major League Soccer and redirects to the Impact's actual website: impactmontreal.com. Beyond the domains used by its clubs, the league also owns a number of adjacent properties that redirects to these sites, the majority simply add an 's' to the club name or use .biz or .net instead of a .com top-level domain.
MLS is not just in the business of club soccer matches, however, and its web holdings reflect American soccer's occasionally confusing landscape. Soccer United Marketing (SUM) is both MLS's commercial arm and a separate entity from the league itself. Distinctions such as that, which are confusing at the best of times, grow blurrier online. A number of projects associated with US Soccer or SUM's client list are actually registered to Major League Soccer LLC. Gousa2022.com, a domain created a couple weeks before the 2010 FIFA executive committee vote on 2018 and 2022 World Cup destinations, is registered to the league. Likewise, a series of websites that appear to refer to the Mexican national team, which is a SUM client, are also registered to Major League Soccer LLC: eltriustour.com, mexicannationalteam.us and miseleccion.us. Ordower says these sites are only registered to MLS because of the convenience of buying domains in batches. Should the relationship between SUM and a client such as the Mexican Football Association end, the domains would revert to the client.
Not even MLS knows exactly what will become of each of these domains. Companies and individuals regularly register domains for ideas that never come to fruition, and by its own admission the league is considering further expansion. If MLS does not use many of these sites, it is either a sophisticated brand or a domain squatter. The difference between these two descriptors is largely a matter of perspective. In either case, however, MLS is maintaining a digital — though not always physical — presence across the American soccer landscape.