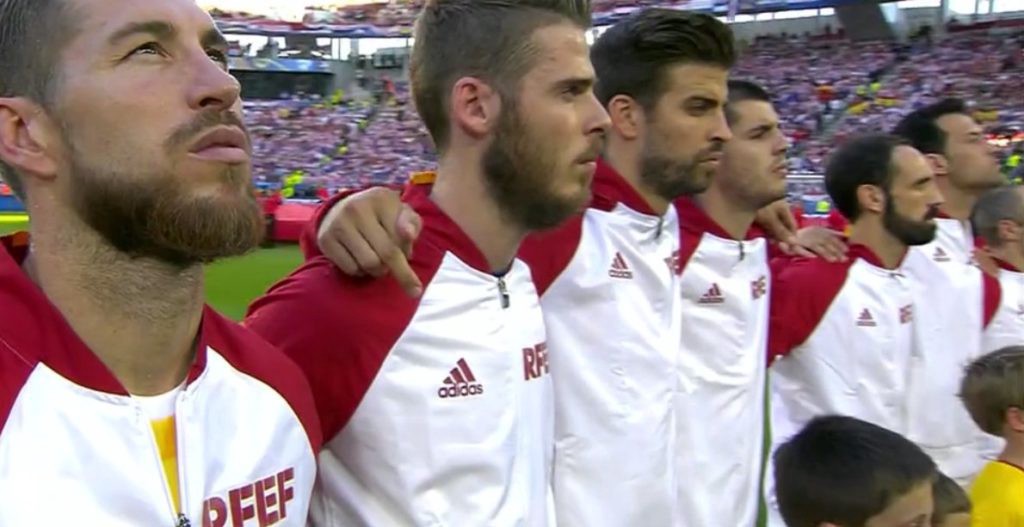 Gerard Pique has been an outspoken supporter of Catalan independence, which has prompted Spanish national team fans to frequently jeer their starting centerback in the run up to Euro 2016.
All seemed to be forgiven when Pique scored the late winner for Spain against the Czech Republic to start the competition, but a sly gesture during the national anthem before their final group match against Croatia might reopen the wound.
During Spain's anthem, as the camera panned down the line of players, Pique appeared to quite clearly show it his middle finger.
Mas olha só o Piqué mostrando o dedo do meio na hora do hino pic.twitter.com/dFeVjK0WmP
— Каио Битенкоурт (CB) (@ragazzocaio) June 21, 2016
Was this a political message? Was he actually giving Sergio Ramos the finger? Was he doing both at the same time? Hard to say. Knowing Pique, he will probably explain himself on Twitter using a detailed series of emojis, though.
UPDATE: Pique was quick to tweet after the match, which Spain lost 2–1, claiming that he was simply cracking his knuckles. In a way in which no person has ever cracked their knuckles before. Just as the camera had his hand in the frame.
It should be noted that Sergio Ramos missed a penalty that could have salvaged a point from this match for Spain, so maybe Pique knew that would happen and was simply trying to warn us.