The NPSL club that's proving to be the little engine that does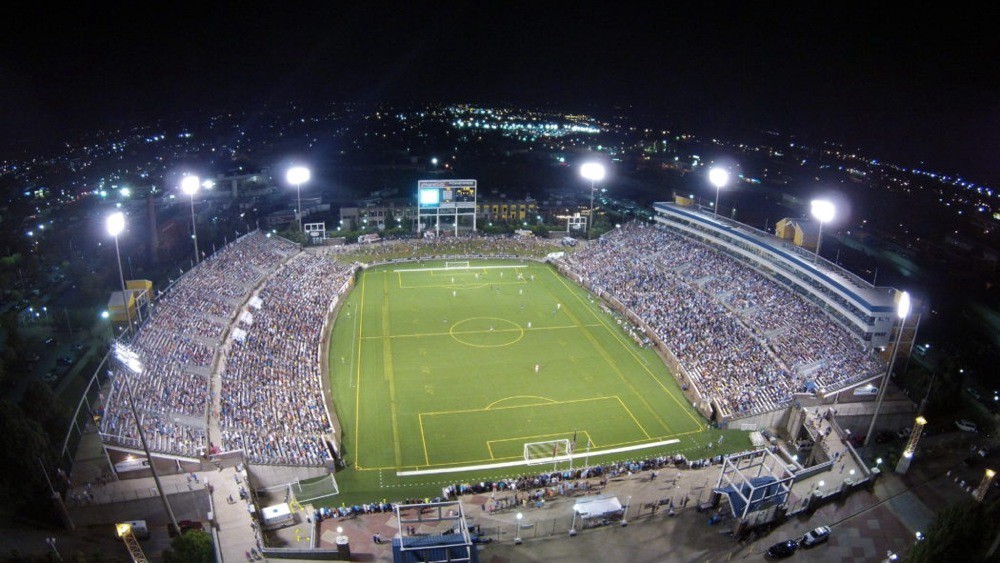 1,650 was a very good sign.
In spite of the lightning and the hour-long delay, it was a better than anticipated turnout for the humble debut of their brand new, fourth division soccer team. Better still, the men who had assembled the club and the vision for it had built something even bigger. They were a tiny group, 10 of them, who had only just collectively met less than three months earlier. No one knew what to expect, and the storm was sure to keep folks away. Yet over sixteen hundred people showed up. Excited. Eager. And the group knew they were on to something. Within three months of creating their team and a firm brand to back it, they sensed they had unearthed more than just incredible support that night in May 2009. The bolt of lightning was almost more real than proverbial. What the founders of Chattanooga FC realized was that in those few brief months they had also built the bottle to capture it.
You see, Chattanooga FC is not only successfully supported and well coached. Their brand of FC is probably better than your FC — actually it's better than most. Forget that the squad is made up of unpaid (yet quality) talent. Or that the average U.S. soccer fan probably can't name more than three NPSL teams or even at what level of the pyramid they play. On top of the four national title games and their ridiculous win percentage (79.6% in seven seasons), Chattanooga FC in less than a decade has made three consecutive third round appearances in the U.S. Open Cup, and has even won itself a title, the U.S. Adult Soccer Association's Steinbrecher Cup, in 2015, which recognizes the best amateur team in the country.
Eighteen thousand. For an amateur soccer championship in SEC Football Country. MLS Cup drew only 3,500 more.
A month later, another benchmark. The National Premier Soccer League's 13th season wound to a close with Chattanooga making its now customary postseason push to another finals appearance, its fourth in six years. And though they lost the national championship match for a second straight time, falling once again to a larger New York club's reserve team (this time it was the Cosmos' B squad; in 2014 it was Red Bulls' top academy side), it would be Chattanooga and the city itself grabbing the greater headline, playing host to the junior Cosmos and a capacity crowd of 18,277. Eighteen thousand. For an amateur soccer championship in SEC Football Country. MLS Cup drew only 3,500 more.
But beyond national appearances and the incipient Steinbrecher trophy, there is an authentic mojo about Chattanooga FC; an indefinable, yet real sense of destiny has been made manifest within the Scenic City and adopted its own, very quantifiable, momentum.
---
From his usual lookout at the southwest corner flag, General Manager Sean McDaniel stands with arms crossed and a hand to his chin as he surveys the first half action. "Hope we get a goal here quick," he muses. Chattanooga is hosting the Birmingham Hammers, a NPSL debutant in the midst of a rough sophomore campaign. Chattanooga has been pressing from the start and the Hammers are but speed bumps for the team's voracious attack. The home team is controlling the game and its tempo with a calm self-assurance that belies their tenacious play. They make it look almost effortless. Adding to this, the Chattahooligans, the home side's supporters, are in fine voice. Finley Stadium, for years a veritable fort of league leading attendances, grows louder, punctuated by the relentless volley of attacks into the Birmingham box. And the game's only 10 minutes old.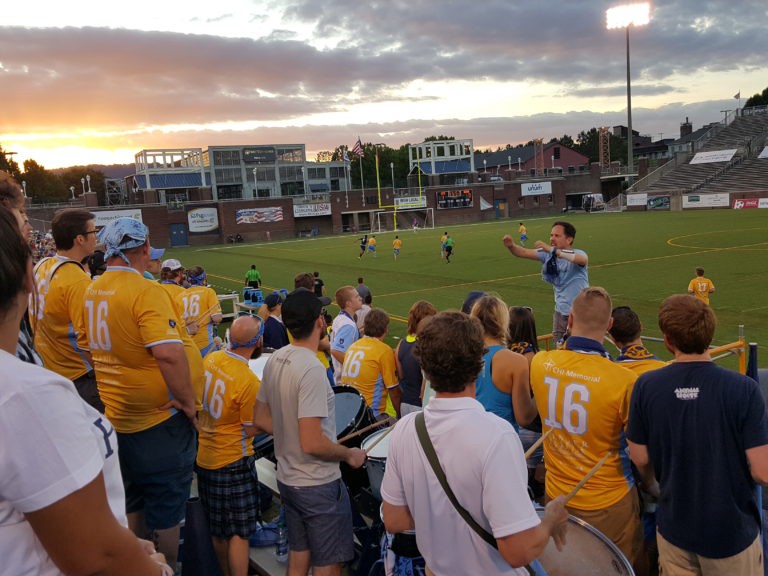 That patient, yet aggressive, ambition has been the trademark of Chattanooga FC, and it has inspired other communities to follow suit. Two days earlier the team made a midweek journey to play Nashville FC, a Southeast Conference rival and fellow Tennessean success story. Nashville joined the NPSL in 2014 as the nation's first supporter-owned club in the top four divisions. Just three years later, they've generated enough local support and national attention to convince wealthy local business owners (all three original founding member-owners) to invest in a USL franchise for the city and bring the club up to the professional ranks. With an eye toward the prospects within the USL and its MLS affiliation, the added exposure and a soccer-specific stadium anticipated as part of the deal, Nashville FC founder Chris Jones nonetheless acknowledges Chattanooga for being the first to raise the banner of Tennessee soccer to a new level. "For fourth division soccer, they're the gold standard. I believe in paying respect where it's due. In a larger city though it's harder to get noticed and in Nashville we're always up against something."
True, part of Chattanooga's success can be attributed to its small size. Unlike in Nashville, there is no jostling for elbow room with behemoths like Predators NHL hockey or Tennessee Titans NFL football. Chattanooga FC's Finley Stadium is first and foremost home to the University of Tennessee at Chattanooga and their Mocs football team, which draws somewhere in the neighborhood of 5,000 per game, on average. Fortunately for Chatt FC, the club is on good ground with the school's athletic department. Last year, founding board member Tim Kelly was appointed to Finley's own stadium board. While Nashville's partnership with hosts Vanderbilt has also been advantageous — a recognizable institution in a prime location — the relationship has at times suffered from inconsistent scheduling conflicts.
"You can build that soccer club and that support. If we can do it here, in a southern American football city, you can do it anywhere."
Time, however, is sure to improve soccer's local standing as a legitimate contender in markets like this and others for the summertime sportsgoer. It is perhaps no coincidence that the progression of new NPSL clubs which have proceeded Chattanooga have all emerged in order from smallest to largest among the state's most populated cities: Chatt in 2009, Knoxville Force was established a year later in 2010, Nashville FC in 2013, and newcomer Memphis City just kicked off its inaugural season this year. McDaniel appreciates the inverse ratio and recognizes the city's intimate size has been an advantage. "Look at the top 100 markets in America. Chattanooga's Number 101." But, he adds, "You can build that soccer club and that support. If we can do it here, in a southern American football city, you can do it anywhere."

The board members that reclaimed football for the city's soccer trust are all Chattanoogans, either by birth or by choice. Many of them local businessmen; some, former players. Before MLS, the internet, social media or the popularization of supporter culture, the fall of 1992 marked the debut of the Chattanooga Railroaders, the city's first semi-pro team from American soccer's postmodern era. The United Soccer Leagues, which spanned multiple divisions and a few extra letters in its acronym, were a mishmash of scattershot franchises, and Chattanooga was but another gadarene divot on the country's semi-pro dartboard. The team became the Express in its second season, and it followed the typical semi-pro trajectory of the time, playing at high school football fields to amnesic crowds before it disappeared with a shrug.
Everyone remembered the end of the '90s and the loss of the Express, which left Chattanooga's soccer scene feeling as empty as the city's industrial infrastructure had been for the last quarter century: stoic and outdated, waiting for a spark that could reignite the spirit of collective enterprise which lay dormant at its urban core.
One disadvantage of a smaller market is that second chances do not come often. After the Express left the station for good, the founders knew everything hinged on perception. From the start, credibility was the watchword. The group strove to have every element of its operation top notch and professionally run, in spite of the fourth division traditionally being the domain of the haphazard and ill-conceived.
Today, Chattanooga FC has nearly 800 academy players on the books for the 2016–17 season, among the top five in the state. It has a women's team — not an improvised, subdivision of the brand by a different name (like Portland's Thorns or the Houston Dash) as has been done by so many major U.S. clubs; Chattanooga FC's women wear the same badge and play under the same name as the men. And the club is a driving force behind several diverse community foundations as well, from parks renovation to youth health initiatives and even faith-based ministry.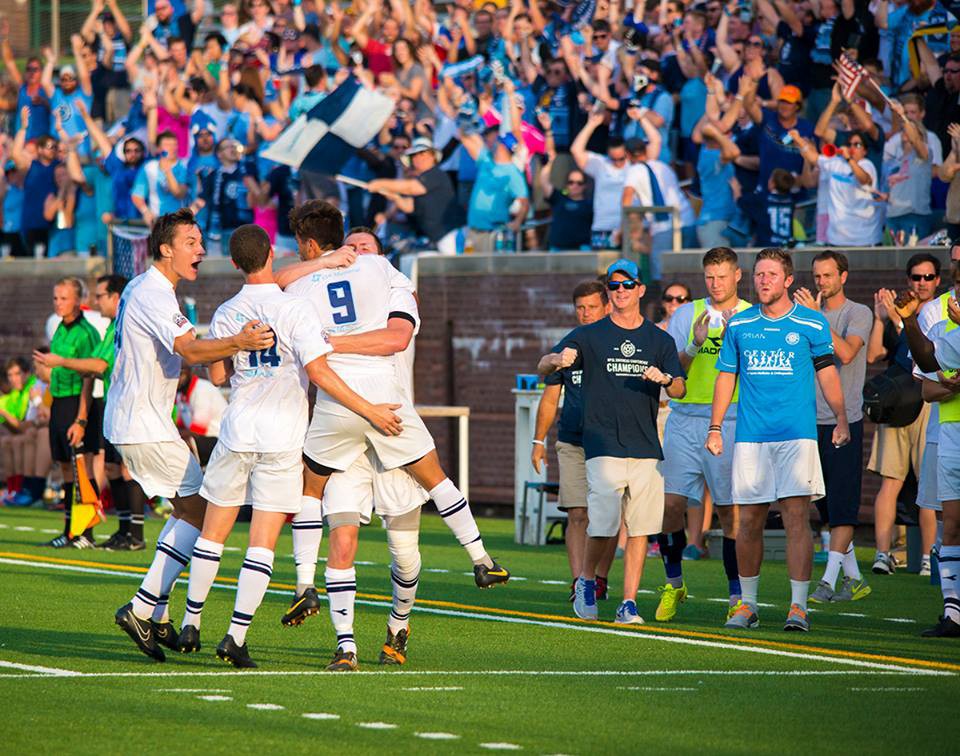 Their fan base has responded in kind to the club's level of dedication: a steady 33% increase in attendance over the last five years. The team averaged over 4,600 per game last year, a full quarter of them season ticket holders. These were numbers well above what qualified Major League Soccer's first lower division legacy expansion project Seattle Sounders for league membership in 2007, and not too far from the crowds seen at Minnesota United the year before its own recent MLS announcement in 2015; each a tremendous example of what can come from incubating long-term, grassroots interest within a traditionally smaller market. At home, Chatt FC's become one of the hottest attractions of the summer; the men's side now outdraws the Lookouts, the city's Double-A baseball team that has existed since the 1910s.
In the seven years Chattanooga FC has been around, they've become a perennial contender, become profitable, defined themselves as the city's top summer sporting event, and done it all in less time than many MLS clubs have, if at all. America, more than ever, is the land of plenty for lower division soccer startups. Chattanooga is a veritable unicorn.

Word has gotten out that these guys are for real. Outside Chattanooga, others have started to take notice. And those who haven't are finding out. MLS Commissioner Don Garber made a rare public gaffe at the Men in Blazers' BlazerCon last year when he dismissed Chattanooga as unfit for the big time in an off-the-cuff remark denouncing pro/rel. People were quick to call him out (Garber issued a mea culpa and personally called the club to apologize). Chattanooga FC has been courted by both the NASL and USL to join their ranks, but the consensus among the board and the fans: no one is any rush to scale the pyramid.
McDaniel recalls the frequent refrain at Chattanooga FC, "never forget the date who brought you to the dance," and explains the personal commitment by the club and the board to keep their dance partner happy.
"We poll the fans every year: 'Do you know the difference between the USL and NASL? Are you happy playing at the level we are? And overwhelmingly — they've said it's not important. Nobody here wants to see CFC go up! We're smart business people. Too often people pursue a 'fools gold,' thinking going up a level would translate into more ticket sales. Even with an extended season, you'd need at least a $3 million budget. I don't think we'd sell that many tickets! Our goal is to grow out, not up."
"For such a capitalistic country, our sports leagues are pretty socialistic."
Oddly enough, Chattanooga FC is doing both. The club's ambitions mirror the city's revitalized downtown and its mantra to define itself not by size, but by caliber. Tim Kelly issued a lengthy rebuke to Garber's dig on behalf of the organization. He shakes his head over the closed-versus-open league debate at the heart of the American fan conundrum. "For such a capitalistic country, our sports leagues are pretty socialistic."
They can't change the system, but they can still make the argument. With their pro-pro/rel stance and an emphasis on cultivating greater regional rivals, Chattanooga's founding board is keen on raising their already high tide to lift as many neighboring ships as they can. They've already lent their straightforward brand of administrative expertise to emergent clubs like Birmingham and are even in the process of developing a workshop on their lower division secrets of success, a "Chattanooga Way," to consult on everything from branding, outreach, logistics, marketing, and knowhow. Things today's fans demand but seldom find. In America especially, there are still precious few clubs with the resources, expertise, and community connection to deliver the experience fans crave and leagues desire to own.

The game ends. For Chattanooga, it's a well-earned victory, their seventh straight, undefeated more than halfway through the season. As the fans file down to the field, mingling with the players, the Chattahooligans linger, sending the squad off on another high note. McDaniel, a former Express player, is elated. Like the rest of the board, many of whom stand and sing with the fans on game days, he knows the story is bigger than just a small-time club making some noise. It's David and Goliath on multiple levels. "What makes me proudest, football here and everywhere else across the country typically means American football. We give everyone else hope that it doesn't only have to mean that."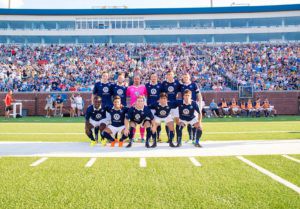 As the club refines their business model for further export, they keep their focus on the present. The Fort Finley faithful will only increase their ranks, content, surely for now, to finally grab that elusive league championship. An NPSL title may be a matter of when, rather than if — Chattanooga clinched the conference title away at Memphis the very next week.
But with Nashville's imminent ascension into the pro ranks and the game's rate of growth feeding the national appetite, the next milestone for Chattanooga FC may not be on the field or measured in attendance alone. National recognition for the quality of their program, in spite of its pyramid placement or market size, will add credence to a philosophy of starting small and building right. They defiantly chug along, unflinchingly determining their own direction up the mountain, while at the same time laying the tracks for others to follow.

Sean Reid is a fan and author of the book Love Thy Soccer: The Fan Rewrites the Book on the American Game.