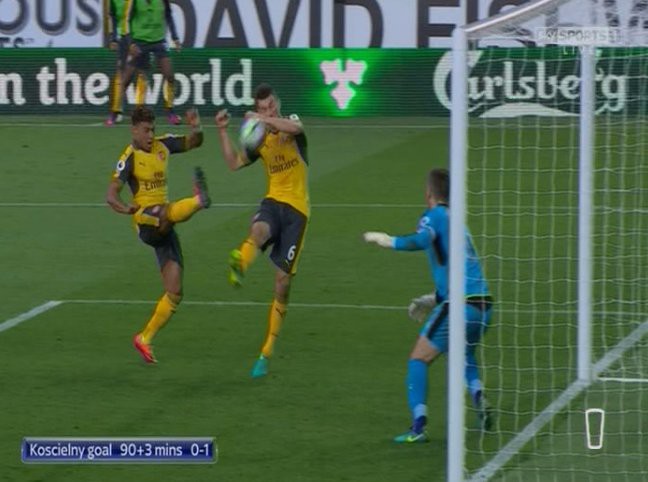 With mere seconds left to play against Burnley, it looked like Arsenal fans were going to get to celebrate Arsene Wenger's 20th anniversary with the club by continuing their calls for him to be sacked. But Alex Oxlade-Chamberlain, Laurent Koscielny and the match officials all did what they could to ensure that Wenger didn't suffer embarrassment by getting him a 1–0 win with an offside, handball goal at the death.
https://twitter.com/JacquiOatley/status/782633781123481600
During their post-match interview, Oxlade-Chamberlain was asked whose goal it was, prompting him to respond: "It hit both of us. It doesn't really matter. The important thing is we managed to squeeze that in at the end and that's one of the biggest wins we'll have this season, I'm sure." Reminder: This was a match against newly promoted Burnley.
Asked if it was a handball, Koscielny replied: "I don't know. I tried to smash the ball with my right foot and after I don't see where the ball is going so I don't know if I touch the ball with my hand, but the ref gave us the goal, so you need to respect the decision."
Maybe the rules of football are the same as the rules of grammar and a double negative equals a positive? It couldn't be a handball if it was offside and it couldn't be offside if it was a handball, so it's neither and the goal stands? In the words of Laurent Koscielny "I don't know."