An analysis of the new Swansea manager's sartorial choices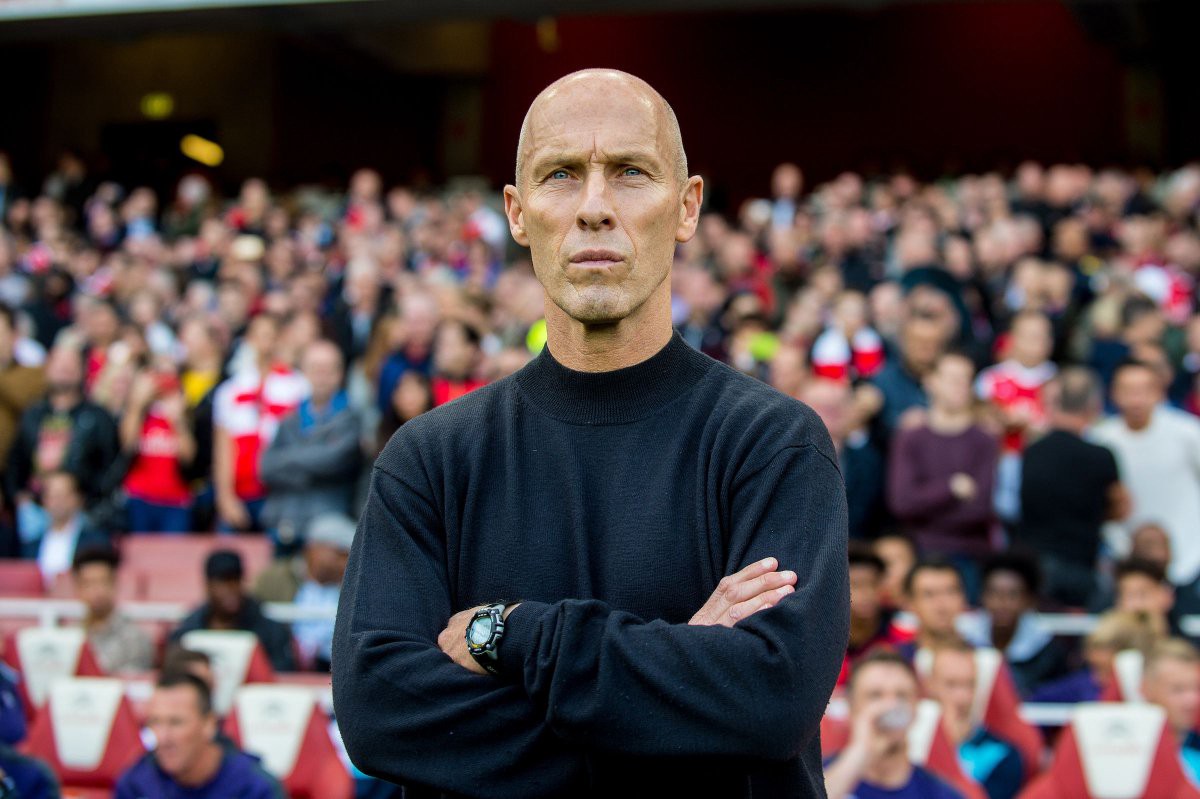 From a results standpoint, Bob Bradley's hotly anticipated debut as the first ever American manager in the Premier League went about as expected. His Swansea City lost 3–2 to a 10-man Arsenal at the Emirates. Expecting a result from such a difficult fixture after just a few days on the job would have been unfair, so it's best we evaluate Bradley on something he did have total control over: his attire for the day.
Those who have followed Bradley's career know that he has never been one of the more fashionable managers on the touchline. Like his new Premier League colleague Tony Pulis, he tends to show up for matches like he just went for a jog and decided not to get changed.
Here he is when he coached the U.S. at the 2010 World Cup:
https://www.gettyimages.com/license/102324853
And here he is more recently with Ligue 2 side Le Havre:
And when he does dress things up a bit, he looks like a high school science teacher. Here he is during a World Cup qualifier for Egypt:
https://www.gettyimages.com/license/180220554
But this is the Premier League. Emirates Stadium. Bradley knew he would have to look the part, especially going head to head with Arsene Wenger, who would surely be wearing high-end threads since it's still too warm for clownish puffy coats. So Bradley decided to make his first impression in an all black ensemble, perhaps to try and intimidate his many doubters in this new frontier.
https://www.gettyimages.com/license/614816354
Of course, Diego Simeone is arguably the most famous Europe-based manager who wears all black on matchdays, but Bradley's mock turtleneck sweater didn't exactly convey the same vibe as Simeone's monochrome hitman suits. As a result, you could see Wenger thinking "Aww, look how cute!" when he shook hands with Bradley before kickoff.
https://www.gettyimages.com/license/614828804
Whether Bradley persists with the all-black attire throughout his Swansea tenure remains to be seen, but it was nice to see him keep it real by accessorizing his look with a sports watch (seen in the top photo), rather than the luxury watches worn by Premier League heavyweights like Wenger (IWC), Jose Mourinho (Hublot), and Pep Guardiola (Rolex).
Anyway, here are Bradley's post-match thoughts, which surprisingly do not include any mention of his clothing.