The true details of the whisper heard 'round the world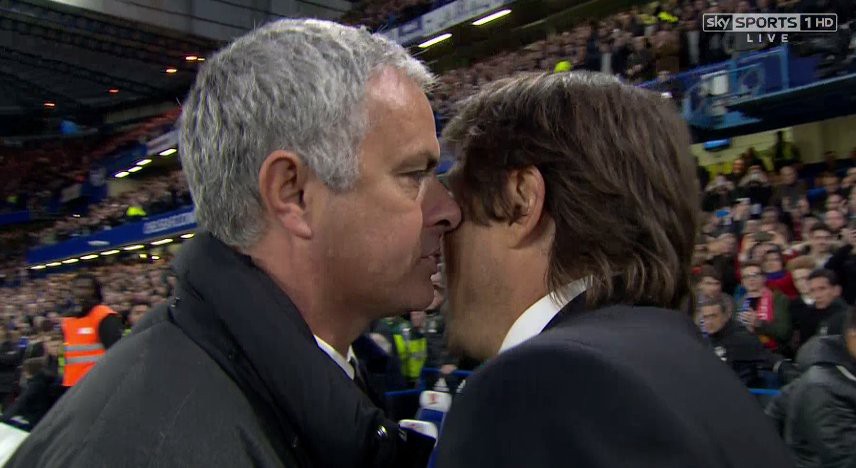 In his first visit to Stamford Bridge since getting sacked by Chelsea last season, Jose Mourinho proved that he can get them to play well and beat Manchester United 4–0. Unfortunately for him, he did this as Man United's manager. Even Gary Cahill (19 career goals) and N'Golo Kante (12 career goals) scored.
After the match, Mourinho made headlines by whispering in Antonio Conte's ear as they shook hands. It has been reported that Mourinho was unhappy with Conte for urging the crowd to cheer louder after Chelsea's fourth goal—a move Mourinho felt was intended to humiliate him at this old home. But the conversation was more than that. The following is the full transcript of what was said.
Mourinho: Don't do that at 4–0. You can do it at 1–0, but at 4–0 it's humiliation.
Conte: Are you mistaking me for one of your players? I'm Antonio Conte. Chelsea manager. The people who humiliated you are wearing red.
Mourinho: Well, if I keep whispering to you, everyone will talk about how I'm whispering to you instead of their performance and how you beat me and how I have the same record at Man United to this point as David Moyes, so who's the mastermind, now?
Conte: Still me.
Mourinho: Hahaha so naive. I won three Premier League titles for your club and still they sacked me twice. Just watch out for the doctors. That's all I'm saying.
Conte: Thanks for the advice. But maybe I should be giving you some about how to best use Paul Pogba.
Mourinho: See? You really are trying to hurt me. I give you three points and this is the thanks I get.
Conte: I'm sorry, Jose. But all this whispering is making me uncomfortable.
Mourinho: Exactly. I'm in your head now, Conte. The next time we meet, this is all you'll be able to think about — my lips against your ear. And I will have my revenge. Mind games!
Conte: I've already forgotten about this, but if thinking that makes you feel better, go for it.
Mourinho: It does and I will, so there. Anyway, if you do have some tips on Pogba, that would be great.