Mourinho pays tribute to his personal hero, Arsene Wenger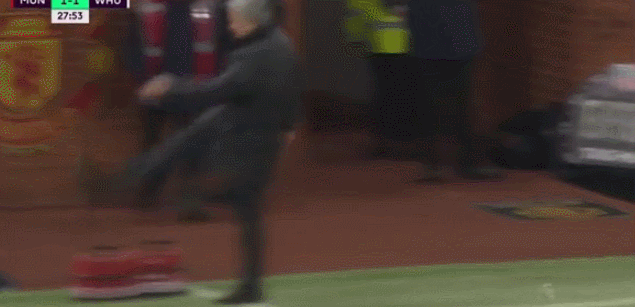 Jose Mourinho was sent off for the second time this season after he kicked a water bottle when Paul Pogba was booked for diving in the first half of Man United's 1–1 draw with West Ham. In fairness to Mourinho, it definitely could have looked like a bookable challenge from his angle on the touchline, but it wasn't and now he's been sent off at Old Trafford as many times as he's won there this season.
The action that got Mourinho sent off this time, however, might have been inspired by his favorite person in the world, Arsene Wenger. Back in 2009, Wenger was also famously punished for kicking a water bottle at Old Trafford. Surely this was just Mourinho's latest attempt to be more like the man he once labeled an "expert in failure." It would certainly explain the last two seasons of his career.
Mourinho has now fallen behind a pace that got David Moyes sacked in April of his first and only season in charge at Man United. Under Mourinho, the Red Devils are currently sixth in the Premier League and closer to 18th-place Hull City (nine points ahead) than first-place Chelsea (11 points back).
On the bright side, Man United are undefeated when Mourinho gets sent to the stands (they drew 0–0 with Burnley in October the first time it happened). So maybe he should do this more often?