From Howler's friends at Tap In.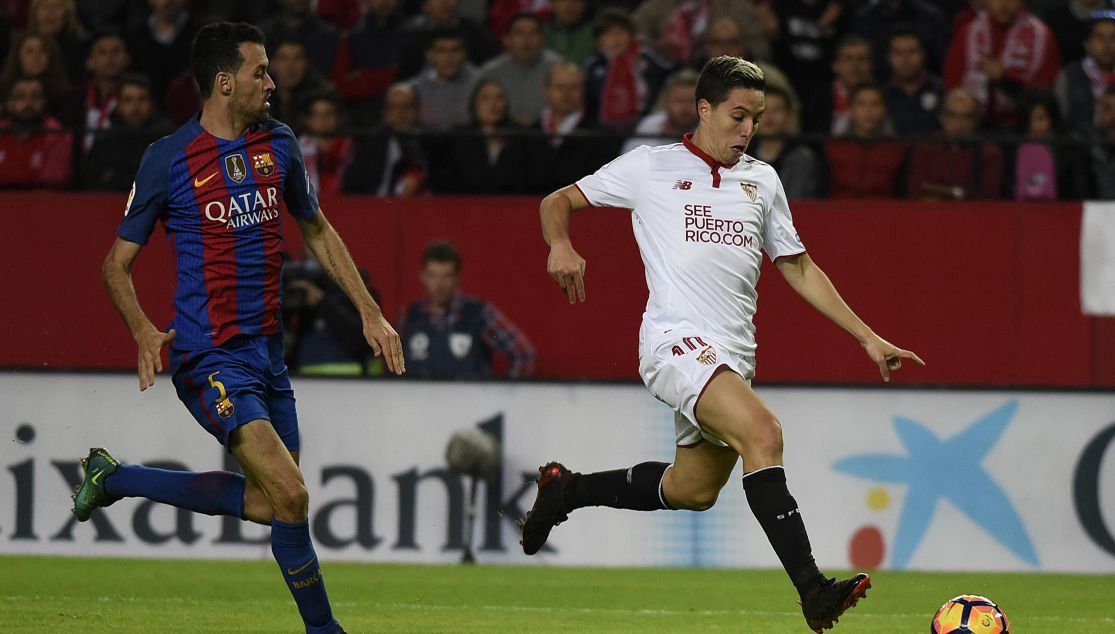 There are football personalities that defy club loyalties, the kind of people that you can't help but root for, like Juan Mata and Jurgen Klopp. Then, there are those who even draw the ire of neutrals who have no stake in their success or failure. Deservedly or not, for much of his career, Samir Nasri has been squarely among the latter.
Nasri's move from Arsenal (after a season in which he was named to the PFA Team of the Year) to the newly rich Manchester City in 2011 earned him instant traitor status from Gunners and a mercenary label from everyone else. His bust-ups with the French national team manager, players, and the French press further painted him as having "poor character" (Nasri retired from international football at age 27 stating, "I don't want to be there. I am not happy. I don't want to go there anymore."). Add in his ridiculously cynical tackle on Neymar as City crashed out of the 2015 Champions League, and he's become an easy target for loathing.
However, the popular perception of him is likely a mix of truth, misunderstanding, and lazy archetyping. He was a small, technical player in the Premier League, a muslim of Algerian descent on the French national team, left Arsenal for a big contract, and his house had a nightclub in it — all factors that inevitably elicit "the game is not like it used to be" murmurs.
---
The 2015–16 season brought the arrival of Raheem Sterling and Kevin De Bruyne to Man City. Nasri was pushed to the substitutes' bench before a training ground injury sidelined him for five months. The Frenchman only played a full 90 minutes three times last year.
That all appeared to be leading to a deserved fade-out for a player "without the right attitude." While Samir has never been shy to admit his own role in controversy, his time sidelined with injury provided a period of added reflection. In a seemingly routine interview with FourFourTwo this summer, Nasri admitted, "One thing that I have learnt is that you should do everything to become successful because you don't want to have any regrets in your life. Sometimes I look at myself and think I could have done better." As Pep Guardiola took charge at City this summer, it was unclear whether Nasri, who had just turned 29, would have a place in the squad.
Nasri showed up to preseason overweight, but worked his way back into Guardiola's plans — though not as a starter. Instead of taking on a bit-part role, the Frenchman pushed for a move to Sevilla, telling beIN Sports, "[Guardiola] wanted to keep me right up to the last minute, but it was a choice I wanted to make. I just want to enjoy myself, to rediscover the pleasure of playing football. Last year, I was sidelined for six months. My objective today is simply to play well. I made a bold choice in coming to Sevilla."
At the time, leaving for Sevilla seemed a bold choice for a player being asked by arguably the world's greatest manager to contribute to one of the most talented teams in the world. While the Spanish side have won three straight Europa League titles, outside of those finals they're rarely in the global spotlight in the same way as Arsenal or Man City. They finished seventh in La Liga last term, followed by a rocky offseason. Director of Football Monchi (the architect of their European success despite a limited budget) requested to quit after suffering from considerable burnout, but was forced by the club to see out his contract. Meanwhile, Sevilla's top scorer, Kevin Gameiro, departed for Atletico Madrid and manager Unai Emery left to take the helm at Paris Saint-Germain. Then, new manager Jorge Sampaoli brought in eight fellow attackers to the squad over the course of the transfer window. It didn't appear to be the ideal situation for a career renaissance.
And yet, despite an uncertain summer, Sevilla are off to one of their best ever starts. They sit in third in La Liga, having lost only twice, away to Bilbao and at home to Barca, and were briefly top of the league after beating Atletico Madrid in late October. In the Champions League, they lead Juventus by two points at the top of their group, setting them up to make it to the knockout rounds for the first time since 2009–10.
For Nasri, he isn't only regaining his love for the game, he's thriving, with a return to form that sees the midfielder expanding his capabilities at a time when you'd expect his influence on the pitch to be diminishing. His metronomic short passing has made him the focal point of Sevilla's gameplay. He's moved more centrally and is dictating play more than he has been expected to previously.
"The team breathes when he has the ball," Sampaoli said of his midfielder. "He has so much quality that he is able to relieve us when we're being pressured by our opponent."
---
Now, Samir is reportedly set to hold talks with Manchester City during the January transfer window with aims of making his stay in Seville permanent. It could signal a period of stability for Nasri. Under Sampaoli he's found a more expansive and prominent role and his style of play should allow him to remain useful well into his 30s.
At 29, it's easy to look at Nasri and feel that his self-awareness, certainty of direction, and resurgence on the pitch is all too late. As a fellow 29 year old, I envy his newfound assuredness. Despite their otherworldly aura, athletes have to navigate and grow as we all do, but very publicly. A look back at his moments of alternating confidence with uncertainty, and desire for rapid career progress and status feels quite familiar.
Nasri's next challenge is Juventus on Tuesday. A victory would clinch Group H for Sevilla and a provides a high-profile chance for the midfielder to continue to rewrite his story.
This Week in the Champions League
Sevilla hosting Juventus (2:45 ET, ESPN Deportes and streaming on ESPN3) is our pick to watch on Tuesday. But, there's also Spurs' crucial visit to Monaco (2:45 ET, FS1) as the north Londoners sit in third with only four points.
Wednesday has Arsenal hosting PSG (2:45 ET, FS1), with the two clubs level on 10 points in Group A. In Group C, Celtic welcome Barcelona to Celtic Park (2:45 ET, FS2) as they hope to regain some pride after losing 7–0 in the first matchup. Manchester City visit Borussia Monchengladbach (2:45 ET, FOX Sports regional channels) with a win guaranteeing progress for the Citizens.
Both days also have early matches in addition to the slate of 2:45 ET kickoffs. On Tuesday, Chicharito and Bayer Leverkusen face off against CSKA Moscow at noon ET on FS1. Wednesday has Bayern Munich traveling to Russia to take on Rostov with the Bundesliga side chasing Atletico Madrid in Group D (noon ET, FS1) and Besiktas hosting Benfica with both sides in the hunt to win Group B (12:45 ET, Fox Soccer Plus).