"I'm not just bring back DeMarcus Beasley…I'm bringing back the whole team!"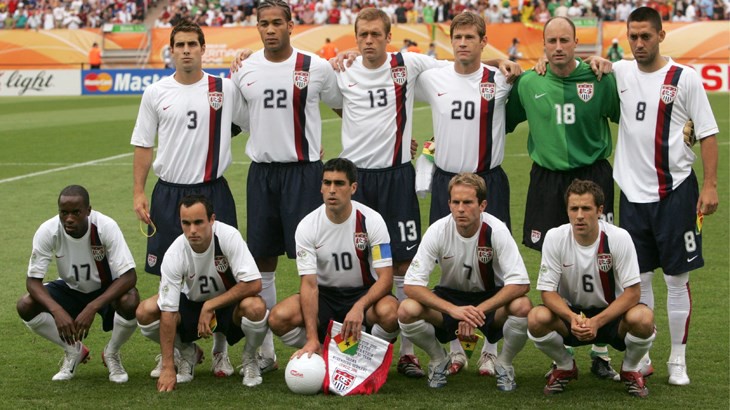 Late last week, newly re-appointed U.S. national team manager Bruce Arena took to U.S. Soccer's Facebook page to answer a few questions.
In his discussion, Arena stated that he was compiling a list for the upcoming January training camp in Carson, California.
Only naming 12 players, the former Los Angeles Galaxy manager made his intentions clear; he wants his team to be both old and domestically based. Out of the players named, all of them were from Major League Soccer, and most are getting up there in age.
Most notably, Arena stated his intentions to bring back U.S. veterans DeMarcus Beasley (34) and Clint Dempsey (33). Both of whom previously featured in Arena's last World Cup squad back in 2006.
Still needing to fill out the rest of the spots for January's camp, it has become clear who Arena plans on bringing down south to Carson: the entire 2006 U.S. World Cup squad — or Arena's last U.S. squad before he was fired by Sunil Gulati.
Although many of these players have retired, it won't stop Arena from bringing back familiar faces. Here are a few players we expect to see in January.
Tim Howard
Only 27 years old during the 2006 World Cup, the now 37-year-old goalkeeper is still kicking in his old age. The former Everton keeper resides in Colorado as the starting shot blocker for the Rapids, recently partaking his side's valiant MLS Cup effort that saw them lose to the Seattle Sounders in the conference semifinals. Bottom line, Howard should be in proper shape for next year's World Cup — if the U.S. can make it.
Chris Albright
Having hung up his boots in 2013, the now 37-year-old Albright spends his days as the technical director of the Philadelphia Union. Sitting in a chair all day may impact his fitness, but that's what January camp is for.
Carlos Bocanegra
Taking a comfortable chair job like Albright, Bocanegra is now the technical director of the newest MLS expansion side: Atlanta United. Only two years out of the game, the six-footed center back has the opportunity to add to his 110 international caps if he is able to impress in next month's camp.
Pablo Mastroeni
The man with the beautiful mustache. The defensive midfielder is entering his third season as the head coach of the Colorado Rapids. At the ripe age of 40, Mastroeni will lean on his leadership and tactical awareness to help him impress Arena.
John O'Brien
Where is John O'Brien? A common question asked within the soccer world. Once revered by Landon Donovan as the "best soccer player in the USA," O'Brien left the game at the young age of 29. According to Arena, O'Brien was "as talent a midfielder as U.S. soccer has ever had." If so, hopefully someone can find the 39-year-old. The latest rumors suggest that he is working with the PsyD graduate program at Alliant International University.
Steve Cherundolo
Only playing for one team in his career, Steve Cherundolo provides Arena with the loyalty he deserves. The former right back occupies his days as the assistant manager of Hannover 96, where he has spent the last 17 years of his life. However, after nearly two decades in Germany, Arena may struggle to bring Cherundolo back. Rumor has it Arena suspects the right back of being a traitor who has pledged his allegiance to Germany.
Eddie Lewis
After retiring in 2010, Lewis did not sit around bathing in his wealth. Instead, he became an inventor. The former Derby County winger created an improvised training method known as TOCA. Apparently, this machine launches balls of different sizes to a person, who must adjust their touch in order to control the varying projectiles, thus, improving their touch. Arena will be impressed by the winger's creation, hoping Lewis can use the training tool to create a few scoring chances on the pitch.
Claudio Reyna
Similar to Bocanegra and Albright, Claudio Reyna has taken a cozy job as New York City FC's sporting director. Now 43 years old, Reyna's playing days are numbered. However, class, as they say, is permanent — and Reyna has a lot of class.
Jimmy Conrad
The PewDiePie of soccer, Jimmy Conrad currently spends his days as a YouTuber. The 39-year-old defender is staying relevant in the young persons' game of vlogging. With the people on his side, Arena will surely bring Conrad to California, hoping to gain major support from fans 12 and under.
Landon Donovan
The Brett Favre of soccer, Landon Donovan never knows when to quit. Whether it be fighting for a ball or fighting off boredom, Donovan is keeping one foot in the game. Only 34, the Los Angeles Galaxy striker has spent numerous years under Arena, giving them a special bond on and off the pitch that Jurgen Klinsmann never understood.
Oguchi Onyewu
The only man to fight Zlatan Ibrahimovic and make it out alive, center back Oguchi Onyewu is set to wear the red, white, and blue one last time. Although the massive defender recently failed a trial with Rangers FC, he can still knock down any opponent at will, as long as his knees permit him to. Arena will surely be salivating at the chance to have a tough center back again.