One star to honor the dead and one to mark their work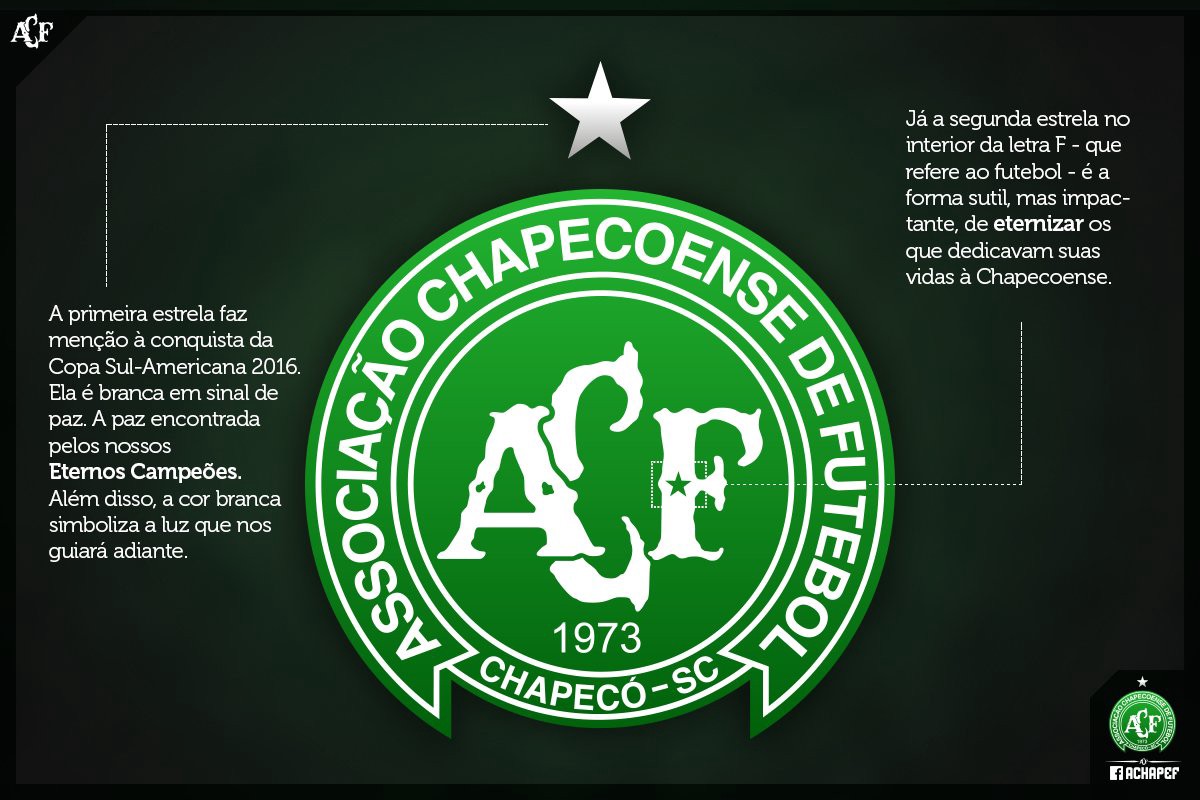 CONMEBOL decided to honor Atletico Nacional's request and name Chapecoense 2016 Copa Sudamericana champions in the wake of the plane crash that killed 71 people traveling to Colombia for the first leg of the final. Now, Chape have unveiled a new crest that pays tribute to those who lost their lives and what they achieved.
https://www.whatahowler.com/chapecoenses-opponents-rally-to-support-air-crash-devastated-club-ee8950602bdc
"The first star makes reference to the conquest of the Copa Sudamericana," says the club's infographic (according to Google Translate). "It is white as a sign of peace. The peace found by our Eternal Champions. In addition, the white color symbolizes the light that will guide us forward."
"The second star inside the letter F — which refers to football — is the subtle yet powerful way of eternalizing those who dedicated their lives to Chapecoense."
As an added honor, Barcelona have invited Chape to be their opponents in the the friendly that will decide the winners of the Joan Gamper trophy next year. Says Barca's statement on the matter:
FC Barcelona wants to pay tribute to the 71 people who died in the accident and their families, and will therefore make the 2017 Joan Gamper Trophy a great tribute to the world of football through various activities around this match which will become known as the date of this celebration approaches.
Along with the invitation to Chapecoense to the 2017 Joan Gamper Trophy, FC Barcelona would like to collaborate on the institutional and sporting reconstruction of the Club, and help to recover the competitive level that it had.
Chapecoense will never forget the tragedy they have endured, but now, fittingly, the people who gave the most for the club will forever be represented over the hearts of those who move the club forward in their name—in Barcelona and beyond.
https://www.whatahowler.com/chapecoenses-opponents-rally-to-support-air-crash-devastated-club-ee8950602bdc