Manual labor is the reward?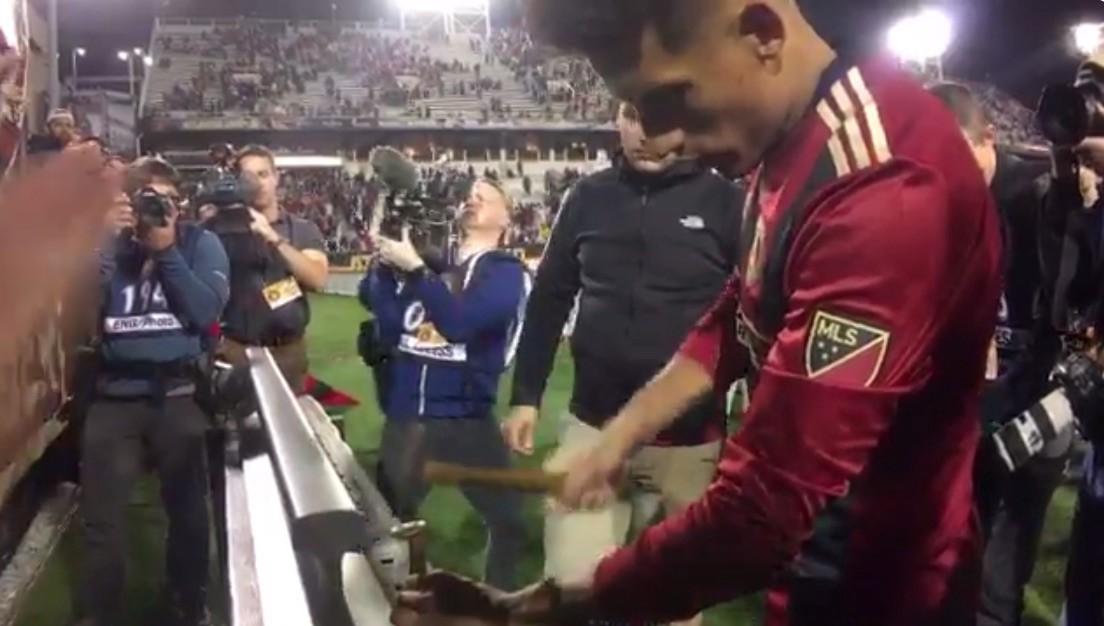 There was some good and some bad about Atlanta United's first ever MLS match on Sunday night. The good: they had more than 55,000 fans in attendance and held a 1–0 lead over the New York Red Bulls deep into the second half. The bad: they ended up losing 2–1 on an own goal, had their first ever red card, and some of their fans decided to adopt the "puto" chant in a misguided attempt to mimic the atmosphere of more established footballing cultures.
Then there was the strange. After the match, Argentine midfielder Yamil Asad, who scored the club's first goal, had to hammer a spike as his "reward" for being named Man of the Match (even though Atlanta lost).
Atlanta are trying to build a mythos around the railroad spike the way the Portland Timbers have around lumberjacks cutting up logs with a chainsaw. They put together this video to explain the "golden spike" concept:
And before the match, local rapper Yung Joc used a much larger hammer on a much larger spike.
But having the man of the match use a tiny hammer on a tiny spike doesn't quite have the same effect as a dude carving up a chunk of wood with a chainsaw. Also, it's only a matter of time before a player smashes their finger with the hammer and purposefully avoids performing well so they never have to do it again. The concept needs work.