The season premiere of the Jack Wilshere Show doesn't disappoint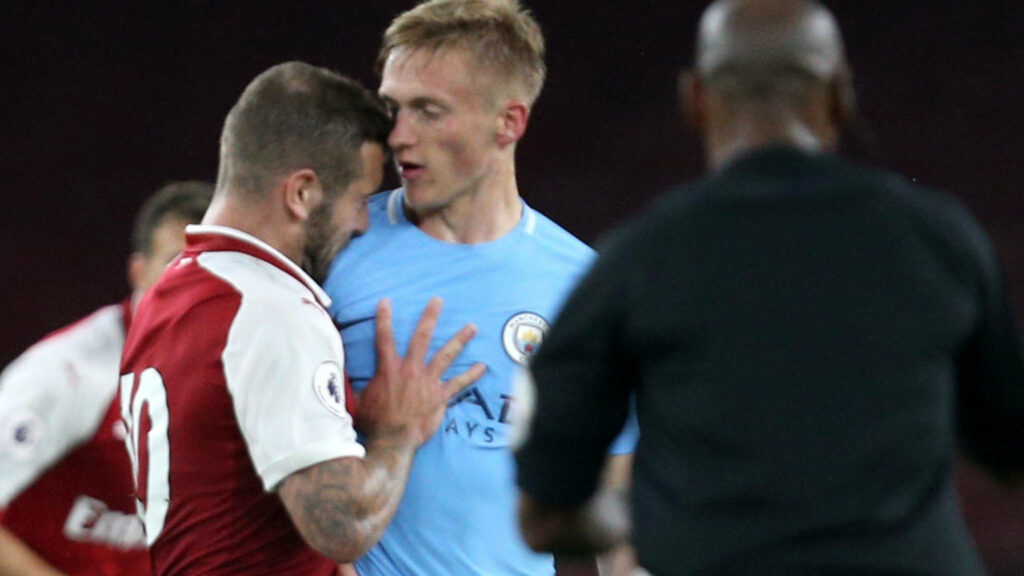 While casual viewers are tuning in to the contrived drama of the Premier League title race or pretending they enjoy the Bundesliga so they can look cool, true football junkies know that the real drama is taking place far away from bright lights and league titles. Jack Wilshere's return means one of football's great anti-heroes is back and, thanks to an aggravated assault on a teenager, he's more compelling than he's been in his entire nine-year run.

After a couple seasons rehashing old storylines (would this be the season our hero finally returns from injury to force himself back into the Arsenal squad?), last year surprisingly gave us one of the best narrative arcs of Jack's career. Lying on the pitch at Tottenham, injured after trying to tackle one of their players, being mocked by a chorus of 30,000 fans he'd spent years antagonizing, the season finale looked to be a fitting conclusion to the story of football's greatest failed prospect. Years after introducing broccoli to England and changing the medium forever, it looked like Arsene Wenger had once again revolutionized football by delivering such a compelling conclusion to this long-form narrative. But where could he go from here?

The challenge for any new season of television is finding something new to do without losing the show's core. Nobody wants to see the same thing every single year. At the same time, you don't want to see Mad Men become the Amazing Race. The key to success is variations on a theme. And this is what briefly made Jack Wilshere's career the best show in world football. We have seen the highs of the Camp Nou and the lows of countless shattered ankles and hastily stubbed out cigarettes. And who can forget the bottle episode that took place entirely behind a bin in an alley?

Watching Jack valiantly struggle against his own body and poor decision making has been a fascinating journey, but surely the show had run its course. Exiled from Arsenal's first team, unwanted at Bournemouth, where was there left for him to go? Moving the setting to a foreign league offered a rich vein of untapped potential, but viewers would never believe such a radical change of character. Yet another season set entirely in the trainer's room? If Arsenal are going to cut back that much on their budget they should just end the show entirely. So when it was announced that this year would begin in Arsenal's U-23 squad, it seemed like the show was once again spinning its wheels, with no direction. Oh, how wrong we were.

What began as typical Wilshere fare, teasing his potential in a match far beneath his supposed ceiling, ended with one of the the most exciting twists we've seen in years. Out of nowhere, Matt Smith, in a radical departure from his role on Doctor Who, clattered into Jack. But instead of seeing his ankle disintegrate like a cigarette in a pool, Wilshere bounced back and throttled the Welsh starlet.
A red card ended his first match back at his old academy stomping grounds, but by the time he left the pitch, the ground was far from the only thing being stomped. He launched into a fight with City's entire youth team, brawling all the way into the tunnel. Hours later he still wasn't finished, dragging journalists into the fray over Twitter, the show displayed a level of genuine brand engagement with its audience that more popular shows could stand to learn a thing or two from.
Evening Sam…Intrigued to hear more about how you think this is a career low for me? Would love a sit down with you? Look forward to it. https://t.co/nyVzXGyNxA

— Jack Wilshere (@JackWilshere) August 22, 2017
While a lot of games advance Wilshere's narrative incrementally, this one saw it move forward by leaps and bounds in a single, highly watchable incident. Everyone involved in this scene, from Wilshere himself to the referees to City's entire midfield deserve credit for injecting life into a show searching for direction. Watching Wilshere spiral down through Arsenal's youth setup could have been just more of the same thing we've been watching for season after season. But in a single instant, the show opened a wealth of narrative possibilities. Will Jack be able to get back on the pitch? Will he be able to control himself? Will he injure himself in a fight instead of a game this year? Now that we're back in Arsenal's youth setup, will we see familiar faces like Emmanuel Frimpong again? It is easy to let the Jack Wilshere Show be overshadowed by Dele Alli's exploits or complain that we already saw Joey Barton do this on Florida public access, but this exciting premiere shows that the best anti-hero in world football might still have a few tricks up his sleeve.  

Some other thoughts:

– It is surprising that as Wilshere returns to the site of one of his most successful seasons (Arsenal's academy), we have yet to see some of his most famous hallmarks. There wasn't a single floppy hat, cigarette, or leg brace in sight. It is comforting to see that (so far at least) things aren't entirely the same.

– No new tattoos or ridiculous haircuts this year. Along with the U-23 set up, one has to wonder if there have been budget cuts this year or if this new, stripped down style is on purpose.

– The absence of Arsenal Fan TV was much appreciated but I suspect we won't make it through a full season without seeing those same old punchlines again.
Grade: B+
Still a bit derivative, but the excellent ending shows us that after several seasons, downward can still be an exciting direction for Jack.
---
Follow Greg on Twitter @skipjack0079.