How Spain has gotten back to its winning ways with its next generation of midfielders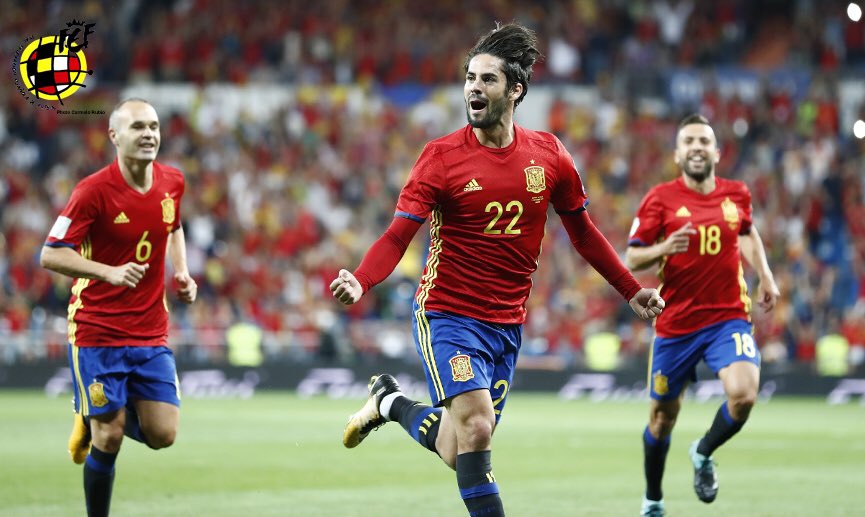 The future of international football may look a lot like its recent past: colored in red.
If Saturday's 3-0 thrashing of Italy was any indication, Spain could be close to reigning over Europe once again thanks to a talented and clinical set of midfielders.
Just five years removed from completing its trifecta of major tournament wins with two UEFA Euro crowns and one World Cup title, Spain is again looking to dominate world football with a similar approach that filled up its trophy cases.
The reemergence of La Furia Roja's midfield with a young generation of brilliant playmakers coming into their own should again arm Spain with its vintage style of attack.
Real Madrid's Isco has upped his game over the past calendar year, so much that he has opposing coaches on the verge of breaking out in applause at his play.
"I could not help but applaud him when I saw him, he was a rival, but I am a lover of the beautiful things of this sport," Italian manager Giampiero Ventura told reporters after Saturday's World Cup qualifier from Madrid, where Isco gave Spain an insurmountable lead with two goals from outside the box. In the course of his huge performance he also managed to show up an Italian defender with a nutmeg.
"It was nice to see Isco live. He is a great player who did incredible things, you just have to think about the technical maneuver of the nutmeg he did in midfield, he left two opponents red-faced, then in the second half between three opponents and you do a nutmeg, that means he has incredible class," Ventura added.
In implementing the "false nine" attack against Italy's normally stout defense, 21-year-old Marco Asensio made his first start on Spain's senior team and showed brief flashes of the damage he can do in the title role. Though the up-and-coming talent who is shining alongside Isco for Real Madrid failed to score Saturday, he is sure to have his fair share of huge goals for Spain over the next decade.
After all, Asensio already has four goals in five games for Los Merengues and has looked every bit the part of deadly finisher that he was for Spain's youth teams.
Asensio and the 25-year-old Isco form a terrifying combination for both club and country going forward. But they aren't the only ones who Spanish fans get to be optimistic about heading into next year's World Cup, and for tournaments to come.
Saul Ñíguez, 22, should also help fill the eventual void left as Andrés Iniesta gets closer and closer to retirement. The Atlético Madrid midfielder gave a glimpse of his remarkable talent in the 2016 Champions League semifinal when he single handedly tore through Bayern Munich's defense before curving a ridiculous golazo past Manuel Neuer.
Spain's defining generation that dominated international competition was fueled by the triangular balance of Iniesta, Xavi, and Xabi Alonso. Utilizing the tiki taka, as much adored as it was criticized—although unquestionably effective—Spain had created a work of art fitting for the halls of the Prado or Reína Sofía museums. Now, for the rest of the world, it must seem entirely unjust that Spain can discard three legendary midfielders and replace them with a trio of budding talents like Isco, Asensio, and Saúl.
Manager Julien Lopetegui showed in Saturday's blowout win that Spain's past may resemble its future. By employing the false nine with Asensio as the roving attacker.
Coming into the game, striker Álvaro Morata knew he wouldn't be included in the starting lineup because of the decision to put Asensio as the false nine. However, the Chelsea forward was a good sport in deferring a spot in the starting XI to his midfield counterparts.
"Although I hate to admit it, playing with a false nine is probably a good idea," he said on the eve of Spain's qualifying win.
Morata is an exciting young player in his own right, and proved why he will be such an important fixture on this selection with a goal Saturday after coming on as a sub. The big question for Lopetegui now is how he'll balance playing time between Asensio and Morata, though it's an issue any manager would love to have to fret over.
Spain's down years reached a crescendo with an embarrassing showing at the 2014 World Cup in Brazil and compounded with an early exit in the subsequent Euro at the hands of Italy. The spectacular rise of Isco and Asensio since then, among the other rising youngsters, is what should give Spain hope that the down cycles go short-lived and stoke fear into anyone standing in its way.
---
Follow Michael on Twitter @mkrumholtz.