In Conversation With Bands FC Creator Nick Fraser
December 5, 2018
Our own Stephen Wood sits down with Fraser to talk about music, football, and runaway success.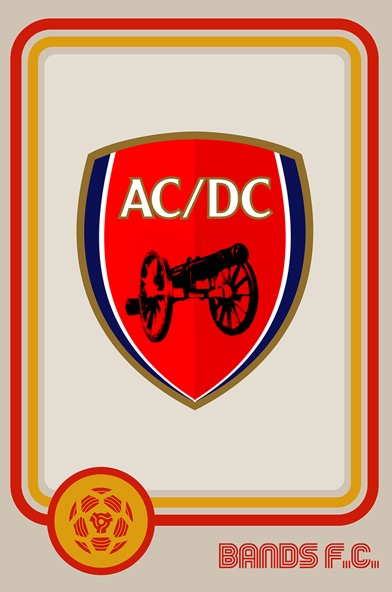 If you've been on Soccer Twitter at all since May, you've probably seen Bands F.C. It's been a meteoric rise for the Twitter-account-turned-international-firm, which started with the simple idea of making soccer badges, but for bands. It has since become a design phenomenon within the soccer world.
As he worked 18-hour days fulfilling orders for merchandise bearing Bands F.C.'s various mashup badges, Nick Fraser found time to answer a few questions on the business and philosophy of "footballising" bands.
---
Stephen Wood: I understand this was born out of a project you did with the Charlatans – tell me about that.
Nick Fraser: I was working with the band on a series of events called North By Northwich, in their spiritual hometown in the North of England. It was the end of May and they had just played the last gig of a run of four sold-out nights. We were wondering about what to do next and it was a conversation with Tim Burgess, the singer, myself and Mark Liptrott, a friend of ours who is a graphic designer. One of us said that with the World Cup coming up, bands would have to 'footballise' themselves more – every magazine, website, TV and radio station would only be interested in football stories. Then we asked ourselves the question, "How does a band make themselves more 'footbally'?" Within a couple of minutes, the first thoughts that lead to Bands F.C. started spinning round our heads. We never realised how crazy it would get.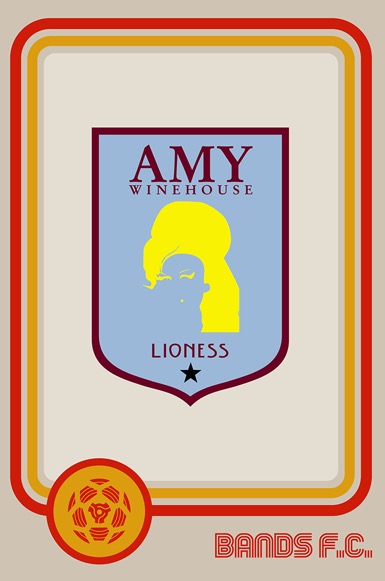 SW: Was this the first time it had occurred to you to mix music and football imagery? Did you have a background in one or the other?
NF: We were all massive fans of both so once the idea come up, it was hard to rewind. It was like a runaway train. This was definitely the first time it had occurred to us to mix football and music through graphic design – they often live side by side and fans of one are often fans of the other.
We showed some friends and everyone had the same reaction: "How on Earth had somebody not thought of this before?" We worked like mad and within a week we had around 40. Anyone we showed just flipped their lids about it, so we guessed we were onto something.
We sent the designs to the NME and they shared them. Our feet haven't touched the ground since – we have done TV and radio all over the world and we are just back from opening an exhibition in New York. Our first exhibition, at the National Football Museum in Manchester, opened at the end of September and runs until the end of November. The whole thing has been a little bit mind-blowing.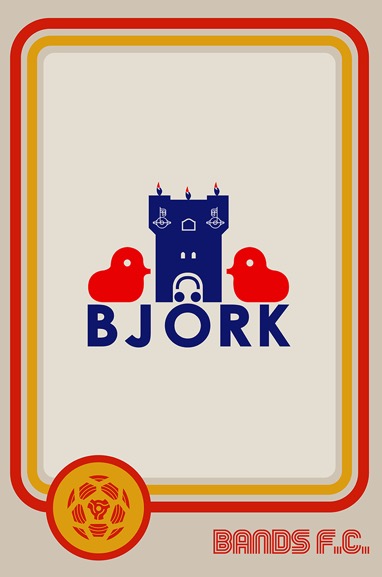 SW: Was there one moment, or one specific design idea you had, where you felt it click like, "Oh, this idea has legs. I could make a hundred of these?"
NF: It was right at the start. Within half an hour of completing the initial design.
Our first badge was Echo and the Bunnymen using the Liverpool badge – it's an intricate crest with lots going on. We dropped in some lyrics and a few more cryptic clues to songs and we were up and running. The very next one was the Wu Tang Clan – but this one had no words, no hidden meanings. It was just one image – the Wu bat, but in the gold and black of Wolverhampton Wanderers. By that stage we were on fire.
I always wondered if the two DCFC's [Derby County Football Club and Death Cab for Cutie] ever got confusing social media messages. A badge was made, and Death Cab tweeted it. Run the Jewels tweeted appreciation for theirs, as did Phil Selway for the Radiohead design – based on their hometown team, Oxford United.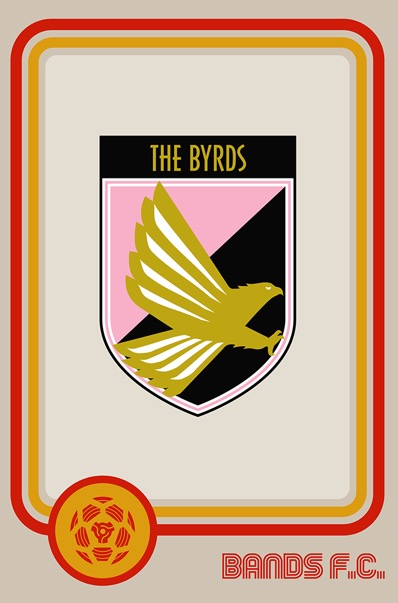 SW: I was going to ask about the Wu Tang one – that's one of those that just feels meant to be. The AC/DC and Queen designs are extremely intuitive and pretty simple, but you've also done some pretty complex ones, and your Twitter is full of sketches, shirt designs, vintage-looking player cards, etc. It really seems like you've invented a new visual language here, using imagery and designs from the world of football to sum up a band's sound, look, origins, etc. Why do you think these elements blend together so well?
NF: That's quite a highbrow view but we'll take it. Graphic design is all about communicating with like-minded people – you mention the crests that chime with you. We're hoping that different ones are liked more by different people. That really shows with the badges and postcards that we sell.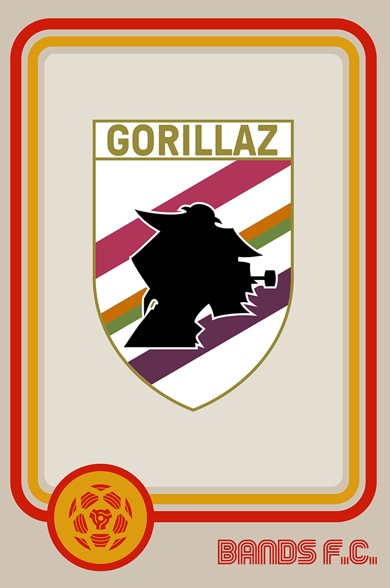 They go well together because they mix passions. We've spent time at the National Football Museum during our exhibition, and the kids are really into the football side of it while many of the parents have been to see the bands and have built memories around them. Putting them together makes something new but that has memories and emotions caught up in it. Like that mosquito in Jurassic Park that's in the middle of the amber – our badges are like little time capsules of new versions of images that people have invested a lot of themselves in. Look at me, I'm getting all highbrow with it now.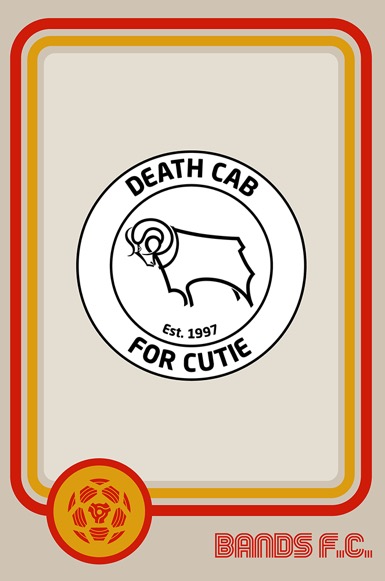 SW: Your catalogue is already expansive, but are there any bands or club logos that you haven't done yet because you're saving them for a moment of inspiration?
NF: Yep. Originally we thought we might do 50 and then run out of ideas – we are up to 450, with at least another 100 on the drawing board. We have most of them planned, but it's finding time to finish them while everything else is going a bit crackers. We just finished working on a Metro station in Mexico City – funny to think that Cambridge United's badge, redone as Pink Floyd, or Led Zeppelin as Port Vale, get seen by over 1 million Mexican commuters each month.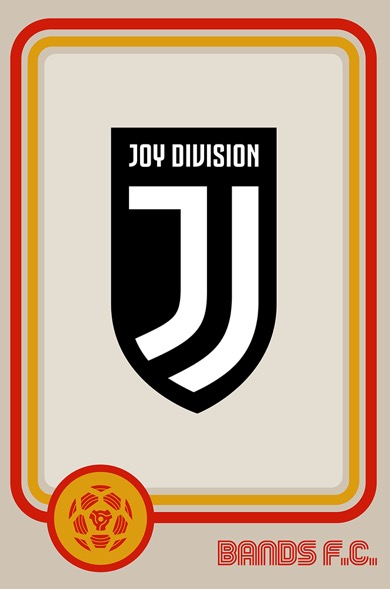 SW: Yeah, this all escalated very quickly for you guys. Your work is being displayed on multiple continents, you're getting shoutouts from the bands themselves. Where does it go from here? Are we witnessing the birth of a fashion label?  
NF: It really did escalate quickly – we're working with lots of the bands and quite a few teams too. We're taking the exhibition to Nottingham, Liverpool and Sunderland and we're talking to a gallery in Los Angeles.
Not sure about a fashion label, but there's a few things on the horizon that are a bit hush-hush for now. As long as people are into what we're doing, we're more than happy to keep doing it.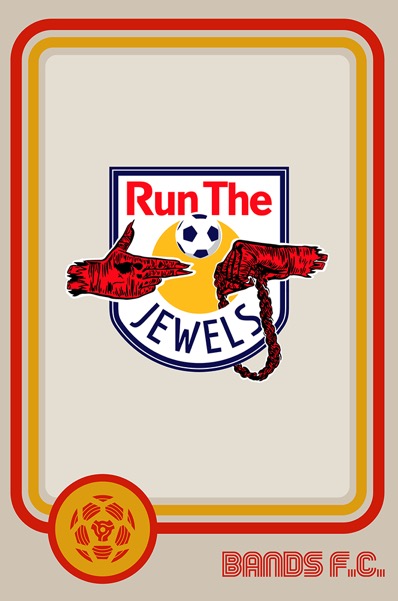 ---
Stephen Wood is a writer based in New York. His work has appeared in Jacobin, Paste, McSweeney's Internet Tendency, and elsewhere. Follow him @TheStephenWood.
Contributors
Stephen Wood
WELL, IT DEPENDS ON WHAT YOU MEAN BY "FREE."
Enter your best email for full access to the site.