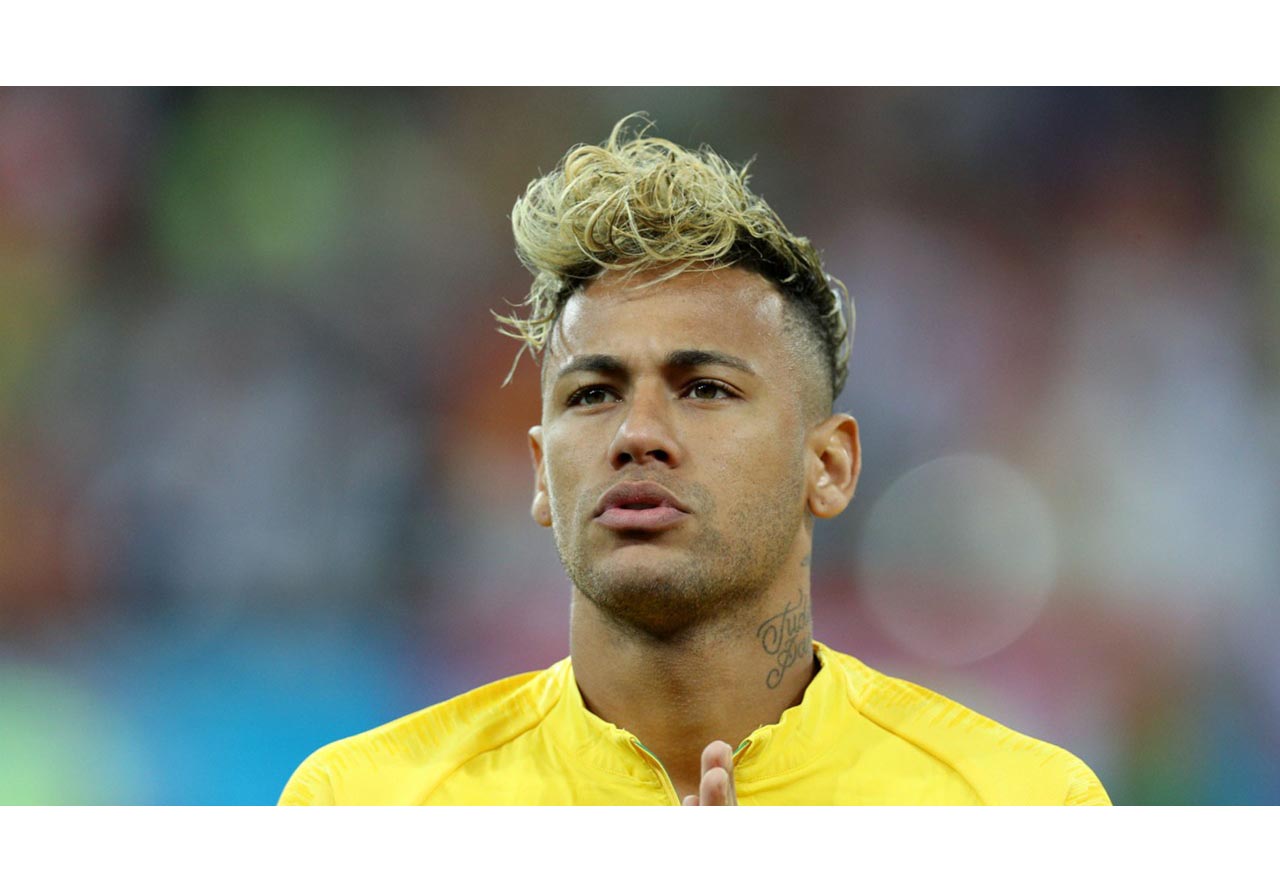 HAIR Magazine recently noted, "Male grooming has undergone something of a revival across the hair and beauty industry over the last few years, with hair care, beards and skincare the being the main focus." This "revival" has manifested itself in glorious Technicolor at this year's World Cup. As such, it's time to announce the 2018 World Cup All Hair Team.
Lest one level accusations of bias or skullduggery, please note that strict scientific standards of adjudication were applied to assess the coiffures of each of the 736 players who made a World Cup roster. As much as we may treasure the ineffable, we assiduously eschewed the crude je ne sais quoi paradigm as well as the "know it when you see it" standard so beloved by US Supreme Court Justice Potter Stewart. Instead, the All Hair Team Selection Committee rigorously deployed three key criteria:
The Follicular Pyrotechnics Factor
To qualify as a serious All Hair Team contender, one's dome must brim with originality, teem with mojo, ripple with panache. Freshness and imagination are required.
The Más-Que-Pelo Factor
Neither a marvelous mullet nor a fabulous faux-hawk are enough in themselves. On pitch play matters.
If that mercurial hairdo sits unruffled on the bench, so sorry, but you're out of luck.
The Clean-Cut-Rut Factor
The classically handsome yet follicularly unambitious need not apply. Lo siento, Carlos Vela. Sinto muito, Cristiano Ronaldo. Baal ma and je suis désolé, M'Baye Niang. And я прошу прощения, Igor Akinfeev.
So, here we go!
Goalkeeper
Cho Hyun-woo (South Korea)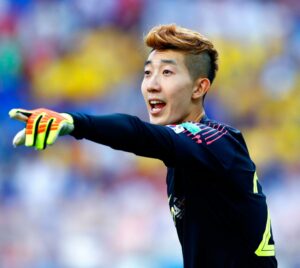 In an attempt to scupper the surreptitious surveillance efforts of Swedish spies to scout his squad, South Korean coach Shin Tae-Yong swapped his players' jersey numbers to swerve the Swedes off the sniff. He explained how he flipped the racist script: "They might know a few of our players but it is very difficult for Westerners to distinguish between Asians and that's why we did that." But this ruse was moot when it came to the spectacularly singular coiffure of goalkeeper Cho Hyun-woo, who, by the way, was heroic between the posts in South Korea's 2-nil upset of defending World Cup champions Germany.
Defense
Román Torres (Panama)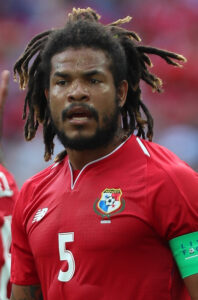 Sure, the Panama defense had more gaps in it than the Trump administration's immigration policy, but Román Torres stood strong and proud in his country's first-ever visit to the World Cup. With thick, sun-flecked dreadlocks bouncing happily atop his head, Torres not only set the offsides trap but also set the standard for hair mojo.
Martín Cáceres (Uruguay)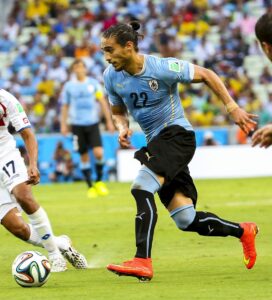 If Cáceres were a Spice Girl, he'd be Phenomenal Man-Bun Spice. A key cog in the Uruguayan defensive machine, he also contributed to the attack. Not only did he make ferocious overlapping runs down the wing but he also catapulted thrown-ins a country kilometer, thereby creating de facto corner kicks while converting the prosaic into the promising.
Domagoj Vida (Croatia)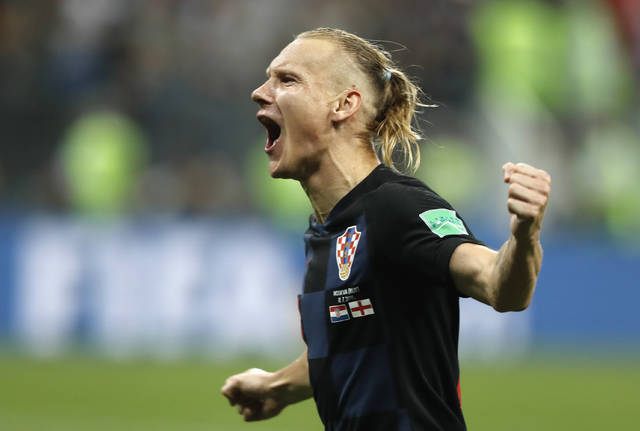 Vida is a hard man with a bold do. The shaved sides and Goldilocks ponytail combo exudes unflinching panache, a willingness to say yes to adventure. Surely professional wrestling exemplar "Nature Boy" Ric Flair—an iconic purveyor of the blonde locks—would approve. Vida threw some next-level shade at the Russian hosts when he appeared in a video pumping a fist and barking "Glory to Ukraine." Boom!
Luis Advíncula (Peru)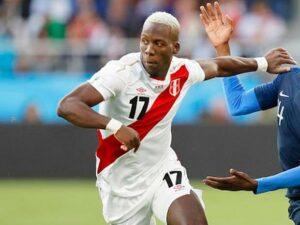 Advíncula was consistently brilliant on the pitch, flying up and down the flank with skill and smarts. And his hairdo was brilliantly consistent, a golden sun arrowing outward into a galaxy of the future. Advíncula gets extra points for enduring racist monkey chants from Australia fans, according to Peruvian media.
Midfield
Aron Gunnarsson (Iceland)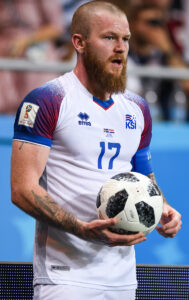 Beards are made of hair and thus fall under the All Hair Team Selection Committee's fastidious purview. With a burly beard and smoothened pate, Gunnarsson brings a brand of zesty shag that could headline at the Rimmugýgur, Iceland's oldest and largest Viking club. And on the shag front, Iceland's population is so small that there's a handy-dandy app to ensure you don't inadvertently bang the Viking gong with your cousin. In June 2018, surely the most searched name on the app was you know who: the Icelandic bearded wonder.
Valon Behrami (Switzerland)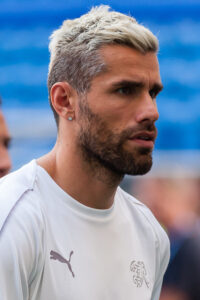 Along with Granit Xhaka and Xherdan Shaqiri, Valon Behrami was one of three starters on Switzerland's squad of Kosovar-Albanian heritage. Together they were a timely reminder of the vital importance of welcoming refugees, and not just those with soccer talent. When Xhaka and Shaqiri scored against Serbia, they celebrated by crossing their hands and spreading their fingers to represent the double-headed eagle that adorns the flag of Albania, essentially politically punking Serbia, which has long clung to Kosovo as a province of their country. While Xhaka and Shaqiri brought the in-your-face political symbolism, Behrami opted to slay the opposition with exquisite hair and bone-crushing tackles.
Marouane Fellaini (Belgium)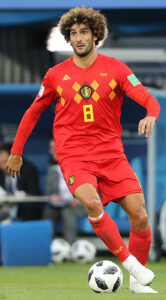 An All Hair Team without Marouane Fellaini's kinky coiffure is as inconceivable as an international waffle festival without Belgians, as implausible as measuring FIFA's decency in anything other than parts per million. Plus, Fellaini's practiced pate is responsible for the crucial equalizer against Japan in the round of sixteen. This masterful exhibition of what's known in the hair business as the Yin and Yang of All-Hair Team genius—some pop on top and lace on the face—unequivocally makes the cut (ahem).
Forwards
Javier "Chicharito" Hernández (Mexico)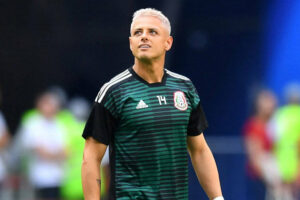 Ahead of the round of sixteen match against Brazil, three Mexican stars made a bold hair-based power move. Javier "Chicharito" Hernández, Miguel Layún, and Carlos Salcedo appeared on the practice pitch donning bleach-blonde hairstyles in an apparent nod of support to leftist presidential candidate Andrés Manuel López Obrador who was locked in a heated battle for the Mexican presidency. López Obrador emerged victorious with more than 53 percent of the vote. Mexico lost 2-nil to Brazil, but Chicharito, who was a formidable force up front for El Tri all tournament, gets the All Hair Team consolation prize. Hernández gets bonus points for using his social media platforms to successfully beseech Mexico supporters to ditch their homophobic "puto" chants.
Sadio Mané (Senegal)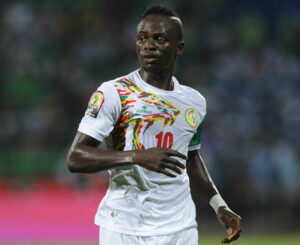 If you took a 3-D printer and punched in "brilliant footballer + blazing flame of golden sunshine," out would pop Sadio Mané. When Japan squeaked into the knockout phase ahead of Senegal based on 'fair play' points we were not only deprived of one of the World Cup's most exciting, skillful sides, but we also lost on-screen access to Mané's extraordinary hairstyle (it's a rueful day when fair play trumps hair play). Not only does Mané give us the gift of glorious coiffure, but he also gives back to his hometown of Bambali, where he put £200,000 toward building a school and where he also refurbished the local mosque, infusing us with hope in an age of Señor Orange and his execrable "shithole countries" yip-yap.
Neymar (Brazil)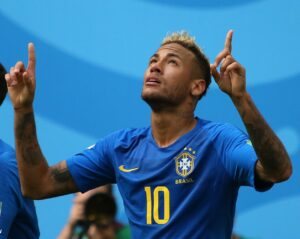 Neymar proffers Peak Hair, where kinetics meet aesthetics in a transfixing elixir of stardust and ingenuity. Plus, the Brazilian mega-star nimbly toggles between hair styles—four 'dos in the tournament's first two weeks—from a cork-popping mop to a dapper slickback worthy of a FIFA kickback. Sure, his flopping generated a jillion mocking memes. Men of average hair piled on—Eric Cantona, Peter Schmeichel, Alan Shearer, and Lothar Matthaeus. But hair legends like Ruud Gullit and Ronaldo came to his defense. Coincidence? Nope. Those who ruthlessly mocked him for his flopping antics didn't realize Neymar was simply demonstrating the durability of his 'do, the magic of golden mop.
Jules Boykoff played professional soccer for the Portland Pride, Minnesota Thunder, and Milwaukee Wave, and represented the US Olympic team in international competition. Today he teaches political science at Pacific University in Oregon. His most recent book on sports is Power Games: A Political History of the Olympics (Verso 2016). His latest book of poetry is Fireworks (Tinfish Press, 2018). Twitter @JulesBoykoff www.julesboykoff.org
Contributors
Matthew Celentano
TAGS
WELL, IT DEPENDS ON WHAT YOU MEAN BY "FREE."
Enter your best email for full access to the site.