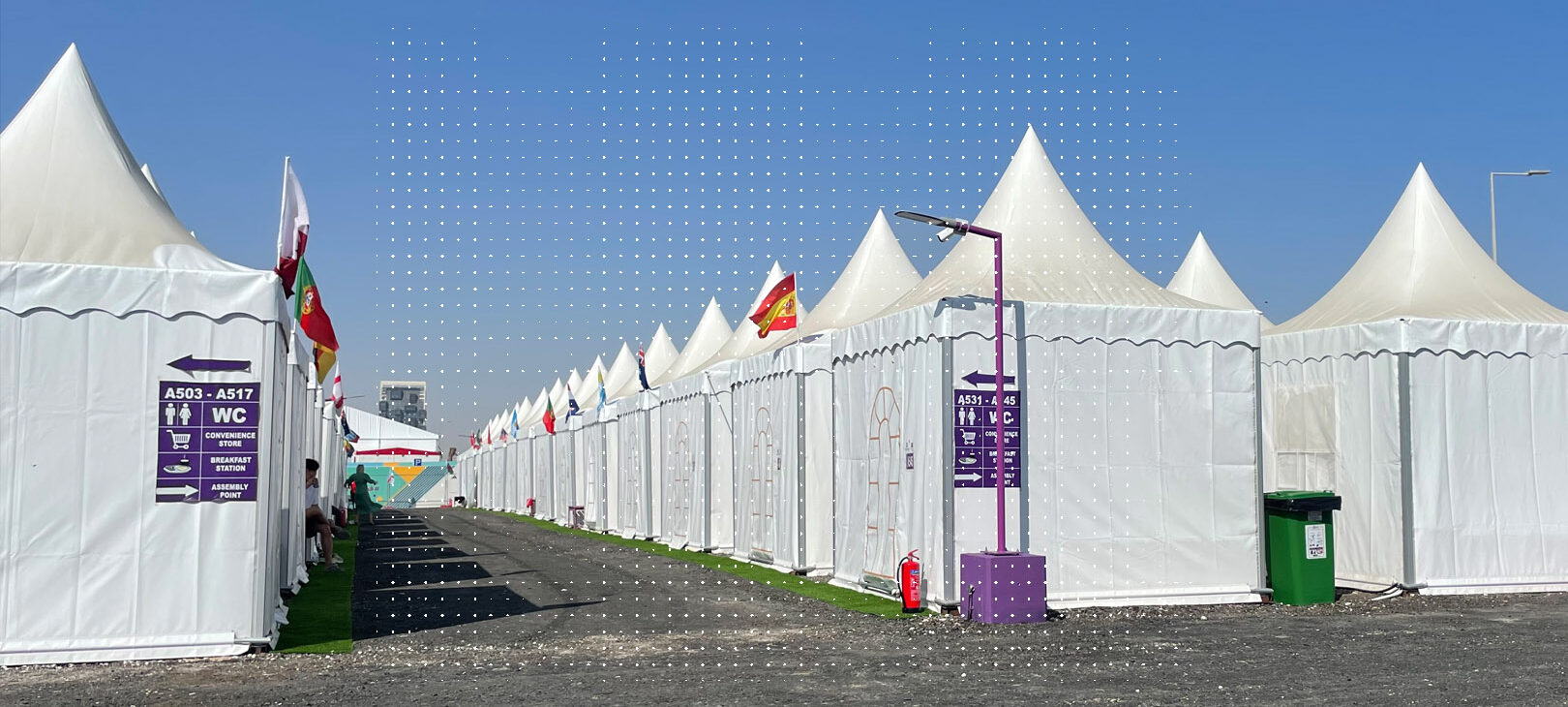 A Day at the FIFA Fan Tent Village
December 23, 2022
"Ridiculous! Disgraceful!" A heavily accented voice shouts into his phone. "I've never felt so cheated in my life. I've already emailed FIFA. I've told them. I've let them know this is unacceptable. I want a full refund! $200 a night…for this?"
Welcome to FIFA's Quetaifan Island Fan Village.
The voice rings out through the night. I attempt to play my favorite game: "Where is this person from?" I'm unable to place it. Saudi? Miami? Argentina? I'll never know.
Wherever he's from, he is not happy. This is not up to his standards. Wonder what he was expecting when he booked a tent on a deserted man-made peninsula 40 km north of downtown Doha.
I hear the voice quite clearly through the plastic tarp wall of my tent. Between shouted obscenities, I hear the snoring of various sleepers, in just about every direction.
From the tent next door, I hear a neighbor replaying the World Cup highlights his phone. It's close enough to discern that it's Spanish-language announcers narrating Guillermo Ochoa's game-saving penalty kick save. I pop a Tylenol PM into my mouth, wash it down, and close my eyes.
"Eeee-Ran!" I'm roused from my slumber by an air horn, the kind that were oh so popular at NFL games in the mid-1980s.

I am jolted into remembering that today's early game, 1:00pm local kickoff time, is Iran versus Wales. It comes flooding back: the law student in the tent across the way is from Iran, as well as his friends.
I slip my blindfold back over my eyes, reinsert my earplugs, settle back into bed, and attempt to rest. Luckily, the rowdies head off to the stadium soon after, allowing the rest of us some peace and quiet.
For good measure. I put a pillow over my head and try to get some more sleep.

My alarm wails.

It's label: LAST CALL FOR BREAKFAST. I rouse from my comfortable mattress, sit up, discard of the duvet cover, dripping with a light seat, and pause to allow the ventilator fan to blow across my skin.
From dusk to dawn. it's quite a nice temperature here in the Qatari winter… but then, about 10 am, when the sun is high, the heat settles around a constant sunny 82 degrees for the day. All in all, it's fine in the shade with just a bit of breeze. The fan suffices.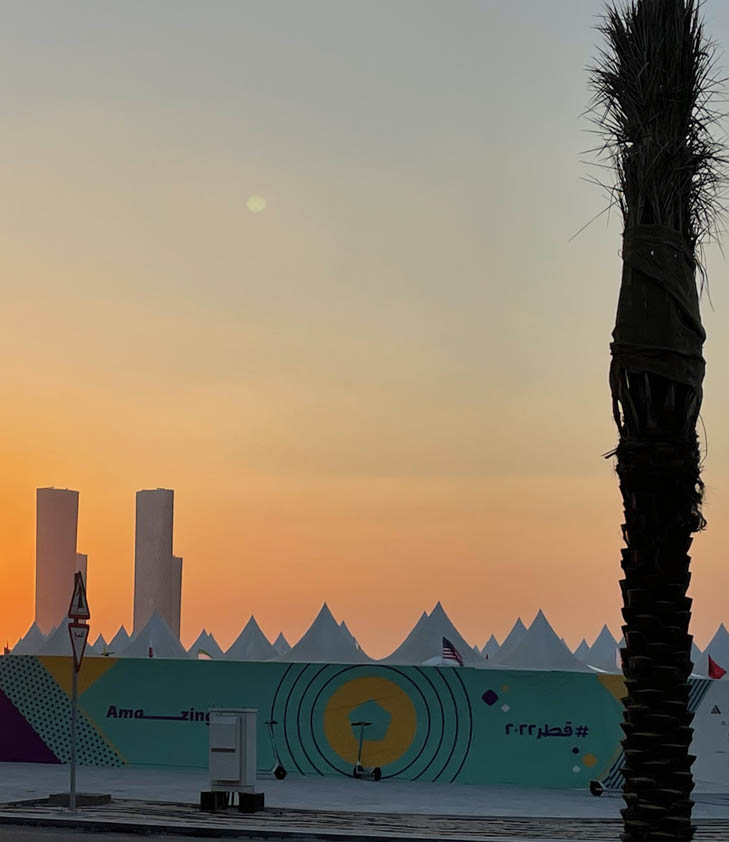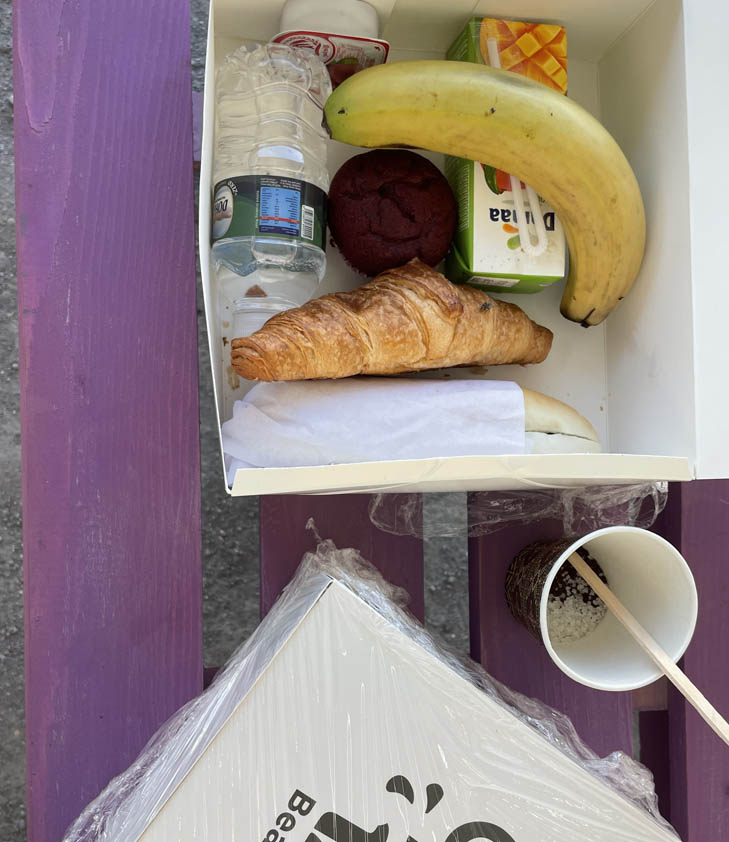 I raise, put in shoes, and shuffle in a jet-lagged haze to the breakfast station. My ticket deposited with dozens of others in the empty coffee cup that now serves as a cash register, I grab my breakfast in a box. Slightly stale pastry, an apple, a box of juice, a small muffin, a small bottle of water, coffee powder and a cup.
Is this communist Cuba? Coupons for breakfast? No, It's the FIFA Fan Tent Village.
The breakfast box is enough to power one through the early part of the day, not entirely tasty but entirely filling. Like my tent in the middle of nowhere, it does the trick.
Employees are issued the same breakfast, as well as a dinner of similar provenance. I'm almost jealous that don't get dinner included in my stay – in Qatar, the mere act of eating a cheap meal costs upwards of $20 in the touristy areas.
Sadly, today, the hot water pot is out of commission. An employee radios staff for more. Within minutes, a shiny new pot arrives. From where, who knows. I suppose they just have these lying around somewhere, out here, 7km past the edge of the city?
With water, there's coffee. And with coffee, revival.
11:15 am: This is one hot restroom stall.
The coffee has done its job. The sun beats down on the metal roof. Now I sweat inside a storage container box, trying not to feel like a refugee.
Business accomplished, I exit to freshen up. Here at Fan Village, all the restroom sinks are outside surrounding tThe bathrooms and showers: each a small storage container. Between them all, white stones that luckily do not absorb the heat of the sun.
My one lingering reservation: it's clear that all of this will end up in a garbage dump nearby within just a few weeks. None of it appears reusable, built to last, or remotely able to be repurposed. That whole setup, from tent to restrooms to reception area, will disappear on December 18th, as though it never existed.
The private beach at Quetaifan Fan Fest is deserted. Immediately adjacent to the Tent Village, the pristine beach has a sea of deck chairs, all available for rent at typical sky high Doha prices. Hundreds lie empty, in wait of VIP clients who have yet to arrive. In a beach that could fit thousands, perhaps twenty are present.
In the distance, a massive waterside lies under construction. It looks like some sort of oil refinery monster, the construction crane and workers still competing the job.
After a bit of googling, I find that this is, or will be, the tallest waterslide in the world, according to the promotional materials. Set to open "In time for the World Cup."
Unironically, a block away, an empty mall is decorated with promotional posters "We're ready for the World Cup!" as workers work round the clock to complete the job. Sadly, the World Cup has begun. In the unfinished mall. lifeguards stand guard over a Venetian-style waterway, even though the mall isn't complete. After I short conversation, I learn that they've actually been hired to work at the water park- but the park isn't open yet.
On the sand, a few groups of fans from the fan tents lazily soak up the Doha sun.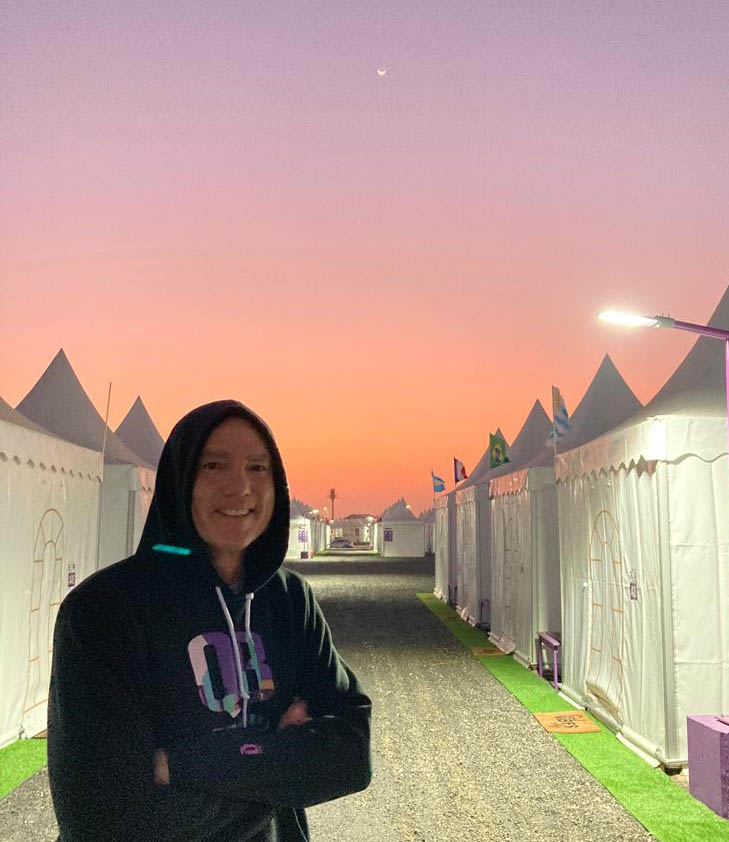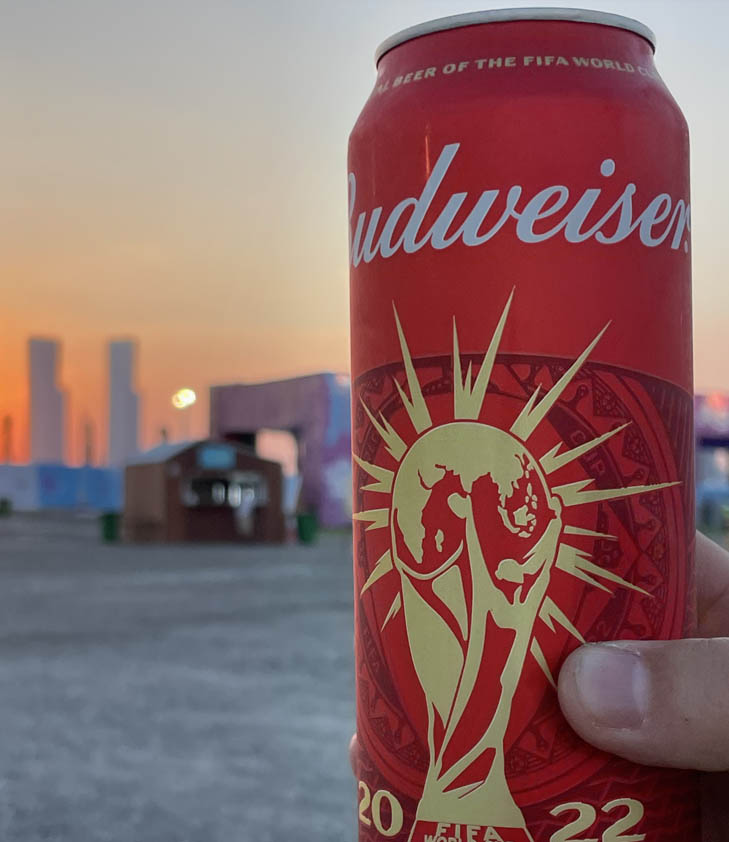 Five Argentines suddenly bring life to the deserted beach scene – arriving with six cold Budweisers and cumbia blasting from a Bluetooth speaker. This is one of the few places in Doha where beer is sold. If only we weren't 40 km from downtown and completely unreachable by public transit, the place would be packed.
An older couple walks up, and I notice Fred's USA board shorts right off the bat. "So where are you from?" Turns out, New York, NY, but retired to Puerto Rico. We chat about college, career, and why we each are here. Everyone has their story, and turns out ours are not any different.
"One thing I learned last night," recalled Rose, a Quetaifan Island Fan Village resident, "is how many people snore. Walking down the row of tents at night to get to the bathroom, there was snoring coming from nearly every tent."
It's normal. Enjoyable. A friendship is born.
We both agree: what a wonderful, strange, experience to stay in a tent city.

After a quick shower in the hot box of a shower, I'm right at the beach for a soccer game viewing on the adjacent Fan Zone. Denmark is playing, and I find a group of Dutch fans eating hamburgers at a food stand.
For food at the deserted Fan Fest, a line of twenty or so food stalls have been set up. A variety of options, cuisines, and workers, but again, only 10 to 20 people eating. An astroturf soccer pitch and a variety of oversized yard games litter the rocky outcropping, all unused.
I watch the game on the big screen, enjoy my first beer of the tournament, and talk with the Dutch fans. THIS is what the World Cup is supposed to be. Making new friends, comparing life stories, talking of our families. Soon, I'm showing them photos of my house in Texas and comparing it to photos of Venlo, their town in the Netherlands.
The game is a thriller, and as soon as the whistle ends, I'm off to an Uber, rushing across town to attend the Mexico-Poland game. Two hours later, after an Uber, a train ride, a transferor trains, and a long walk to the stadium, I arrive to my seats.
11:00pm: Fan Fest at night

The large rug in front of the huge screen is full, hundreds of fans lounging amongst pillows. In the far back, hookah sofas are full with guests smoking shisha.
By the last game of the night, I've returned to the Fan Beach and it has begun to fill up. Finally, the some fans have arrived. Lines of Mexican fans in sombreros recharge their wristbands to buy beer. They've obviously gotten the memo this is one of the few places in Doha you can buy alcohol.
A mild vibe has emerged. I meet up with my new friend Fred and his wife and we enjoy the end of the game on the big screen.
Once again, I lie in my bed awake, back inside the tent, reminiscing on my day. The sounds of French Montana fill the air. He's playing a free concert at the Fan Fest only a few hundred meters away. Sadly, only a few hundred fans have showed up to listen. Plenty of space for all! But…an international recording artist, as he's called, is only able to draw a modest crowd to the far away beach festival.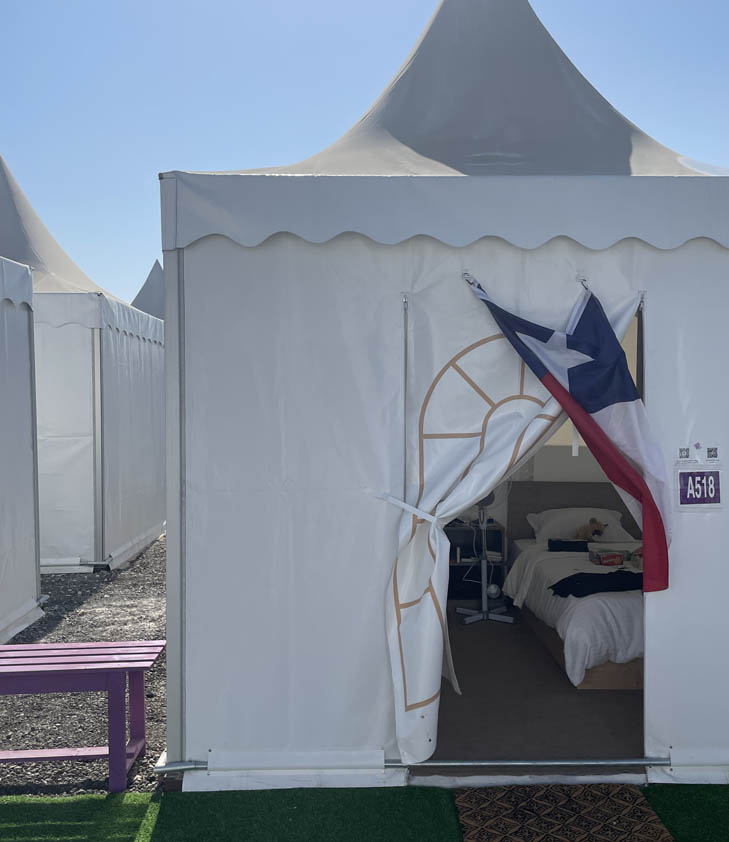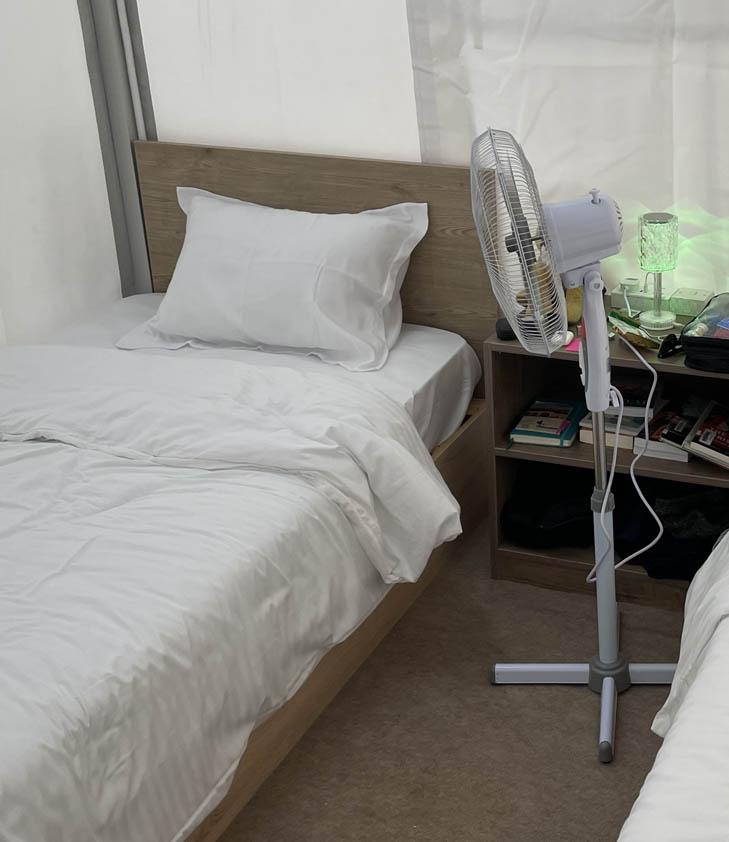 2022's answer to the question "Where will the fans all sleep in Qatar?" seems to be "very far away on a half constructed desert island." On balance, I found the Fan Village Tent to be the most authentic fan experience in Doha. Fans from around the world converged to enjoy camaraderie and share the experience. It was not luxurious. It was not glamping. It was a tent in a concrete slab out in the middle of the Persian gulf with a rotary fan for comfort.
Bus transportation to and from the village was promised. It was not delivered. Meaning any outing to the outside world requires an Uber both there and back, or to the nearest train station 7 km away.
The literal worst moment of my trip was upon arrival, when I spent two hours literally wandering the empty streets of Lusail under the Qatari sun looking for the promised bus pickup. Confused workers tried their best to direct me to a bus stop that actually didn't exist.
Sadly, it seems as though the Qatari leaders decided to hide us, the fans, and our beer drinking 40km from the city center, away from the eyes of the average Qatari.
Soccer refugees.
For a real treat, put Quetaifan Island Fan Village in Google and read the reviews.
My personal favorite: "A lot has been said already. I think you get better conditions in jail. The business minds behind this are the worst type of human beings."
Contributors
Matthew Shaddock
Matthew Shaddock is a soccer player, watcher, and coach who lives in San Antonio, Texas. A former attorney, he now teaches social studies at a public high school. He spends his summers off with his two young kids and chasing soccer around the world.
TAGS