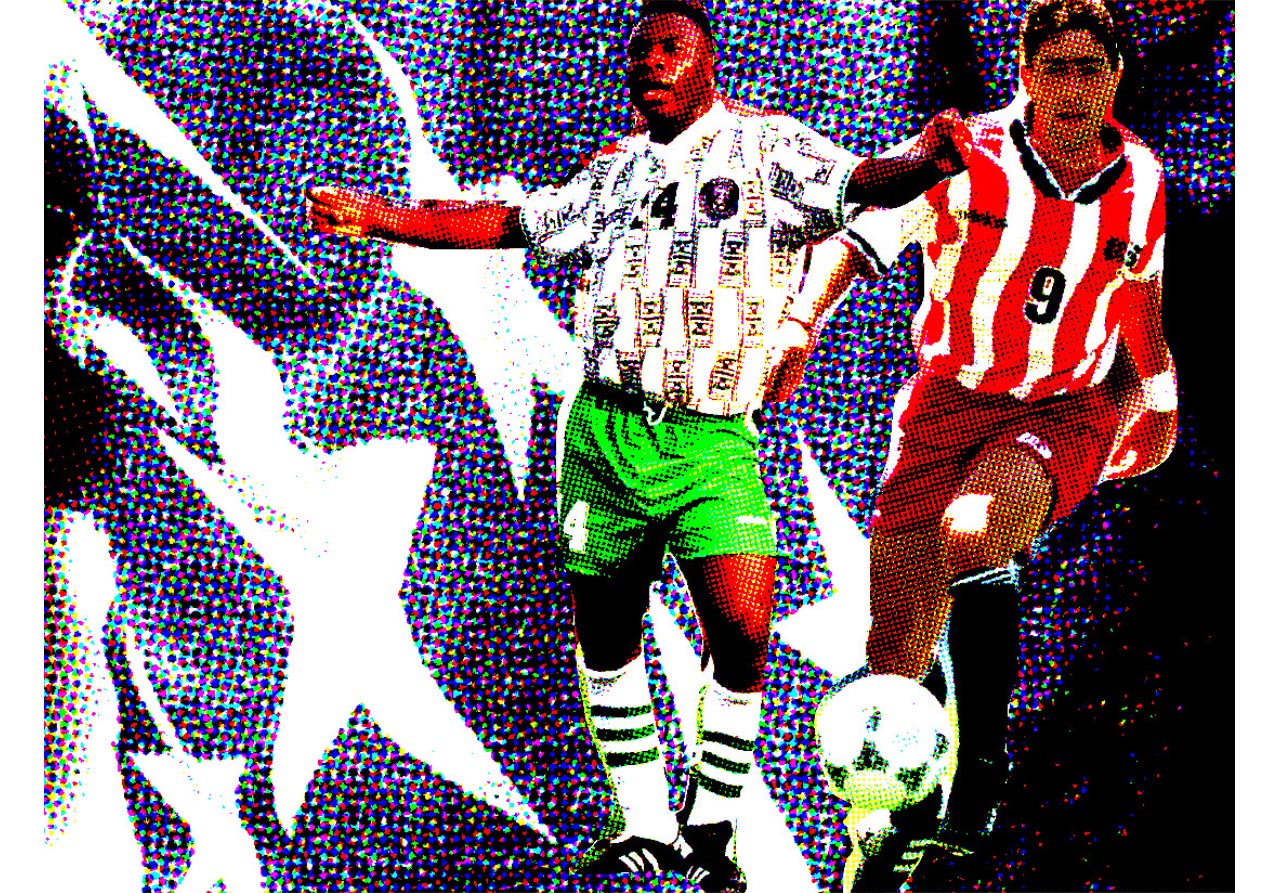 In 1994 my mind exploded. The World Cup came to the United States, and I went crazy with many of my friends in central New Jersey. I mowed our lawn to match the brilliant circular patterns etched into Chicago's Wrigley Field, blazing over hornet nests and daddy-longlegs so that we could pretend we were the athletes we watched on television. We normally played on fields with potholes or grass so long that the ball would literally stop in the middle of a pass. Driving to games with my parents, I would look longingly at the commercial sod farms sprinkled throughout the area, which cultivated beautiful, inch-perfect grass that no one ever played on. I longed to run out onto the field with my friends in our cleats and kick the ball as far we could in an emerald field of green. My field of dreams did not involve baseball (although I played that too), but a wide pasture with clear white lines, four flags, and two goals, and no faded-out American football markings that revealed the soccer field was a secondary use.
It was a small miracle itself that we had cable television that summer, extended a quarter-mile from the road to our house at great expense in our rural foothold in the Sourland Mountains. This humble gesture would eventually expose us to Duck Tales, Star Trek: The Next Generation, and Quantum Leap – but most of all, in 1994 at least, to the planet's best soccer! The World Cup was, for many of us, the first time we had ever seen soccer at such a high quality and tempo. I recorded games on our VCR, gleefully erasing intimate family home videos. Who needed a video of a 4th of July picnic when we could watch Brazil play the Netherlands over and over again?
The stars shone in the tournament, especially Romario, Branco, Bebeto, and a young Dennis Bergkamp and players like Brolin and Dahlin. But I grew particularly ecstatic watching Nigeria and the U.S.
I wanted the U.S. to win with all my heart, of course, rooting for Alexi Lalas, Tab Ramos, Cobi Jones, and Tony Meola—but besides Tab Ramos, it was hard to recognize anyone on the squad who moved with the fluidity of a Leonardo, and the run-fast-and-play-hard mentality didn't quite do it for me, because that's what my coaches yelled at me to do, and it never seemed like that was the point of the game. I cheered when the U.S. knocked out Colombia, but I couldn't help feeling Colombia was better by spades, playing with grace and creativity that no U.S. team could match.
I'm Nigerian-American, which means I'm capable of rooting for more than one soccer team and feeling no fundamental conflict. Instead I get to enjoy watching both teams, with such slim chances of them playing against each other in the tournament that it's not worth worrying about. That's why I turned my hopes to the Nigerian squad of Rashidi Yekini, Finidi George, Daniel Amokachi, and of course Jay-Jay Okocha. They could shake and bake! They could shoot! They could squeeze out of situations on the field with defenders swarming around them! That golden generation captured my heart, and showed what was possible until Roberto Baggio knocked us out of the tournament.
Anyway, the U.S. didn't qualify this year and Nigeria is out once again. Yesterday was about France and Belgium. The two countries presented something of an identity crisis for people of African descent. Les Bleus have long offered a vision of a cosmopolitan immigrant squad even before the days of Zidane and Henry. But Belgium is equally phenomenal, with Lukaku, De Bruyne, Witsel, and Chadli looping around each other in onscreen harmony. Who to root for? Lukaku experienced plenty of prejudice while born and raised in Belgium and climbed above it, but then there's the burden of King Leopold's Ghost. France's weighty colonial history was partly overcome by Zidane, Djorkaeff, Lizarazu, and Henry. I cheered for France out of tradition. They're my surrogate team once other African teams are knocked out. But I would have tipped my hat to Belgium if they had eked out a victory, feeling that the cause was advanced either way. Both sides have phenomenal athletes that fill highlight reels on YouTube with abandon. Kylian Mbappe's audaciously creative heel drag to Olivier Giroud would have ensconced him in the firmament of international soccer if Thibaut Courtois hadn't waddled out like a duck to block the shot. If Mbappe retired tomorrow, God forbid, he would have been remembered for that goal forever. Now he still has to earn back his $200 million transfer fee.
As for YouTube, I could not have imagined such a service to soccer when I fiddled with our old VCR back in 1994, and I was an avid science fiction reader who liked to think optimistically about the future. Today you can practically download moves into your brain. YouTube is quite Matrix-like in its instant gratification. If we learned a new skill move back in the early 90s, it arrived amongst our friends like a rumor—"this guy up in Newark, he did a spin like this"—which we could only confirm if we did it ourselves. At the highest level of the game, we were lucky if we saw a single stepover, and a backheel during an attack was a revelatory innovation. We still showed brilliance on the soccer field, of a local kind, with our potbellied referees in their tight black shorts, and our parents who sacrificed everything to see us touch the ball a few times in Freehold, Woodhaven, Princeton, Hopewell, Cherry Hill, or Ewing. We did not have all the information but we still scored goals and became friends.
Watching those highlight loops of Mbappe, Messi, or Ronaldo makes me admit that many dreams have been fulfilled today. I am not sure what the consequences mean. Kids are learning these moves but so too are their friends, so their advantage in the game does not last long. But hats off to the animated GIF—there was a dearth of information about how to trick your opponent in my youth, and the internet has surpassed the wildest expectations of soccer players. Today we are flooded with skills.
The sod farms have largely disappeared from Central New Jersey, but that dream, too, has been realized. It turns out that a commercial sod farm in South Jersey has been renting out its fields for soccer tournaments for the past few years. I wonder at those kids, peeking at their phones while sucking on orange slices at half-time. Are they there? Really there? Do they feel the slip of the earth as they tackle? Do they smell the Kentucky bluegrass when they pretend they are Kylian Mbappe?
Deji Bryce Olukotun is the author of the novel After the Flare, which won a Philip K. Dick Special Citation in 2018. He has played soccer since he could walk and still dreams of scoring a goal on a bicycle kick with lots of people watching.
Contributors
Matthew Celentano
TAGS
WELL, IT DEPENDS ON WHAT YOU MEAN BY "FREE."
Enter your best email for full access to the site.