One good tournament and an entire nation will remember your name for decades, no matter where you're from.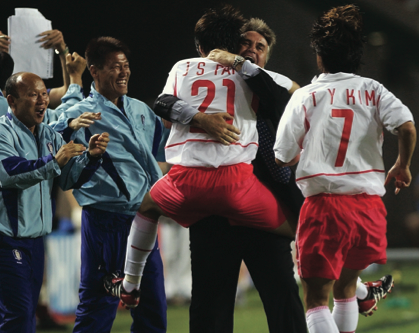 By Hayes Creech | Clive Brunskell
[I]t was a moment that hinted at a deeper bond than simply player-coach. Then 21-year-old Park Ji-Sung had just scored the goal that would put South Korea through to the knockout stages of the 2002 World Cup. He sprinted to the sidelines and leapt into the arms of his coach, Guus Hiddink. Hiddink would later bring Park and Lee Young-Pyo with him to PSV Eindhoven, continuing a mentorship that had begun when the Dutchman took over the South Korean national team the previous year. Koreans in red filled the stadiums and flooded into the streets of Seoul, Busan, Daejeon, and Jeju to celebrate their team's accomplishment. Hiddink was the architect, and he'd gone far beyond tweaking the usual Xs and Os to get the best out of his Taeguk Warriors.
The team he inherited had been stifled by deeply traditional societal norms such as deference to elders that made innovation extremely difficult. Hiddink's changes demonstrate the influence an outsider can wield in just a short time in charge of a national team. The semifinals were uncharted territory for South Korea but not for its coach. Four years earlier, Hiddink's Netherlands had fallen to Brazil on penalties at the same stage. He continued his successful run four years after Korea, in 2006, when the man they called Aussie Guus steered Australia to the round of 16, losing 1–0 to eventual champion Italy. Hiddink went on to manage Russia, eventually taking that country to the semifinals of Euro 2008, and then Turkey, resigning when the team failed to qualify for Euro 2012. After Brazil 2014, Hiddink will once again take charge of his native Holland.
During a reunion trip to Seoul earlier this year with his girlfriend, Hiddink reportedly sought antiaging treatment from a well-known plastic surgeon. While the man may feel the need for a touch-up, Hiddink's legacy in South Korea — where his image remains plastered in teahouses and restaurants throughout the country, the Gwangju World Cup Stadium has been renamed after him, and two statues have been erected in his honor — shows no sign of age.

Contributors
Howler
TAGS
WELL, IT DEPENDS ON WHAT YOU MEAN BY "FREE."
Enter your best email for full access to the site.