Pumas in the Wilderness
September 3, 2014
Two former players help a downtrodden club restore its identity
By Raul Vilchis | Photo by Rubén Darío Bedoya Cortés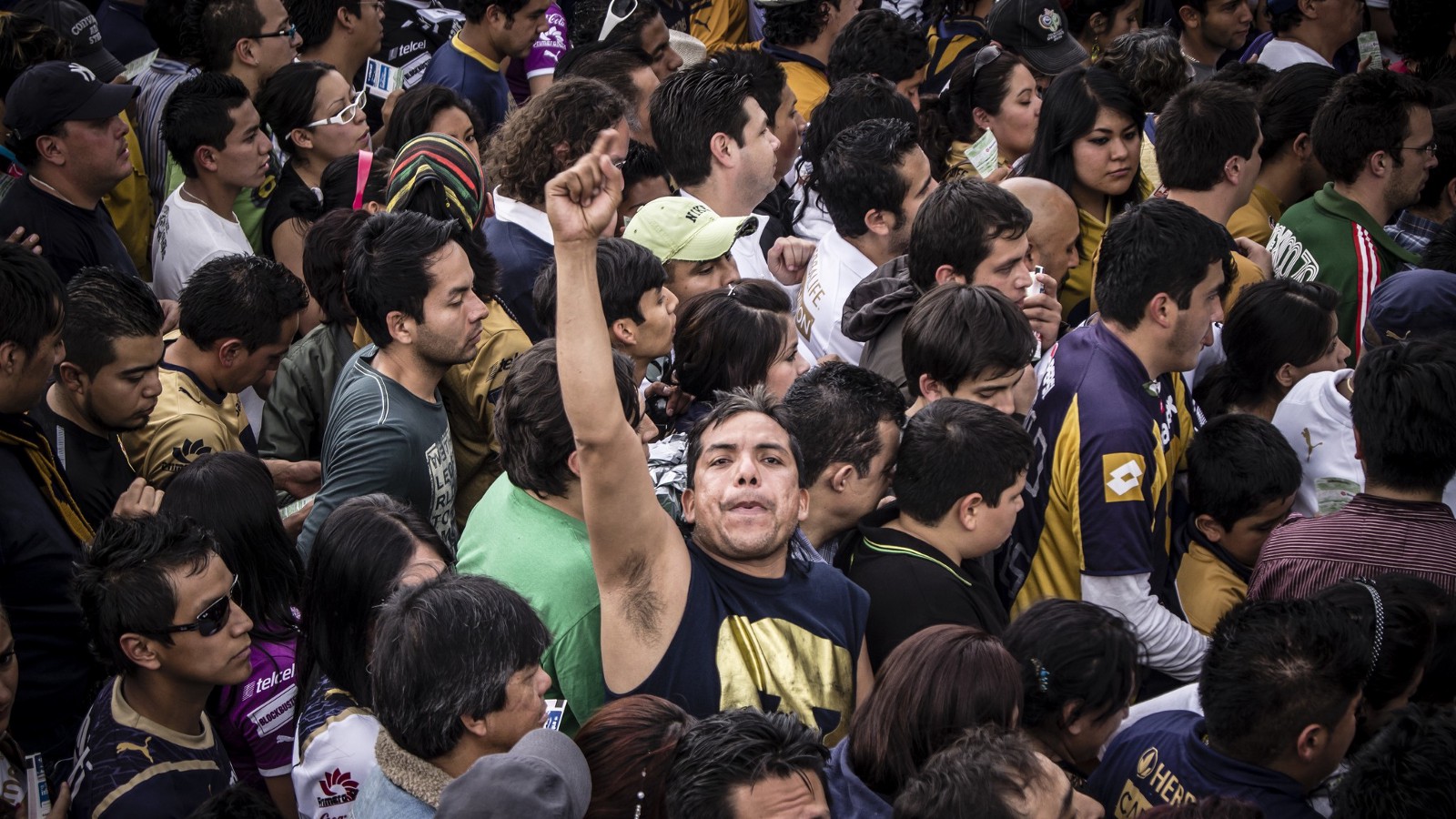 [P]umas UNAM was in crisis. Mired near the bottom of the Liga MX table after four-straight losses, the seven-time league champions axed coach Jose Luis Trejo and sporting director Mario Trejo on Aug. 15. In their stead came coach Guillermo Vazquez and sporting director Antonio Sancho, two former Pumas players who guided the club to a tie with Tijuana in their first game in charge before leading the team to a shock 1–0 win over archrival Club America on Saturday. Vazquez and Sancho have Pumas in their blood, having both come up through the side's youth system before spending the better part of a decade suiting up for the first team. A proud club known for producing top young talent and feeding it to the national team, Pumas has lost a bit of its character in recent years, fielding an aging squad that failed this summer for just the second time in team history to send a player to the World Cup.
Pumas — which is housed at and is affiliated with Mexico's national university, UNAM — is hoping for a return to its roots under Vazquez and Sancho. Vazquez coached Pumas to its last title, leading the club to the 2011 Clausura crown. A two-time Pumas captain, Sancho made his Pumas debut in the mid-90s, when American Mike Sorber — now an assistant with MLS's Philadelphia Union — was on the squad. Back then, the team was known for cultivating young players through its academy. Much like Barcelona's famed "La Masia," Pumas' "La Cantera" became a training ground for Mexico's best talent, grooming international stars Hugo Sanchez, Jorge Campos, Luis Garcia, and Claudio Suárez, among others. Up until 2000, "La Cantera" (which means quarry in Spanish, and is doubly appropriate here, since UNAM once sat above a gravel mine) had produced more first division players than any other team. When Sorber played on the team he was one of only three foreigners. The aim at that time was to recruit a small number of talented players from abroad that could serve as guides and examples for the younger players. The UNAM, founded more than 100 years ago, is a national treasure. Supported solely by tax money, it provides a world-class education that costs just pennies for students. Its status as a non-profit public university meant advertisements were banned on Pumas uniforms until the 1990s. The club's matches were broadcast on public television and no player was allowed to make more than the highest paid employee of the school. This unique mix gave the team an identity of amateurism and purity and often class — an identity that has been diminishing over the past 20 years.
Back when Sorber was playing, Mexican soccer had not yet exploded into the multi-million dollar industry it is today. Mexico returned to the World Cup in 1994 after being disqualified in 1990 and Mexican broadcasters began to realize the commercial possibilities of the sport. Televisa — Latin America's largest broadcaster — was Mexico's only private television station until TV Azteca entered the market in 1994. The two broadcast giants began a battle for the transmission rights to the country's most popular teams. Televisa already owned America and Chivas, which left Cruz Azul and Pumas up for grabs. When TV Azteca bought the transmission rights for Cruz Azul, Televisa — not to be outdone — jumped in with an offer to broadcast Pumas games in 1997. The transformation didn't always benefit the quality of the games. Televisa wanted to broadcast Pumas home games midday on Sunday. The decision was meant to attract maximum viewership, but the hottest time of day was terrible for playing in Mexico City's high altitude. The games became slower and less dynamic. With Televisa came more brokers trying to sell players from abroad and the Pumas filled up with older, more experienced foreigners. The practice of finding young talent and training them up through the ranks largely fell by the wayside.
Today, nine players on the team's 23-man roster were born outside of Mexico — a remarkably high number in a league that caps the amount of foreign players on each team at five (naturalization rules account for the excess Pumas players born outside of Mexico). The average age of Pumas' players is 26, among the oldest in the Mexican league. All of these developments represent departures from the club's identity. This is an issue for Pumas fans, who are hoping Vasquez and Sancho will guide the team back to what it used to embody. A few more results like Saturday's big win over America would go a long way towards accomplishing that feat.

Contributors
Howler
TAGS
WELL, IT DEPENDS ON WHAT YOU MEAN BY "FREE."
Enter your best email for full access to the site.