Dillon Powers Plays Mario Kart Before Every Match
November 3, 2014
Rapids Midfielder Dillon Powers used to model his game after Xavi; these days, he's more of an Iniestista
By Kevin Koczwara | Photograph by Garrett Ellwood/Colorado Rapids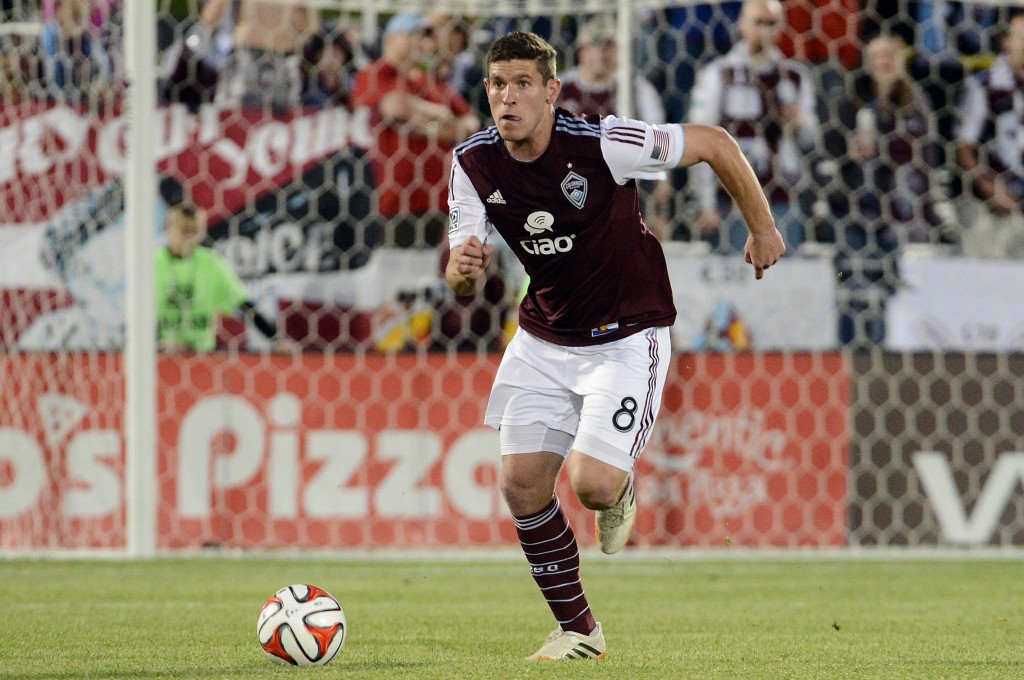 What is something you still remember a coach telling you?
"It is a professional world out there and it's not going to give you anything. You have to take it." — Tab Ramos with the US U-20s
You've got a free weekend: good book, a couple movies, marathon TV, or video games?
Definitely watching movies. I am a pretty big fan across all genres and a pretty easy critic.
What is your pregame jam? Postgame jam?
Grateful Dead — I like to keep it relaxed before games.
After — that really just depends on the result.
Is there something that you do before every game?
I usually play a Grand Prix on Mario Kart.
Name someone you've played with or against who is better than fans give them credit for being?
Nathan Sturgis. He is not a flashy player but has great technique and a great mind for the game.
Who is best player you've ever played against?
Robbie Keane. I like how deceptive he is.
Is there one jersey you've traded for after a game that you value more than any other?
I traded with my good friend and former Notre Dame teammate Harry Shipp this year. It was cool to trade jerseys on different professional teams after playing some good years together at school.
Who did you try to model your game after?
Growing up I've tried to model my game after Xavi of Barcelona. But more recently, though, I have been watching video of Andres Iniesta to pick up things from his game.
Can you remember eating something before a game that you seriously regretted come kickoff?
No, not really.
Would you rather be: the captain, the person who takes the final penalty kick, or the person who holds the locker room together?
I value chemistry in the locker room quite a bit, so I think I'd be the person who holds the locker room together.
What's the most physical pain you've ever been in on the soccer field?
At the National Championships in club soccer when I was 17 I played a game in Baton Rouge. It was the most humid game I'd ever played in. Late in the game, I got the worst cramp I've ever had — bad enough that I still couldn't walk the next day. It's hard to really put the feeling into words.
What is one rule change you would like to see adopted by FIFA?
I'd like to see penalty kicks changed to the dribble up version. That was the format we had in high school and it was awesome.
What is a non-soccer hobby or academic interest you'd consider pursuing once your playing career is over?
Producing or mixing music.
What is your motto?
"Stay Hungry, Stay Foolish"
As far as you know, has a teammate or opponent ever taken the field under the influence of a psychedelic drug?
Not to my knowledge, but some plays make you wonder.

Contributors
Howler
TAGS
WELL, IT DEPENDS ON WHAT YOU MEAN BY "FREE."
Enter your best email for full access to the site.