Sean Franklin Wants to Take the Last Penalty Kick
November 10, 2014
D.C. United Defender Sean Franklin on Fast Food Before Games and Thierry Henry's Jersey
By Kevin Koczwara | Photograph by Tony Quinn/D.C. United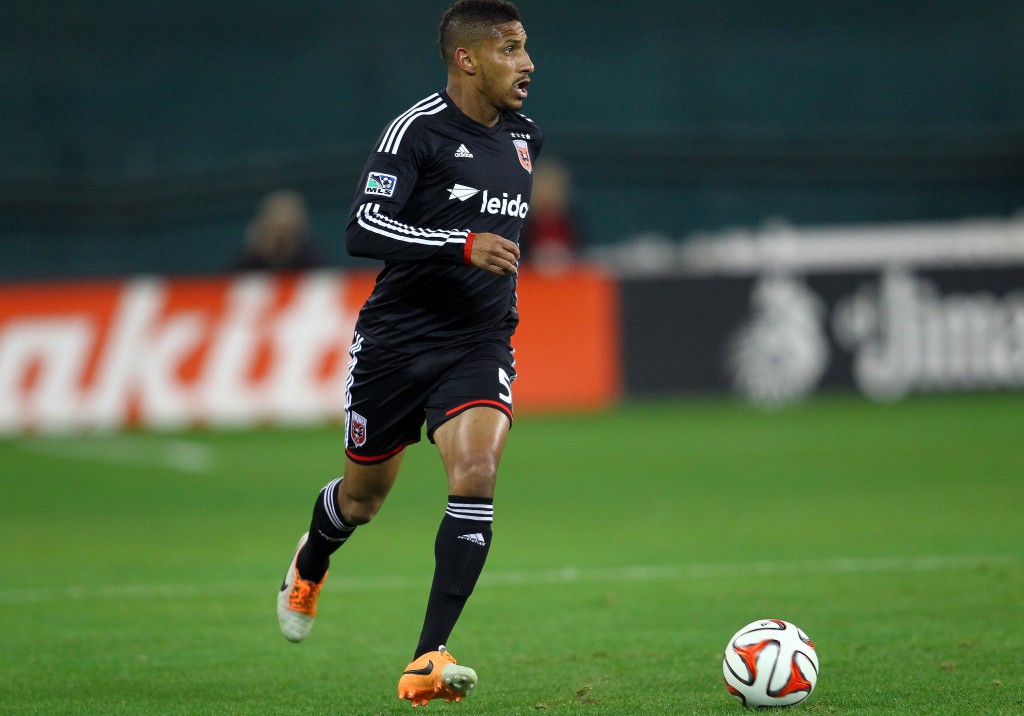 You've got a free weekend: good book, a couple movies, marathon TV, or video games?
Free weekend… I'm definitely chilling on the couch, watching TV or taking a nap. If it's nice out, I'll go out, grab some drinks with some friends.
What is your pregame jam? Postgame jam?
I have too many to choose from, but if I had to choose… Pregame would be We Dem Boyz by Wiz Khalifa; postgame would be Pass Me the Hookah by Tyga.
Is there something that you do before every game?
I always pray during the national anthem and kiss my right wrist, which has the initials of my grandfather, who passed.
Who is best player you've ever played against?
Hands down it has to be Cristiano Ronaldo. I have been fortunate and lucky enough to play against Real Madrid three times and every time going against him was tough — speed, power, and just flat out sick on the ball.
Is there one jersey you've traded for after a game that you value more than any other?
Thierry Henry. He has been my idol since I first started playing soccer. Being on the same field was more than enough of an honor, but to finally get his jersey was the icing on the cake.
Who did you try to model your game after?
Growing up, I didn't really watch too much soccer or follow players who played my position. I was a late bloomer to really studying the game. If I had to choose someone, I would say Dani Alves. I like the way he gets into the attack, and thats something I'm always trying to get better with my game.
Can you remember eating something before a game that you seriously regretted come kickoff?
I have eaten the worst foods before games, I'll be the first to admit it — greasy, fried foods, fast food, you name it. My regimen has changed now that I'm older and a professional, but I was pretty bad when I was younger. It never really bothered me before the game or affected the way I played. The only thing I regret is not taking care of my body more.
Would you rather be: the captain, the person who takes the final penalty kick, or the person who holds the locker room together?
I would love to be in the position to take the final penalty kick. I love the pressure of everyone watching you. It's an occasion for players to step up and who can be calm, cool and collected in that situation.
What's the most physical pain you've ever been in on the soccer field?
In 2009, I tore my right hamstring, snapping the tendon off of the butt bone. I was making a long run and felt it go. I had finished the rest of the half, but at halftime had to come out. I just remember not being able to run or walk.
What is one rule change you would like to see adopted by FIFA?
I think FIFA needs to add an additional sub during the World Cup. Being that roster is at 23 players, one more sub would make sense.
What is a non-soccer hobby or academic interest you'd consider pursuing once your playing career is over?
I have a degree in art and graphic design. I would like to get back into designing once I have time to go back to school to freshen up on my skills. I wouldn't mind doing web design or print work.
As far as you know, has a teammate or opponent ever taken the field under the influence of a psychedelic drug?
I've never been around or have seen a teammate, but wouldn't be surprised if some players have been under the influence.
What is one thing a coach has told you that you still remember (and who was it)?
One thing that I remember, and it still makes me laugh a little to this day: My college coach always had some good one liners, but he told our team in a speech one time, "Hydrate or Die." So I always try to stay pretty hydrated before games.

Contributors
Howler
TAGS
WELL, IT DEPENDS ON WHAT YOU MEAN BY "FREE."
Enter your best email for full access to the site.