A late host switcheroo, bizarre backdrop and top talent make AFCON stand out in a crowded soccer calendar
By Gabriel Luis Manga | Photo by Jake Brown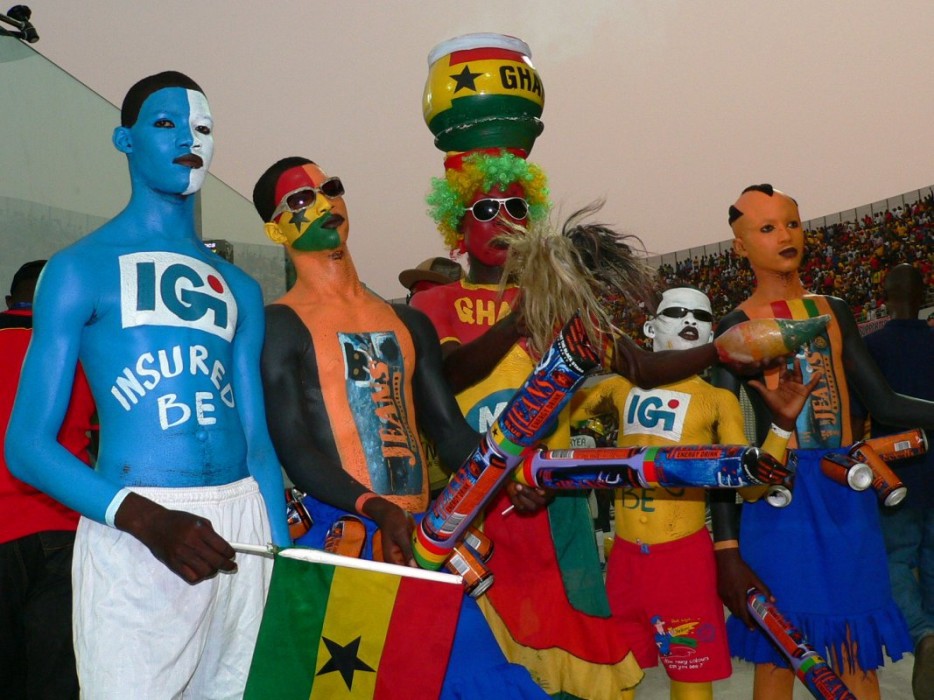 [T]he world of soccer is at no loss for content; it's a saturated market. After riveting weekday Champions League matches, do we really need the Europa League pining for our affection? What good is a Club World Cup, viewed as a nuisance and begrudgingly won by Real Madrid? Why is the Bundesliga pretending the season isn't over?
But among the myriad matches and the melodrama of the transfer market, there are still moments that cut through the noise, and the wondrous biennial affair of the African Cup of Nations is one of them. AFCON combines emerging talent, nationalism, pissed off Premier League managers and draconian football politics into a cocktail that is a unique and acquired taste, but worth the experience nonetheless.
The tournament starts Saturday, but it has been a bit of a mess for months. Back in October, would-be hosts Morocco looked at the horrific outbreak of Ebola in West Africa and made the seemingly reasonable request to delay the competition until 2016. CAF, Africa's governing body for soccer, did not share that viewpoint, and after giving Morocco a few chances to change their minds, moved the tournament to Equatorial Guinea, who then had fewer than two months to organize a major, continent-captivating sporting event. Because Morocco had qualified via hosting, they were expelled — Marouane Chamakh's brilliantly gelled balding head and all. Equatorial Guinea took their place, which is hilarious because Equatorial Guinea was kicked out of qualifying for fielding an ineligible player, something they also did during World Cup qualifying.
And that's just the back story for what makes this tournament fascinating.
• • •
The Host
Equatorial Guinea co-hosted in 2012 with Gabon, which is the only boring fact in this paragraph. They are a country with "one of the worst human rights records on the continent" — ruled by Teodoro Obiang Nguema, who ousted his uncle Francisco via military coup in 1979. Francisco wasn't exactly a saint, having once ordered a massacre of his political opponents in a soccer stadium by soldiers dressed in Santa Claus outfits while "Those Were The Days" played over the speakers. Oh, and Margaret Thatcher's son might have tried to finance a coup there in 2004. But hey, that's the past! Equatorial Guinea is rich off of oil now, although that wealth hasn't exactly trickled down to the mass populace: they are ranked 144th in the UN's Human Development Index. All the while, they have built a few modern stadiums and are paying a ton of Brazilians to play for their national teams. So game on! It wouldn't be a FIFA-sanctioned event without some collusion with an authoritarian government.
• • •
The Teams
World Cup qualifying out of CAF is a tragic affair. Powerhouses such as Egypt and Ghana are often dropped into qualifying groups from which only one can emerge, and it seems that every cycle at least one or two highly deserving squads are left out of CAF's scant five slots. With a nonsensical qualification structure, it is this tournament where we, a public armed with ample cable sports bundles and or a curious mind for illegal online streaming, may view all of Africa's best teams.
This year's tournament might be the best in years. Virtually all of West and North Africa, the hotbed of the continent's soccer talent, are represented. They are joined by solid squads from South Africa and recent champions Zambia. Only defending champions Nigeria — who shockingly failed to qualify — and the aforementioned Morocco are missing.
With numerous legends of African soccer retiring from the international stage, this tournament will give space to a new wave of talent.
Group A features the Bundesliga's fastest player, Dortmund's Pierre-Emerick Aubameyang, who allegedly can cover 30 meters faster than Usain Bolt and turned down both France and Italy to represent Gabon on the global stage. His team is joined by Equatorial Guinea, Congo and an emerging squad from Burkina Faso who made the finals in 2013.
Group B contains 2012 champions Zambia, perennial threat Tunisia, Cape Verde and DR Congo. Really anyone can win.
Group C is the group of death for this iteration with Ghana, South Africa, Algeria and Senegal. It would be far more exciting if only Ghana's stars Kevin Prince-Boateng, Sulley Muntari, and Michael Essien weren't indefinitely suspended from their national team for various physical altercations/delinquent acts. With that said, Senegal's Papiss Cisse has scored nine goals in 14 appearances for Newcastle this year, and he could well bring his hot streak of form with him.
Group D (Guinea, Mali, Cameroon and Ivory Coast) has both Toure brothers (Yaya and Kolo of Cote d'Ivoire) and thus the potential for brilliance. Their squad against Cameroon might be the match of the group stage, and either way both of those teams should be the ones emerging.
• • •
Rising Stars
With numerous legends of African soccer retiring from the international stage, this tournament will give space to a new wave of talent. Cote D'Ivoire, for the first time in years, will be without the incomparable Didier Drogba. Cameroon will (finally) emerge from the overly extended shadow of Samuel Eto'o. Ample opportunity should be given to his heir apparent: Clinton N'Jie. The tabloids are already buzzing with rumours that the young Lyon striker will be the next in a long line of Arsene Wenger's swoops from Ligue 1. For Senegal, Pape Moussa Konate will be looking to recapture the promise he showed at the 2012 Olympics where he scored five goals in the Under-23 tournament.
In the Burkina Faso midfield, we'll hopefully get a glimpse of 19-year-old Chelsea contract-holder Bertrand Traore. He has scored some pretty goals while on loan at Vitesse this year, and his touch could be useful in the wide-open Group A. Staying in the center of the pitch, Algeria's Nabil Bentaleb doesn't exactly light up the stat sheet with goals, but he has established himself well at Tottenham, to the point where some would call him indispensable.
Young talent, aging virtuosos, nouveau-riche dictatorships, and games that will be played at 3 p.m. EST when you thought your day was getting a bit dreary — try the African Cup of Nations, friends. You'll like it.
Follow Gabriel Luis Manga on Twitter @Gabri_elManga.
Contributors
Howler
TAGS
WELL, IT DEPENDS ON WHAT YOU MEAN BY "FREE."
Enter your best email for full access to the site.