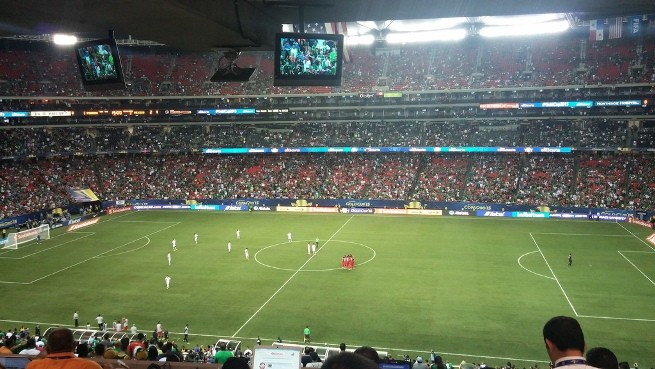 One Wild Wednesday Night Gave Us the Full Spectrum of CONCACAF's Offerings.
By Sam Patterson
[T]his was the Biblically-inspired lede a Jamaican newspaper employed while previewing the Reggae Boyz Gold Cup semifinal against the United States:
"David, the future king of Israel, used a simple contraption of a sling to bring down a notorious Philistine giant named Goliath."
Coach Winifred Schäfer had echoed the sentiment in his pregame press conference.
They were a presumed step-over, like Panama later in the day, a necessary impediment on the road to a heart-stopping U.S. vs. Mexico final that would sell out and drive up television ratings and make bundles of cash for CONCACAF. The Georgia Dome's 68,000 seats had sold out and the secondary ticket market was taking on some darker tones. TV ratings were historically high on Fox Soccer, and on Univision Mexico's matches had attracted tens of millions of viewers.
The semis were going to be CONCACAF's opportunity to flip its own middle-fingered saludo, like Mexican fans had been doing for weeks in Donald Trump's direction, to its own critics. In recent weeks the regional association had been accused of criminal mismanagement and dubious refereeing decisions. The tumultuous stretch had reinforced its unflattering image as a small-fish operation.
Two of the 11 FIFA officials arrested in Switzerland had been connected to CONCACAF.. Trinidad and Tobago's hypochondriac Jack Warner was just one bit in an endemically mismanaged federation. Money that should have been in the bank account for Soca Warrior bonuses in light of their third ever Gold Cup qualification, or travel cash for the Soca Princesses to reach their World Cup qualifiers in October, just wasn't there.
On the field, CONCACAF's troubles continued. Mexico had reached the semis in Atlanta seemingly in spite of themselves, struggling through a scoreless draw with Guatemala, a 4–4 tie against T&T that they'd led 4–2 in the 90th, and Andres Guardado's referee-assisted penalty in minute 122 against Costa Rica.
The semi-finals offered a new opportunity, though. CONCACAF had that momentary chance to be taken seriously again. They squandered it. Wednesday night's games briefly brought out the fleeting best of CONCACAF's offerings. And then drowned them with a cement life-jacket.
The USMNT loss was a "bitter pill to swallow" as Coach Klinsmann said (with Sunil Gulati prowling behind the press) after the match, but Jamaica's Davids earned it. The Reggae Boyz' defensive line, who entered the match with over 300 minutes without a goal allowed, withstood some furious first-half pressure from the American full court press.
It felt odd but comforting, like a man getting a pedicure, to see Jamaica go 2–0 up on a flukey header and an inch-perfect free kick after Brad Guzan forgot where the floor turned into lava. The joy of the lone Jamaica correspondent in the press box lightened the shock of being down 2–0 on home soil. He sat in front of me, kitted up, twirling auburn colored thick frames in his hand while dividing his attention between the game, his indecipherable notebook, and hot coffee.
On the Mattocks goal he bolted upwards like boot camp with hands outstretched, silent. After the free kick, I could tell he wanted to be out on the field with subs sprinting into Giles Barnes' arms.. He made do with shrill high-pitched giggles.
He had come to Atlanta expecting to write Jamaica's obituary. Instead, he had to calm himself down before calling in a match dispatch. His joy was not aggressive, a bellicose shot across the bow of any Americans in his wake; it was the kind of happiness that makes grown-men momentarily forget their knee pains and mortgages, that makes them think a divine being likes them, or at least is willing to change the ball's trajectory every once in a while.
Wednesday night's games briefly brought out the fleeting best of CONCACAF's offerings. And then drowned them with a cement life-jacket.
Michael Bradley pulled back an ogre of a goal after yet another mistake from the Jamaican keeper, but his journalistic façade broke down second by second as Jamaica clung to its lead. His chants were my game clock. He sounded vaguely like Ali-G.
"Fifteen mo' meenutes!"
"Faiiiiive minutes too go!"
"Eets almost time!" (89th minute).
And then Jamaica won. The United States lost. Goliath took a slingshot to the head and never got back up. The Jamaican reserves sprinted out to the field, frolicking with a front-row fan's Jamaican flag. My excited friend in the press box pumped his fists and leapt up and down, a jersey stuffed with boundless energy. At the post-game press conference, he snagged a front-row seat and listened to Schäfer talk about Bob Marley and young David the Israelite. He remained there well after the rest of the press corps was sitting down to Mexico-Panama.
As disapointed as I was for the Americans, there was a distant warm feeling of happiness for my Jamaican journalist counterpart. The Reggae Boyz had won an honest match, after all. There is a certain charm, specific to the Gold Cup, that comes with seeing a minnow succeed. That feeling was fleeting. It took three minutes for the ugly side plastered underneath the Reggae Boyz victory to shatter in a hail of trash, flops, and scuffles.
It wasn't soccer so much as Wednesday night pro-wrestling teeming with luchadores and whatever the Panamanian equivalent might be (El Noriega…El Canal) in between rounds of football officiated by an incompetent ref (or one asked to look the other way) to give a bloodthirsty crowd the entertainment for which they paid.
Panama indignantly played the enemy in this Lucha Libre morality play with brightly colored jerseys substituting for masks. Geiger, the American referee, seemed to indulge the crowd from a veneer of impartiality: a 25th minute red card was issued to Luis Tejada for a purportedly vicious elbow that Francisco Rodriguez shrugged off in order to plead his case. Only with Guillermo Ochoa bodyguarding him from antagonizing Mexican fans could he leave the field 5 minutes later.
Panama went from man down to goal up in thirty minutes and then wasted as much of the remaining 35 minutes as they could, stretching their feeble little hammies or sizing up imaginary angles on goal kicks like the preening villain Mexico's narrative needed.
And then on the heels of a dubious 89th minute penalty call (even Andres Guardado felt bad about taking that one), ten minutes of brawling, torrential trash, flares, a near Panamanian rage-quit, punch-ups in the crowd, and another 104th minute point to the spot, Mexico had 'earned' its way to the final. Geiger got an event staff escort off the field after fleeing past the entire Panamanian squad's vitriol.
For its trouble of having Mexico, its most devoted and lucrative fan-base, reach the Gold Cup final, CONCACAF lost any credibility it may have had or may have earned on Wednesday night. No matter how sublime or ultimately enjoyable Jamaica's shock-win could have been, this peculiar Goliath caught the rock in mid-air and slammed it back into David's face. And then he laughed.

Sam Patterson is an editorial assistant at Howler and undergraduate at Georgetown University. His rec-league friends play him on the bench, where he can do the least harm to the team. He tweets under the handle @ScubaSamisalive.
WELL, IT DEPENDS ON WHAT YOU MEAN BY "FREE."
Enter your best email for full access to the site.