The club world cup was born out of a fiercely contested transcontinental tournament that pitted Europe's best against South America's champions
By Juan Figueira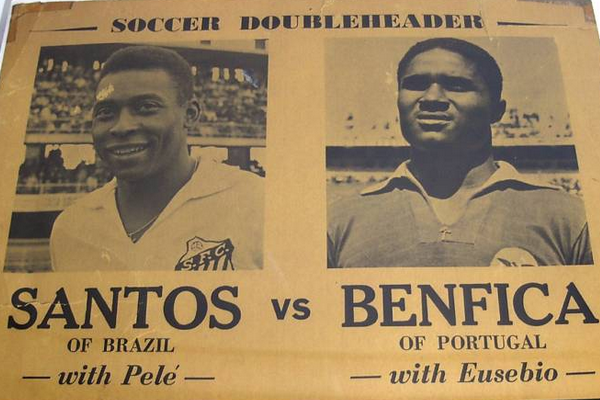 [E]arly Wednesday morning, Copa Libertadores champions River Plate defeated regional hosts and J1 League titleholders Sanfrecce Hiroshima 1–0. Barring a massive Guangzhou Evergrande upset over Barcelona, the aforementioned Argentines will face-off with their Catalan counterparts in the FIFA Club World Cup Final on Sunday morning. The tournament itself is steeped in a rich and legendary past. However, Europe's dominance in the modern era has tarnished the prestige this competition once had, downgrading it to the perception of a Christmas friendly. Try telling that to Néstor Combin.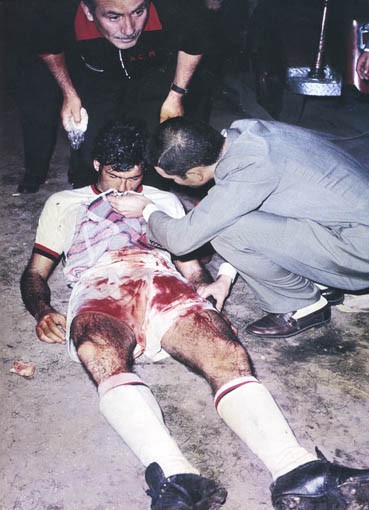 …
5. Nacional 1–0 Nottingham Forest
1980 Intercontinental Cup (actual game played in February 1981)
Tokyo, Japan
https://www.youtube.com/watch?v=4-rJLuGcOs4
It would be unjust to review the history of the Intercontinental Cup without mentioning a club from Uruguay. In the early years of the Copa Libertadores, Uruguayan representatives dominated the continental competition in South America.
The 1980 edition between Nacional and Nottingham Forest is symbolic because it was the first time that this title was contested through a single final hosted on a neutral site. It sparked a new era of the Transatlantic club rivalry, one that would last until the rebranding of the tournament in 2005.
Nacional defeated Brian Clough's Forest with a Waldemar Victorino goal delivered from a cross by José Moreira within the first ten minutes of the game. Victorino was also named Man of the Match, as awarded by the Cup's brand-new sponsor Toyota.
…
4. Barcelona 2–1 Estudiantes
2009 FIFA Club World Cup Final
Abu Dhabi, United Arab Emirates
https://www.youtube.com/watch?v=KfDfQRadQlM
In 2009, Pep Guardiola's magical Barcelona campaign was only two minutes away from dropping what eventually became the sixth title of the famous Sextete, the term used in Spain for Barcelona's clean sweep of that calendar year.
Estudiantes, led by manager Alejandro Sabella, mastered a 1–0 lead after a powerful header by Mauro Boselli in the first half. Despite the inspirational leadership of veteran Juan Sebastián Verón, the South Americans were unable to hold back Barcelona's heavy attack, and Pedro scored the equalizer in the 89th minute.
Later in extra time, Lionel Messi would score the game-winner for the Europeans, and crown 2009 as the most successful calendar year by any club in modern history.
…
3. Boca Juniors 2–1 Real Madrid
2000 Intercontinental Cup
Tokyo, Japan
https://www.youtube.com/watch?v=ik6oCr-Rots
In another Argentina-Spain matchup, Carlos Bianchi's Boca Juniors stunned the soccer world with a convincing and deserving performance that returned credibility to the competitiveness of South American club soccer.
Real Madrid was the clear favorite as it featured the likes of superstars Figo, Roberto Carlos, Iker Casillas, Raúl, Guti and Steve McManaman in the starting lineup. However, it was Boca who had set the pace and rhythm of the fixture with two Martín Palermo goals in the opening six minutes, one of which was set-up by a brilliant pass from Juan Román Riquelme. This was the Argentine playmaker's first exhibition to the world.
This would also be the beginning of Boca's international golden era as it later returned to Japan in subsequent competitions, losing to Bayern in 2001 and defeating Milan in 2003.
…
2. Santos–Benfica
1962 Intercontinental Cup
1st leg: Rio de Janeiro, Brazil
2nd leg: Lisbon, Portugal
Santos won both legs (3–2, 5–2) in a best-of-three series
This final involved the Pelé and Eusébio at the Maracanã, which their names alone are enough to justify 1962's inclusion in this list. However, it was dominated by a 22 year-old Pelé, who was able to give the most commanding performance by any individual player in the history of the competition.
Benfica, led on the pitch by Portuguese legend Eusébio, had been Europe's most dominant side and were strong favorites despite a 3–2 loss in the first leg, in which Pelé scored two goals.
https://www.youtube.com/watch?v=_1tM-adwqbc
In the return leg, it was all Pelé once again, who took on an entire Benfica side by himself, scoring a hat trick. The third goal included a run from midfield, leaving three players behind, and a nutmeg on the Black Panther himself. Santos would go on to extend its lead by five goals before a humiliated Benfica would net two consolation goals in the final minutes of the series.
…
1. Milan 4–2 Estudiantes
1969 Intercontinental Cup
1st leg: Milan, Italy (MIL 3–0)
2nd leg: Buenos Aires, Argentina (EST 2–1)
In the late 1960s, the ruthlessness displayed by South American teams, especially Rioplatense clubs, earned the Intercontinental Cup a troubled reputation. Though it wasn't until 1969 that the fiercest (and ugliest) episode of the tournament emerged with Estudiantes hosting Milan in the second leg.
After the Italians won 3–0 at the San Siro, the setting for the return leg was at Boca Juniors' La Bombonera. The result at home gave Milan a comfortable advantage and the second leg served as an opportunity for Estudiantes to physically intimidate the European Cup champions.
The Rossoneri would later complain about how Estudiantes' players would spit, hit, and insult whenever they would get a touch on the ball. Given Milan's qualitative superiority, this was quite often. The home team's aggressiveness eventually turned into straight-out violence on the pitch.
Milan's most serious victim was Argentine-born Néstor Combin, who suffered a broken nose and ended the game being carried away on a stretcher. Later, in a more bizarre episode, Argentine police actually arrested Combin because he had never registered in Argentina's then-compulsory year of military service.
A picture in Argentina's soccer magazine El Gráfico shows an unconscious Combin lying down covered in his own blood followed by an article titled 'The Darkest Page in Argentine Soccer History.' Italian newspaper La Domenica del Corriere printed the front page with Combin returning with the trophy in his hands and a heavily bruised face, resembling that of a boxer after a 12-round bout.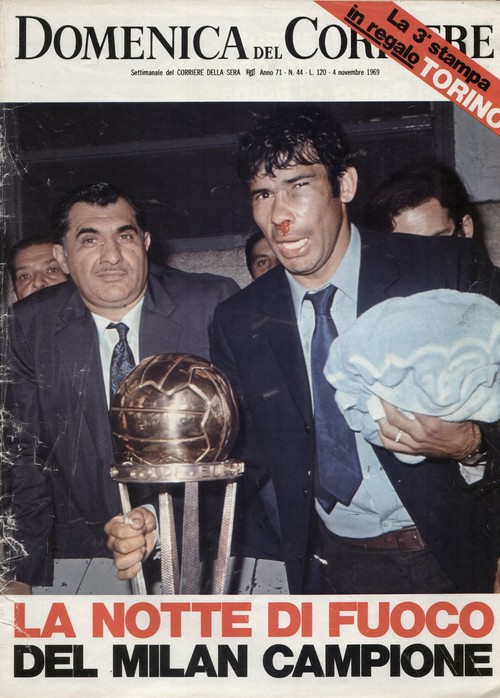 This leg certainly left a permanent impact on the international tournament. In the succeeding decade, many European clubs opted out of competition, citing the violence demonstrated in matches such as this one.

Follow Juan Figueira on Twitter @JuanFigtree.
Contributors
Howler
TAGS
WELL, IT DEPENDS ON WHAT YOU MEAN BY "FREE."
Enter your best email for full access to the site.