By
Phil West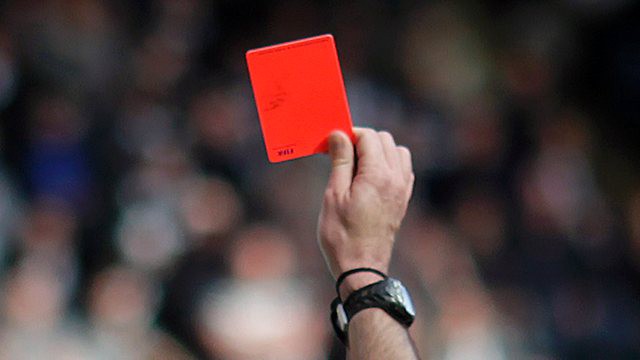 If you're part of the Soccer Twitter community, it's likely you've run across (or even had an online run-in with) Ted Westervelt, the spirited, Denver-based soccer fan who has become one of the United States' highest-profile proponents for promotion and relegation in American soccer (and was well on his way to being that when Howler profiled him a little over a year ago).
Today, Westervelt sent this shot across the bow of MLS:
@MLS If you took @TheChampions seriously, you wouldn't run your league like a chain of @Applebees. You're an insult to club soccer.

— Ted Westervelt (@soccerreform) February 19, 2016
Lo and behold, Applebee's took notice, and rather than ignoring a tweet that was clearly using Applebee's as metaphor, they went all in:
@soccerreform @MLS @TheChampions Woah. We run our place pretty seriously, Ted. That is a Red card for sure. ~ARD

— Applebee's Grill + Bar (@Applebees) February 19, 2016
If MLS doesn't seal an @Applebees sponsorship RIGHT NOW, it should shut down.

— Reverend Pitch (@churchofsoccer) February 19, 2016
Then Applebee's doubled down by trying to make the #TedCard hashtag happen. And lo and behold:
Everyone get to @Applebees tonight. Use your #TEDCard, show pics. Let's get this trending worldwide. #ThanksTed https://t.co/lAdMOYsQlH

— ONE WINGED HUSSAR (@LoneWolfNYC) February 19, 2016
.@Applebees please do a #tedcard promotion for when MLS games are on

— DC Unhilist (@Vamos_DCU) February 19, 2016
And finally, around dinner time:
@Applebees I made it! #TedCard #ThanksTed #againstmodernfootball #forcorporatesynergy pic.twitter.com/QNsE08hLmG

— Cantalope Lasso (@BMPharrell) February 20, 2016
It was, indeed, a banner day for Soccer Twitter, and for an enterprising member of the Applebee's social media team who may or may not have a job offer from MLS come Monday:
I can see the headlines now:

"How American soccer made @Applebees shareholders millions!"

— Ben Jata (@Ben_Jata) February 19, 2016
WELL, IT DEPENDS ON WHAT YOU MEAN BY "FREE."
Enter your best email for full access to the site.