An Englishman goes to the Vélodrome
By James Connolly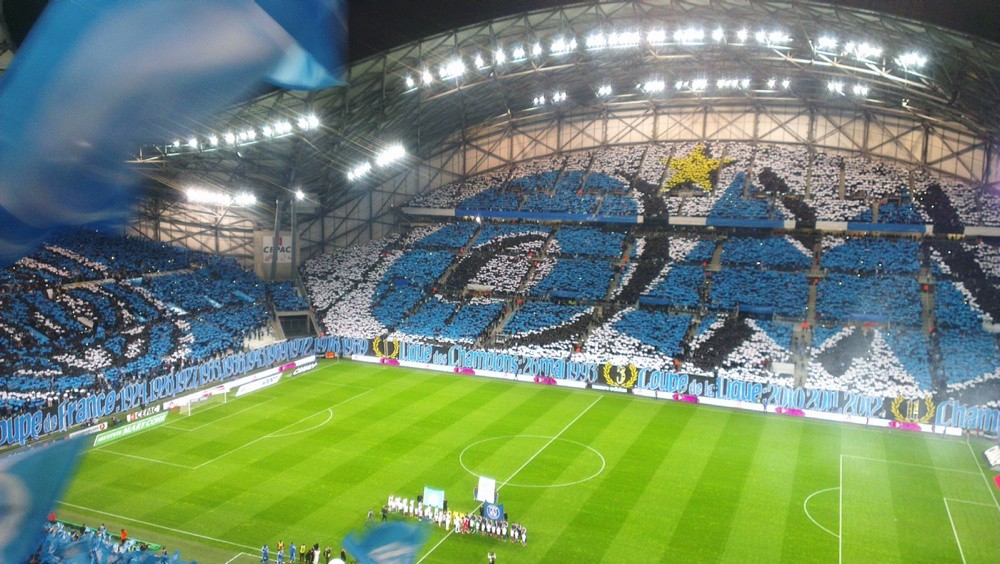 [F]ab, my friend the Marseille ultra, smirked at the disbelief on my face as I watched events unfold at the Stade Vélodrome.
"Pas mal, hein?"
We had entered the stadium only after a thorough pat-down and some unwarranted attention from a police dog, snarling and salivating as if he too knew that I was a stranger. Fab led the way into the heart of the South Stand, home to Olympique de Marseille's partisan Ultras faction. The sound was deafening, my thoughts overwhelmed by the militant chants spewed by a cluster of shirtless men roaring into megaphones. A tifo passed over our heads, trapping thick blue smoke underneath. Flares and fireworks fizzed off all over the place. A mosh pit was forming to our left.
This chaos was merely the preamble. The teams had just appeared on the pitch. The game was yet to start. Before I could answer Fab's initial question, he handed me an Evian bottle filled with pastis and gestured for me to drink. I took a gulp and began to sing, trying my best to fit in. I felt like the only guy in the stadium not wearing white and blue, and these folks didn't seem the type to humor outsiders.
He handed me an Evian bottle filled with pastis and gestured for me to drink. I took a gulp and began to sing, trying my best to fit in.
Olympique de Marseille, l'OM if you're a supporter, has been floundering of late. Maverick coach Marcelo Bielsa resigned on the opening day of the season, minutes after the team lost at home to Caen. His replacement Michel has struggled to recover. Six months A.B. (After Bielsa), OM have won just eight out of 25 league games, drawing ten and losing seven. They're languishing in tenth, five points off the final Champions League spot for Ligue 1, a disastrous year by OM standards. Their supporters have reason to feel aggrieved.
This is the team with silverware. Marseille remains the only French team ever to win the Champions League, beating AC Milan in the 1993 final. The club boasts nine Ligue 1 triumphs and a record ten domestic cup victories over the entirety of French football.
This is the team with the player tradition. Some of soccer's greatest names have donned OM's white and blue, including Jean-Pierre Papin, Enzo Francescoli and Didier Drogba. The club's youth academy launched Samir Nasri and Mathieu Flamini, with current starlet Bilal Boutobba the next one tipped for stardom.
Things were not meant to be this way. Back in 2010 club legend Didier Deschamps coached Marseille to their first Ligue 1 title in 18 years, ending a decade dominated by Olympique Lyonnais. Marseille's last championship had come when Deschamps was a 23-year-old defensive midfielder. The renaissance continued into 2011, with OM taking the league cup, playing respectably in the Champions League, and finishing second in Ligue 1 to a Lille side boasting Eden Hazard and Yohan Cabaye.
Then it fell apart. Later that year Marseille's arch-rivals Paris Saint-Germain was bought by the Qatar Investment Authority and overnight became one of the richest clubs in world football — at the time of writing, PSG is worth $634m. OM's renaissance ended abruptly. That it had to happen at the hands of PSG seemed extra punishment.
The rivalry between the two clubs is ancient, less about soccer than it is ways of life. It's cultural: Marseille represents a blue-collar ethos and PSG is a living embodiment of Parisian opulence. It's economic: Marseille's unemployment rate is one of the highest in France whilst Paris continues to be a global powerhouse. It's political: many in France's second-city harbor resentment over a perceived lack of attention and investment from the central government in Paris. All things considered, the two simply don't see eye to eye.
Given the string of hardships OM has endured, a little supporter self-pity is understandable. It's disheartening to see a manager skip town after the season's first game and their most hated rivals coast to a fourth league title in a row. As if that wasn't enough gloom, they just signed Steven Fletcher on loan.
"This isn't France. It's Marseille. And that's not quite the same thing, you know."
But the Marseille faithful don't work that way. OM is more than matches and results to the city. Because let's face it, the city has an image problem. When English bad-boy Joey Barton joined OM on-loan back in 2012, like met like. The outcast with disciplinary issues playing in France's cradle of violence and organized crime, where the French ideal of La belle vie never quite applied. From the alienation and ridicule, the city's inhabitants have fostered a fiercely proud, unique identity. Many here consider themselves more Marseillais than Français, something I learnt when Fab told me: "This isn't France. It's Marseille. And that's not quite the same thing, you know."
…
For the record, Marseille went on to lose 1–0, mustering just two attempts on target against a disciplined Nice side. It was a toothless performance, lacking in aggression and imagination. Nonetheless the stadium remained full until the final whistle. Pyrotechnics continued to flash, blue smoke became hashish smoke and the pastis soaked chants rang out as fervently as ever. The South Stand, a little worse for wear after the afternoon's festivities, would be awaiting the revival for another week at least.

James Connolly is a Howler contributor based in Southern France. See more of his photos and articles here.

Contributors
Howler
TAGS
WELL, IT DEPENDS ON WHAT YOU MEAN BY "FREE."
Enter your best email for full access to the site.