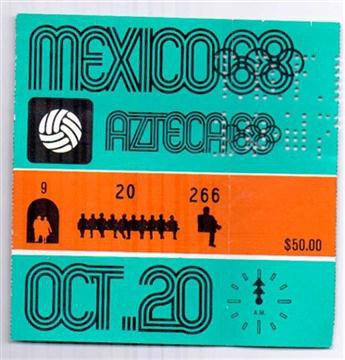 Bulgaria and Israel played to a 1–1 Olympic quarterfinal draw on 20 October, 1968, a result that led to FIFA's adoption of penalty shootouts.
The two teams met at the Nou Camp in León, Mexico. It was a heated affair, with referee Michel Kitabdjian issuing six cautions — three to each team — in the first minute.
In a battle of prolific attacks, Bulgaria took an early lead with a 5th-minute goal from an unlikely source, Slavia Sofia defender Georgi Hristakiev. For the next 84 minutes, Hristakiev played a more traditional role as Bulgaria managed to stifle Israel.
But Yehoshua Feigenbaum eventually cracked the Bulgarian defense, drawing Israel level in the 89th minute. Both teams held on for the remaining minute, and that's when it all went a little weird. The rules at the time mandated that both teams draw lots to decide which one would advance. Bulgaria won and progressed to the semifinals where they beat Mexico, 2–3. They then moved on to the final, and lost 4–1 to Hungary.
https://www.youtube.com/watch?v=e0833gcJ0gI
After watching his team lose via lots, an Israeli, Yosef Dagan, wrote to FIFA, suggesting that draws be resolved with penalty shootouts. FIFA adopted the proposal in 1970.

WELL, IT DEPENDS ON WHAT YOU MEAN BY "FREE."
Enter your best email for full access to the site.