International football isn't worth the heartache for Lionel Messi
November 11, 2016
It's time for Messi to move on—once and for all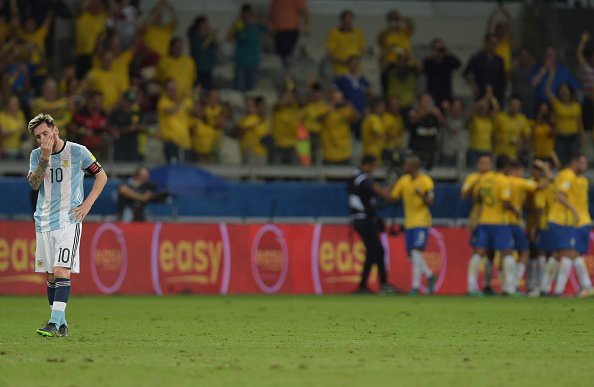 At this point in time it has become abundantly clear that the sole purpose of Argentina's national team is to make Lionel Messi's life a living hell. There is no other possible explanation for the Mr. Hyde cup final performances of Gonzalo Higuain and how a team packed with so much talent can so often look like a group of tourists waiting for the Messi train to carry them to the casino buffet.
The latest indignity for Albiceleste Messi is a 3–0 loss to Brazil that leaves Argentina sitting sixth in CONMEBOL World Cup qualifying, with three losses after 11 matches and needing to climb the table in order to make it to Russia 2018.
After the match, Messi said (via FIFA.com):
"We didn't expect this result," rued Messi. "They were really tough opponents, but we expected a little more from ourselves. I think that, until the first goal, it was very balanced, but after the second they killed the game off. At 1–0 we were fine, it was even, but we didn't know how to react [to that second goal].
"Now it's a lot more complicated. We have to think about Colombia knowing that we have to improve greatly. We can't afford to have one more match playing like we've been playing, because we won't get out of this situation in this way."
Perhaps this is a cosmic counterbalance to the fairytale existence he enjoys in Barcelona (tax issues aside), where he's won everything possible several times over while surrounded by players who have done their share to accomplish this. But you have to wonder if Messi is starting to regret ending his 46-day international retirement after losing a third major cup final in as many years over the summer for a resumption of this anguish.
https://www.whatahowler.com/everything-lionel-messi-missed-during-his-international-retirement-88ce71a58490
Of course, finally winning the World Cup for his country in 2018 would more than make up for all the pain he's endured throughout his international career, but the team is struggling to even qualify for the tournament. And if they do qualify, they'll probably make it all the way to final only to squander it late again, driving their captain over the brink of irreversible madness and prompting him to begin a new life as a Legoland ride operator named Tobias Jensen.
Messi doesn't need this. He could be doing enjoyable things during international breaks—like spending time with his family, experimenting with his hair color, or tattooing and re-tattooing his left leg.
Instead, he had to endure a loss to Brazil in which Barcelona teammate Neymar became the youngest South American to score 50 international goals (Messi has 56 with 40 more caps). Well, enough is enough.
Messi should call it a day, maybe do a Didier Drogba and build a few hospitals in Argentina so his countrymen can't say he never did anything for them, and focus solely on more rewarding past-times like thoroughly annoying Cristiano Ronaldo at the club level for the remainder of his playing career. It's time.
That said, if he were to follow this advice, Argentina would almost certainly go on to win every trophy available to them over the next 10 years behind the steady leadership and timely finishing of Gonzalo Higuain in his absence, because life is cruel. Even to Lionel Messi.

Contributors
Howler
TAGS
WELL, IT DEPENDS ON WHAT YOU MEAN BY "FREE."
Enter your best email for full access to the site.