MLS in South Florida, Pt. II is official, but it isn't much more than that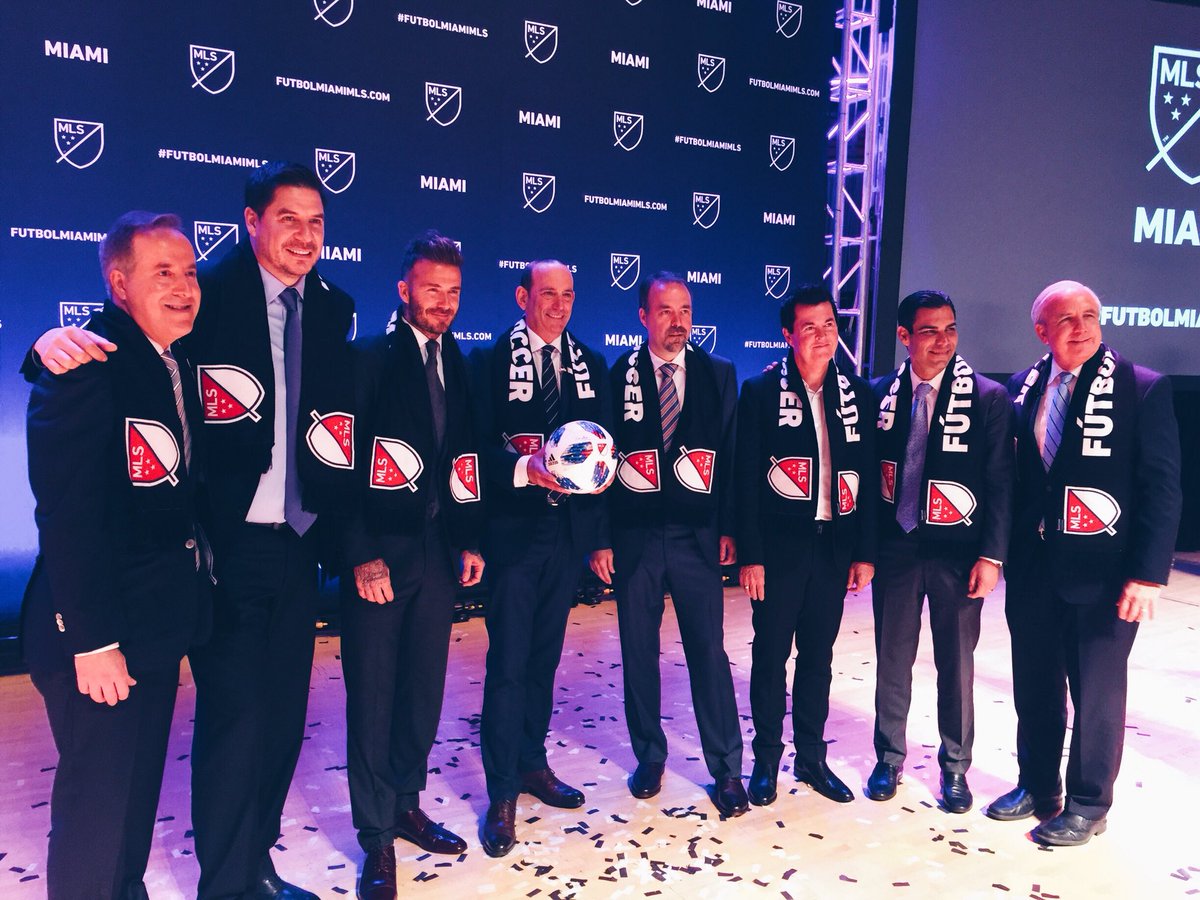 Draped in the most generic branded scarves that have ever existed (bearing the words "SOCCER" and "FÚTBOL" bookended by the MLS logo), David Beckham and his business partners who are not David Beckham wowed a roomful of extraordinarily patient people by announcing that, yes, they do remember that time four years ago when they said they wanted to bring a new MLS team to Miami.
Despite having 1,455 days to come up with anything more than the declaration that, believe it or not, they do still want to do this(!), little else was revealed about a project that has exclusively existed through the mystery and confusion that has so far shaped it. The team still has no name (their social media accounts are all branded with the Google keyword search "Futbol Miami MLS"), or colors, or finalized stadium plans. All they do have is David Beckham and a wholly conventional desire to be "the best."
In fact, the entire hour-long event could pretty much be summed up by the three-second GIF shared by MLS on Twitter.
Welcome to Major League Soccer, @futbolmiamimls! pic.twitter.com/SPDCfBJbfc

— Major League Soccer (@MLS) January 29, 2018
According to Magic City Soccer, Beckham and his partners later told reporters that they would let fans pick the name and colors and that the "team hopes to stay in the spotlight by announcing details every 3-4 weeks" (because a four-year wait between vague announcements didn't draw this process out enough already, apparently). MLS commissioner Don Garber also stated that the Miami Whatevers would kick off in 2020, though he probably didn't want to say that too loudly since Beckham originally predicted they would begin in 2016 or 2017.
BTW, it's kinda incredible that Garber would tell a few reporters offstage that team kicks off in 2020 after the league omits that somewhat significant detail from the formal program and press release. Sigh

— Brian Straus (@BrianStraus) January 29, 2018
And if you're wondering just how much Garber has enjoyed being contractually obligated to give David Beckham an MLS franchise at a massively discounted price, this pretty much says it all:
Spent the day in Miami at the Beckham event. Asked MLS Commish Don Garber if a "Beckham ownership clause" would ever be considered for Messi or Ronaldo. "No. We'll never do that again."

— Arch Bell (@ArchBell) January 29, 2018
Bienvenido Miami, indeed.
Of course, Beckham usually makes it easy to be snarky and poke fun. Despite his skills on the pitch and record of professional successes, conveying substance has never been one of his talents. But to come back after four years with an announcement so dull and devoid of details or specifics for a region that's already proven to be a difficult sell for professional sports (and MLS in particular) only reinforces the notion that this group will struggle to succeed in the long term. And, after so many years, that's where this idea of a club still exists. Somewhere off in the distance.
---
Follow Brooks on Twitter @BrooksDT. 
Contributors
Howler
TAGS
WELL, IT DEPENDS ON WHAT YOU MEAN BY "FREE."
Enter your best email for full access to the site.