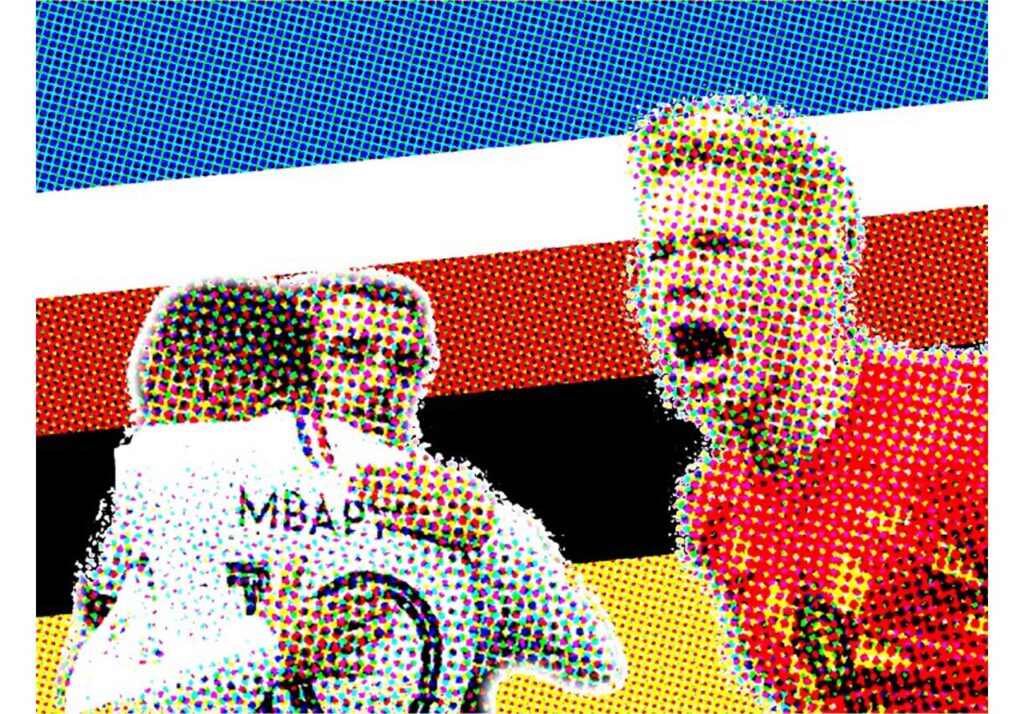 Day 19
During the World Cup, Howler will feature a different writer for each day of games sharing thoughts on the day's action. Today, Jomo Hendrickson reflects on a day that frazzled his brain—and a few million others besides.
Today was a great day for football and the excitement leading up to and during the matches frazzled my brain. I've tried my best to capture the visions and thoughts of my mind throughout today's games. Ride with me. Vibe with me.
I woke up with the buzz of energy running through my veins like a kid on Christmas morning. I couldn't wait to see if France would continue their escalating form. As I ate my breakfast, I sent a text to talk a little shit in support of Belgium to family members who just knew with every ounce of their being that Brazil was going to win.  Typical West Indian family. Brazil is our collective adopted national team. Just take a look at the celebrations in Jamaica when Brazil beat Mexico.
I missed a little bit of the first game, commuting to work, but by the time I loaded up the game on my second screen, France was in a groove. Pogba was dangerously controlled, not getting lost in the excitement of the day and spreading the ball around the pitch. Damn, Griezmann just had the footballing gods with him today. One of those days for him. Nearly every touch came off his foot with sweetness.
That second goal by Griezmann. Sure it was an error for Muslera, but that ball made a last-second decision for its own destiny. I feel bad for keepers sometimes. Their mistakes are unforgivable by the fans. Their saves may be celebrated for a quick moment, but seldom last in the memories as long as the mistakes do.
In between matches, the discussion is almost all about Neymar's antics. That's a shame. He's too talented and there's too much talent on the field in that match to have such a trivial thing be the center of attention.
Before the game starts, I see the players line up behind a banner that reads "Say No To Racism." Shouldn't that just be a part of our game? Can't be the World's Game if it doesn't involve everybody.
Then I thought, Oh yeah, it's in Russia. I wonder if having their country flooded and energized with the vast array of cultures across the globe will open minds and begin a change for the better. The announcer off-handedly mentioned something about it being the "official weekend." The cause deserves more than that. What a squandered moment to spread the message. I bet most Americans watching the game have no idea the abuse that non-white players endure in some so-called "civilized" cultures when it comes to soccer.
Kick-off and both teams were looking poised. The ball is moving around freely. Brazil searching out Neymar's brilliant skills against the Belgium right back. Belgium channeling itself through De Bruyne. It's so strange that Brazil is leaning a lot on its defensive prowess. The kings of embarrassing teams with their offensive style and class and what we're finding most impressive is their defense? That feels wrong.
I almost want to jump out of my seat when I see De Bruyne glide a ball over to a teammate. Does anyone else really appreciate the timing and accuracy of his delivery?  His teammates surely do. He's the difference for me. He's the type of magical player that's needed in the World Cup. Croatia has Luka. France has Pogba. The other teams have great spirit and determination, which sometimes can win out over magic. Most times magic wins though—all it takes is a single, glittery sprinkle to make the difference.
Belgium scored! And then they scored again with a brilliant strike from De Bruyne.
Damn Brazil should have scored there! That about sums up Brazil's performance. Just a shade off the entire match. Inches away on final passes and shots. You know what though—this game reminds of some of the Brazilian teams of old.
They bullshitted for most of the match then they really turned it on in the final 25 minutes. Granted, back in the day those teams used to possess the ball and try to walk it in the goal. Then when they realized they actually had to win they turned it on.
Nevertheless, we finally saw the beautiful game from Brazil. Nutmegs, intricate inter-passing, delightful touches, and scorching pace.
Oh, now Belgium is squandering opportunities? Would Brazil come back…
Naw….
Jomo Hendrickson lives in Los Angeles and enjoys exploring the city and all it has to offer. He played youth soccer at the highest levels and competed at the DI collegiate level at Hartwick College and IUPUI. In 2016 he published his first novel, The American Way, a must-read for any soccer fan.
Contributors
Matthew Celentano
TAGS
WELL, IT DEPENDS ON WHAT YOU MEAN BY "FREE."
Enter your best email for full access to the site.