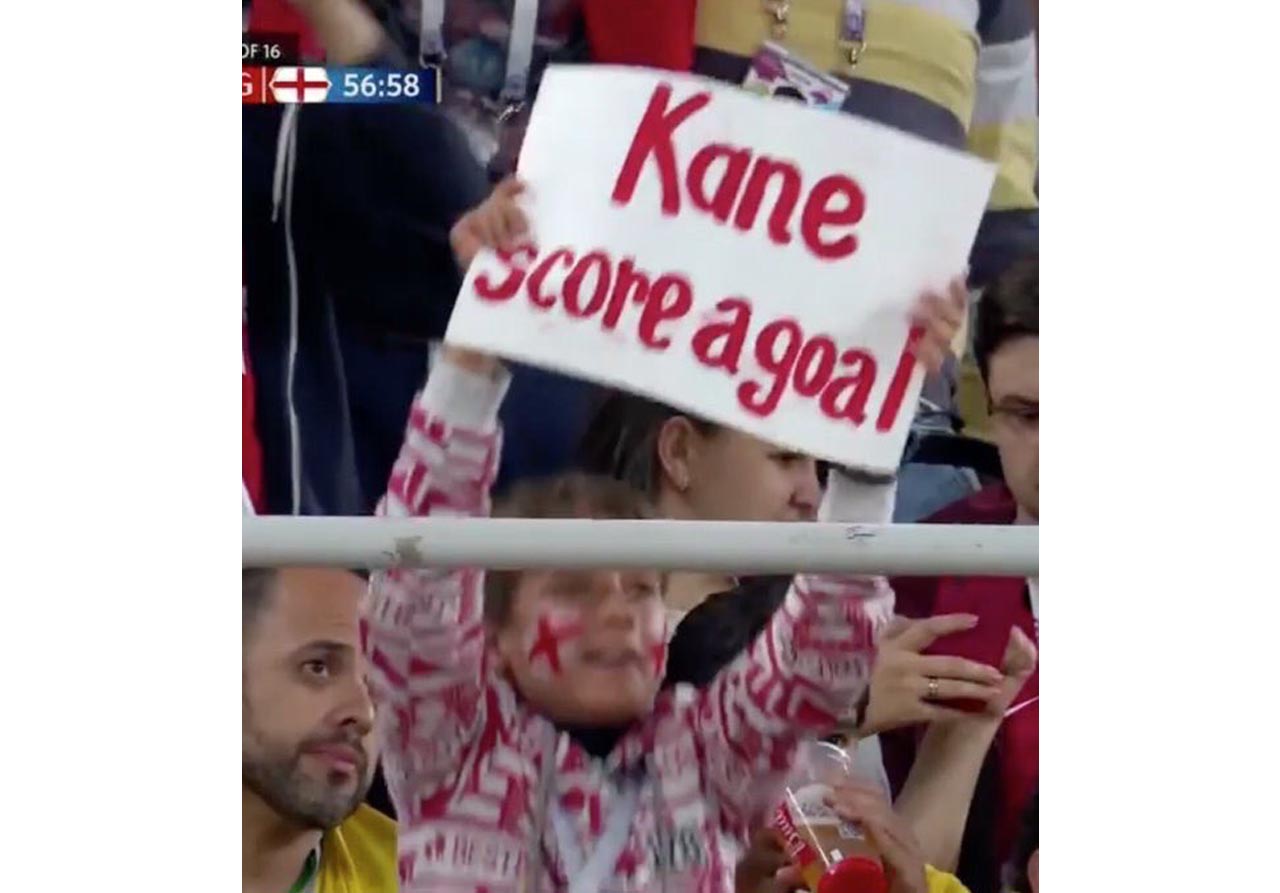 Day 18
During the World Cup, Howler will feature a different writer each day sharing thoughts on the day's action. Today, Matthew Celentano has some honest words for England's Harry Kane.
Dear Harry Kane,
This is not a love letter. I'm not your biggest fan—in fact, quite the contrary. You're a player I revere, but cannot stand. You command my respect but boil my blood.
Don't get me wrong, you're good. Like really, really good. What irritates me to no end is that everything I know about football tells me you shouldn't be good.
You don't have the electrifying pace of Thierry Henry, the raw power of Didier Drogba, or the technical prowess of Cristiano Ronaldo.
You don't move like a footballer. You somehow slouch and run at the same time, clomping around the pitch with your lanky limbs. You can't take a set piece and you probably can't do an elastico. Hell, you look more like one of Malfoy's gangly cronies than a footballer.
But you do the thing that matters most in football. You score goals. And a shitload of them, at that. Tap-ins, headers. Last-minute winners, hat tricks. Crap goals, worldies.
Every time you score, it's like a tiny, plastic cocktail sword to my heart. Watching you celebrate, fists clenched in front of you and some horrible sound coming out of your drool-clogged mouth (thank god I can't hear it) makes me wince.
Get in there!! Proud. Bottle. Character. ??? #ThreeLions #WorldCup #ENG pic.twitter.com/FIRTBXPzCY

— Harry Kane (@HKane) July 3, 2018
There are certain players who personify different aspects of the game. Diego Maradona was the madness, a walking vortex of controversy, mania, and cocaine. Ronaldinho was the beauty, a footballing wizard who bamboozled defenders, scored unimaginable goals, all with a goofy smile on his face.
You, Harry Kane, are the embodiment of football's ugly side. When you score, it's rarely pretty. Every now and then you produce something like this, but for the most part your goals come from somewhere they shouldn't. A teammate's strike turned in. A meaty deflection. A cross-cum-shot that creeps its way across the line.
You lurk in the proverbial corridor of uncertainty, you wait for the ball to inevitably fall into the path of your ungainly body and then you do what you do best—you smash it into the back of the net.
Your game is ugly, but that's what makes you so unbelievably effective. Football is often ugly (though this World Cup is making us forget that), and that's when you thrive. The game needs players like you, players who can win a match with one bungling touch or looping header, who don't wow with finesse or artistry but rather with sheer, unflinching efficiency.
Your former academy coach, Alex Welsh, recently said you're so clinical because you were a keeper at youth level: "He shoots early when the goalkeeper's not set, he shoots around players, through legs, all the things a goalkeeper hates." And it makes perfect sense. You never try to score the beautiful goal, you just try to score the goal, period.
Yesterday, against Colombia, you did it again. You won and converted a decisive penalty, placing it straight down the middle for your sixth goal (and third penalty) of the tournament. You did your part in the shootout. In a nasty game, mired by niggling fouls and scrappy tussles, it was all too fitting that you made the difference.
And all I could do was watch.
Sincerely,
Matthew
Matthew Celentano is a diehard Gooner from New York City and journalism student at Northwestern University. He has a soft spot for Mario Balotelli and his drug of choice is a Mesut Özil through ball. You can follow him on Twitter @MattCelly.
Contributors
Matthew Celentano
TAGS
WELL, IT DEPENDS ON WHAT YOU MEAN BY "FREE."
Enter your best email for full access to the site.