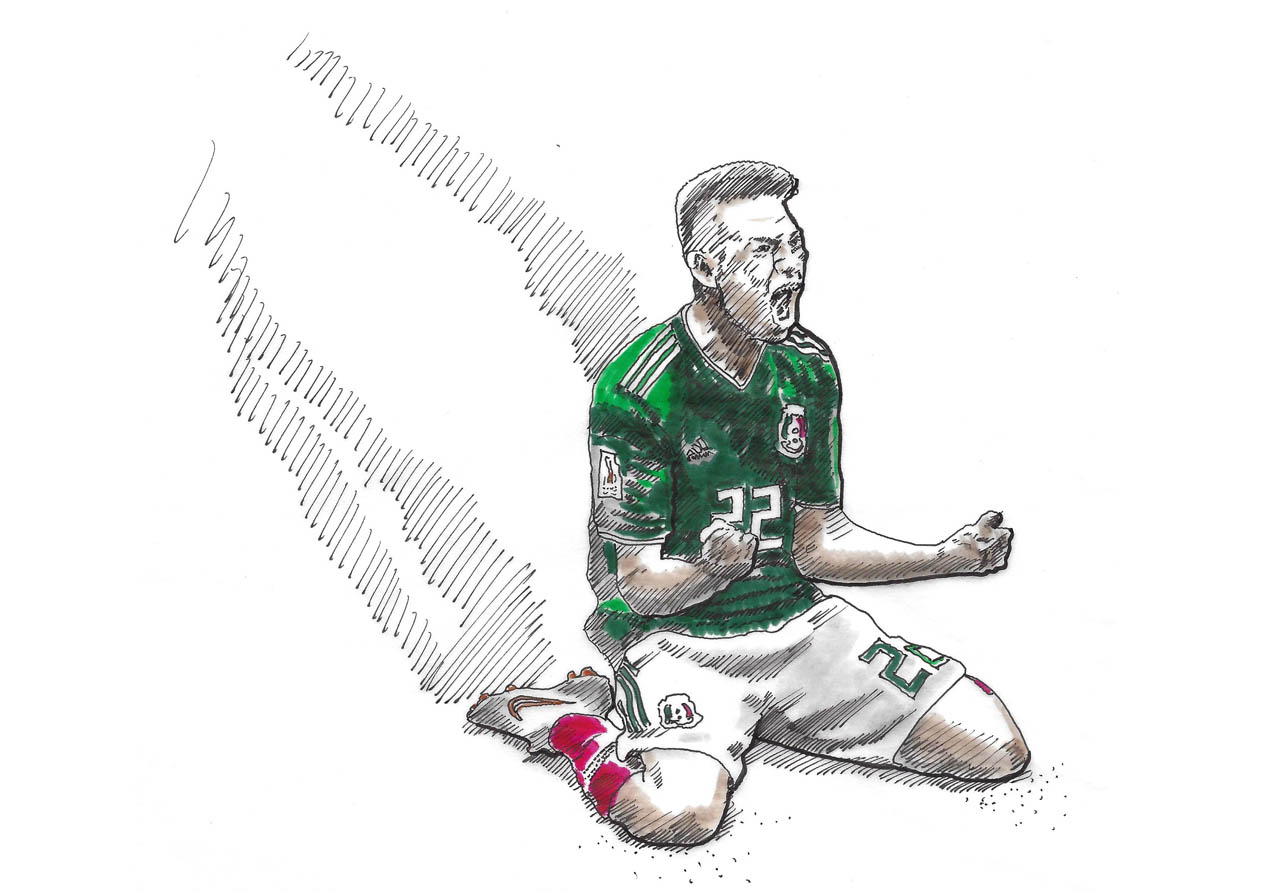 by George B. Sánchez-Tello
Fifteen men gather in a converted garage watching television. Sleeping cots are stacked behind them. Against the opposite wall lay blue 50-gallon plastic bags packed with their belongings. All are homeless. Most are undocumented. And they are watching La Selección Nacional play Alemania.
All the men woke this morning inside Dolores Mission, a small church on Los Angeles' eastside. The Guadalupanos, as they are known, take refuge in the Guadalupe Homeless Project, which transforms the church nightly into a homeless shelter. Last night 52 men slept on the pews and cots. Up at 4:45 a.m. Breakfast around 5:30 a.m. By 7 a.m. the Guadalupanos are expected to leave to find work. But today is different. Though the Copa Mundial began three days ago, today is the first game.
With the exception of a few born in the United States, the men are from Mexico, Guatemala, Honduras, El Salvador, Colombia, France and India. The Guadalupanos are like El Mundial, they laugh—every nation represented.
Juan Manuel Villegas joked that La Selección needs a miracle. Villegas likens today to the Miracle on Ice, the 1980 Winter Olympics where the United States beat the Soviet Union in Ice Hockey.
As the German National Anthem plays, Nacho Mazadiego announces "El Fútbol es un simbolo de amor y paz." And everyone here, he explains, is a victim of either crime, war or politics.
On the day the mundial began, the world was made witness to Casa Padre, a former Walmart in Brownsville, Texas that now holds nearly 1,500 children. Some of those children entered the United States alone. Some arrived with their parents. All separated from family through the Trump Administration's "Zero Tolerance" policy. According to reports, the children all have access to soccer fields, foosball tables and FIFA consoles.
Recently, I spent time with women and men at a hiring hall for jornaleros, day laborers, at the Pasadena Community Job Center, many of whom are, like the Guadalupanos, raza, immigrant and undocumented.  It doesn't take much to start a conversation about La Selección.
Victor Aguayo starts with a joke: "Vas a documentar la tristeza": You've come to document our sadness. Others have questions for me: "Que es un Howler?"
Ten days earlier, there is romantic hope for La Selección shadowed by pragmatic fatalism. "I am Mexican. I want to be world champion. But I am realistic," Jose Perez said, in Spanish.
With less than ten minutes left in the match, the priest checks the score. When he hears, he exclaims "Que Rezar" – we have to pray. In the 87th minute they are singing Cielito Lindo in Moscow. The Guadalupanos cheer for Ochoa as he captures the ball and clutches it tightly in the last 30 seconds.
When the final whistle blows, the Guadalupanos stand up, briefly applaud and immediately begin stacking their chairs, clean up the room and close the garage. A young man says to no one in particular "Sí Se Pudo" – yes we did.
Juan Manual looks at me and says "El Milagro."
Maybe it was God, but it wasn't a miracle when "Chookey," as the Guadalupanos call him, took the pass, cut inside to his right and buried it in the net. That was vision and confidence. I think.
No matter, the Guadalupanos have cleared out to find work, friends or otherwise occupy themselves this Sunday.
George B. Sánchez-Tello is the Los Angeles Program Manager for the Journalistic Learning Initiative. When time allows, Sánchez-Tello plays leftwing fútbol with Futbolistas L.A., where the score is always 2-2. Upcoming work for Howler includes a look at Zaptista Fútbol and the role of soccer in the writing of its enigmatic spokesman, Subcomandante Marcos. Tweets @SanchezTello. 
Contributors
Matthew Celentano
TAGS
WELL, IT DEPENDS ON WHAT YOU MEAN BY "FREE."
Enter your best email for full access to the site.