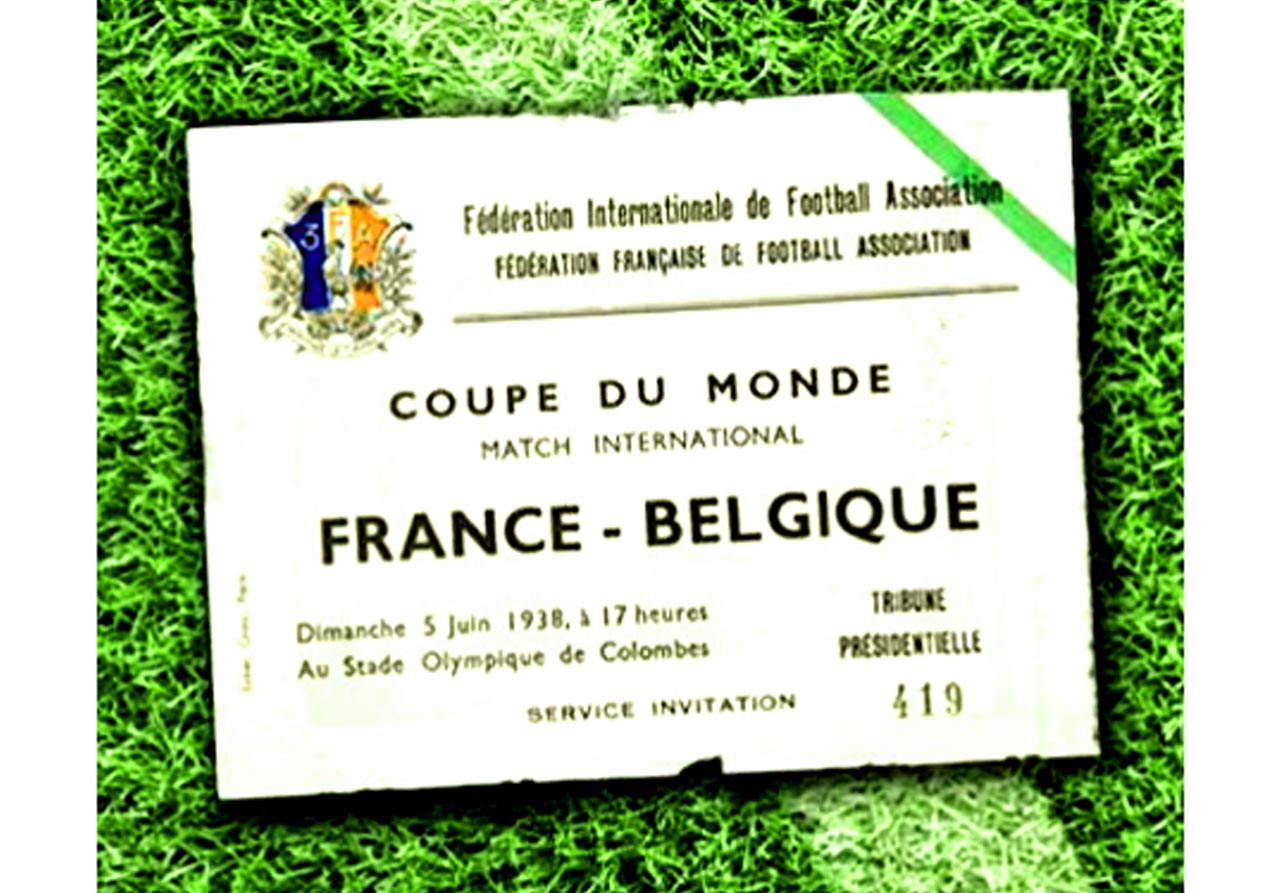 Day 21
During the World Cup, Howler will feature a different writer for each day of games, sharing thoughts on the day's action. Today, novelist Deji Olukotun's fill-in-the-blanks semi-final preview is a pretty good snapshot of this tournament's unpredictability.
You've chewed through your mobile phone data watching the World Cup in a bathroom stall at work, where your colleagues think you have a bowel problem, and now it's time to resign yourself to the fact that you'll miss the semi-final match. Rooting for France? Belgium? Now, you can choose the result you want! Here are fill-in-the-blank player ratings for the clash of France versus Belgium.
The Managers
7/10 – Didier Deschamps – Frequently criticized for his defensive approach, Deschamps got his team selection absolutely ____. He perhaps waited too long before bringing on his substitutions, but he was rewarded for taking risks. He'll feel ____ not to have won the game decisively when the moment arrived, and should keep his head ____.
8/10 – Roberto Martinez – Can't be blamed for the first half injury of ___, so he made an  ____ choice in bringing on ____. No one knows how much coaching he's really doing anyway, since his players are so superior, but he is very ____ and well ____.
Belgium
8/10 MF – Kevin de Bruyne – Made several ___  passes and was ___  in at least ____ of Belgium's attacks, always with an eye for goal. Nevertheless, when the key moment came, he ____. Have you noticed how he coils up his body like a rattlesnake before shooting?
6/10 – Romelu Lukaku – No doubt feeling his injury, the big man offered some ____ first touches. Today his link-up play was ____. He was perhaps a bit unlucky that he was penalized for fouls when defenders bounced off him like blubber. If you're in a boring meeting at this moment you can talk about how he looks much older than he really is.
6/10 – Eden Hazard – Weaving at France like a ____, the midfielder was kept ____ by Ngolo Kante. Would like to have that ____ back from the 41st minute. Strange that he can't shoot from further away. It's like a mental block. He must have gathered points in some streetball game in his youth where it was better to run past someone than to score.
5/10 – Axel Witsel – Built Belgium's attacks from ____, but caught in possession from behind when attackers tracked back even though the entire stadium was warning him he was about to be tackled. He shows promise but let's face it he plays in China so most people don't know much about him. He collects rare ____ in his spare time, and holds a degree in ____.
4/10 – Jan Vertonghen – ____ performance by the left back, but tangled up in knots on occasion by Antoine Griezmann. Long passes ____ his promise. His ____ goal was unfortunate.
6/10 – Vincent Kompany – Tasked with keeping Giroud quiet, Kompany ____ to the challenge. Unlucky not to have hit the target from a corner in the second half. Fearless in the air, Kompany squeezed out of countless ____ situations owing to his calm on the ball. A ____ send-off for the Belgian.
8/10 – Marouane Fellaini – Brought on to bring discipline to Belgium's ____ midfield, he ____ when the team ____ needed him. The _____ midfielder's swift reflexes helped him break up plays like Ngolo Kante while being nearly twice his size, which makes you wonder about their comparative caloric intake, and comparing their caloric intake to their respective salaries to see if there are inefficiencies there.
7/10 GK – Thibaut Courtois – It always would have been difficult to match his flawless performance against Brazil in the quarter finals (remember when you had data left?), but he ____ by showing his mettle. At 6 feet, five inches, we should not have been surprised when he finally decided to kick the ball as hard as he could and it sailed over the ____.
France
7/10 – Olivier Giroud – Strong appearance by the Chelsea forward. At times lacked ___, but made up for it with a few ____ touches. His timing with ____ wasn't quite on. While playing for Arsenal, fans often felt Giroud would get knocked over too easily, and complained too much. It seemed like it was partly Arsène ____'s fault.
6/10 – Kylian Mbappé – Most threatening when he ____ his legs, the highly-rated Paris St. Germain forward ____ in the face of the Belgian challenge. His ____ blocked shots and ____ attempted passes answer all you need to know. _____ game.  He is lightning fast but the _____ of his first touch is what marks him as special.
7/10 – Antoine Griezmann – Made his ____ incisive runs, and appeared ____ when the moment came. A pluckier, more cerebral version of Harry ____ , he overused his heel flick, gifting Belgium ____ counterattacks. Most soccer fans would pick Griezmann over Kane if you ask them quietly in the next stall.
2/10 – Paul Pogba – When he sets his ____ to it, he is the ____ box-to-box midfielder in the world. Today he showed his promise, while being ____ at pivotal moments during the match. He could be the ____ James of soccer if he set his mind to it. But he ____ focus when his team most needed him. As a commentator I have to write something infuriating about him because Mario Balotelli is no longer a satisfactory punching bag. This is best achieved by a totally disproportionate rating.
7/10 – Ngolo Kanté – The ____ little midfielder appears to be ____ places at once. He had the difficult job of tracking ____ and ____ hunted him effectively. His ____ card will haunt him now as he misses his next match. He has an interesting face, with a discerning frontal lobe, that would make him an excellent portrait model.
5/10 – Hugo Lloris – When playing out from the back, tended to ____ the ball very ____. His distribution lacked quality, as he kicked the ball directly out of play on ____ separate occasions. His shot stopping continued to shine as he saved ____ attempts. Had no chance on Belgium's ____ goal, but should have marshalled his defense to do better. Is it really the goalkeeper's fault when 10 other players have failed to stop someone from shooting the ball?
Deji Bryce Olukotun is the author of the novel After the Flare, which won a Philip K. Dick Special Citation in 2018. He has played soccer since he could walk and still dreams of scoring a goal on a bicycle kick with lots of people watching.
Contributors
Matthew Celentano
TAGS
WELL, IT DEPENDS ON WHAT YOU MEAN BY "FREE."
Enter your best email for full access to the site.