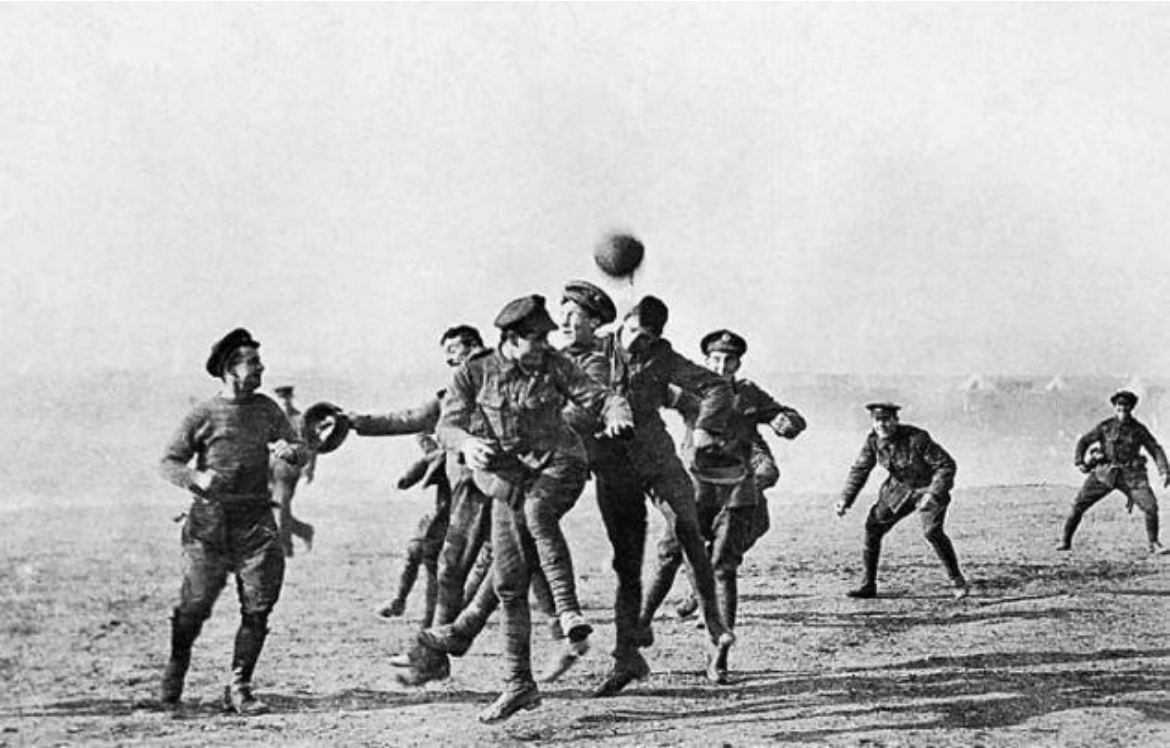 It's Day 1. I'll Sing to That.
When I was a boy, the school I went to in London was run by a World War II hero whom we called "Colonel." We learned life as he saw it, complete with stories of Dunkirk, the Blitz, and British sporting heroes of yesteryear. The Colonel believed in physical fitness, so we wore a uniform that allowed us to play almost any sport, and we marched to ball fields and facilities all over London to compete against other kids. From lawn tennis to table tennis, from cricket to rugby, fencing, boxing, and judo, we tried all of them and more. While we dabbled in those sports, we always played football. Even though we were just little boys, we were taught the Beautiful Game along with stories of World War I's Christmas Truce of 1914, in which the Britons and the Germans played and sang together, and we were allowed (although never expressly encouraged) to chant a verse that is now considered highly inappropriate, the "Ten German Bombers in the Air…" song. I'm sure the Colonel intended to teach us about the duality of man via the world's best team sport: glory and pride versus racism and savagery.
Today is the first day of another World Cup. As always, I watch from the perspective I learned in those years: cognizant of soccer's political intrigue. Easily one of humanity's greatest spectacles, the World Cup is always and inevitably woven with jingoism and spectacle, and this time is no different. Russia won the bid to host over England, and things were just hinky enough that the wealthy men behind the English bid hired former MI6 spy and Russian malfeasance specialist Christopher Steele to investigate. I grew up in London, but I live in America now. England lost the bid, we lost a berth. Russia will win today, and on all three counts I know the Colonel would be disappointed.
In addition to the tournament's location, there's another detail that FIFA controls: the official World Cup song. This year's official song is a reggaeton dance groove by Nicky Jam, an American who, according to Wikipedia, was born in Boston to Puerto Rican and Dominican parents. Doesn't sound like Putin's groove. "Live It Up" was recorded by Los Angeles-based producer Diplo, and features Albanian Kosovar songstress Era Istrefi and American superstar Will Smith (!). I'm no connoisseur of reggaeton, but with the obvious exception of Ricky Martin's "The Cup of Life" and anything by Shakira, I'd say it's nearly as fun as any World Cup song before it (and an improvement on Darryl Hall's oddly uninspiring "Gloryland," the FIFA-sanctioned gem that was quickly forgotten after the U.S. hosted the 1994 World Cup).
So even though we won't get to watch the American team compete on the field this year, we will get to listen to some Americans sing. For that, I'll gladly show glory and pride (and as usual, I'll wait for the American women to flex their muscles when they will likely once again dominate their international stage). I'll also spare a thought for the Colonel, who taught us to play the greatest game the world has ever known to the bouncy strains of a jaunty martial tune.
Born in New York, John Bauccio learned the finer points of the game in London public schools. His high school years in Los Angeles showed him another version of football, and he saw yet another amongst the undergrads in Portland, Oregon, where he went to college. These days he's back in LA, and rooting for England.
Contributors
John Bauccio
TAGS
WELL, IT DEPENDS ON WHAT YOU MEAN BY "FREE."
Enter your best email for full access to the site.